UScasinos.com's Rating Process
Our site includes various casino reviews, recommendations, and rankings. While we know all the rationales we use to analyze online casinos and casino apps, how can you trust our process?
Here we cover the factors we consider when creating our rankings, how we create different ratings for different categories, and what differentiates our system from others.
Lastly, we describe how we verify that all the casinos we recommend are trustworthy and safe.
Our Trusty Evaluation Guide
Information on the internet should always be viewed with a grain of salt.
In any way, by following our core values, we always put the player first. Explaining our process is the best way to show you that our site is trustworthy.
Regardless of the casino's performance, we also include any improvements they could make in our reviews.
The Rating Criteria
Our rating criteria has six critical sections, and we analyze five factors within each section. After the final score is tallied, our expert opinion weighs in. As part of that process, we assess each state's casino market, which can affect the final rating.
But in the end, we have to put ourselves in your shoes.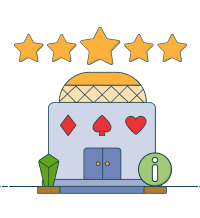 Security
Before we get started with any casino review, we always start by checking the casino's security and trustworthiness. The main objective of the security check is to establish if they fit the scope of UScasinos, if they are illegal we don't do them.
The casino sites we recommend are transparent about their licensing and go to great lengths to protect you and your funds.
Bonuses and Promotions
While the welcome bonus for new players is important, some operators go to great lengths to provide promotions for existing players too.
The goal of this step is to ensure that you're informed about all bonuses and if they are worth claiming.
Games and Software
The specialized variety of options makes this an extensive category. Aside from slot variety, we also check the table games, live dealer games, and any specialty games that will enhance the casino experience.
As part of this process, casino games are also tested on each available platform, usually including the mobile app and website. It is common to run into technical issues when playing casino games, which is why we place an emphasis on support options. Specifically, we check customer support options that are exclusive during gameplay.
Additionally, we keep an eye on Facebook and Twitter for any game crash reports and new updates.
Gaming providers are required to get and renew their gaming software licenses. Regular audits are used to verify the integrity of the software provider's random number generators.
Mobile
During the interface evaluation process, we focus primarily on the platforms' accessibility. It's important to compare speed and to determine the most notable differences between the platforms. Whenever the gaming library or any other thing differs between platforms, we make sure to make that clear.
For example, IGT has a lot of games from the 2000s that will unlikely be mobile-friendly. Mobile casinos have one noticeable difference: the menus and buttons have been refashioned to fit the smaller screens.
Payment Methods
Another factor to consider when choosing the best online casino is the payment methods. Transaction times, limits, and sometimes even fees are associated with each payment method. To simplify the process of depositing and withdrawing, we aim to present the most convenient methods.
Even if security is the main concern, you don't have to worry – the payment methods listed on the casino site have been thoroughly evaluated (encryption, fraud monitoring, multi-factor authentication).
Legal casinos in the US require all available payment methods to be vetted by federal regulators.
Support
We want to make sure any question you have is answered. We look for live chat, email, phone, and social media support options when testing.
To recommend an operator, we always test their support using various channels to see how fast and well they react. Measures include quality of assistance, response time, and communication methods, among others.
Although social media support is not recommended, many operators offer support through their Twitter or Facebook profiles.
Why Trust Us?
Perfection is unattainable, but we are trying to get as close as possible. Our core values and review criteria allow us to provide sound advice with every casino review.
Pros
Only review legal US casinos

Claims are backed by data

Casinos organized by state availability

State by state casino data

Regularly updated casino bonus info

Deep understanding in US gambling law
Cons
Every casino is not reviewed yet

Newcomer in the US market
Not All Review Sites are Reliable
The reviews you shouldn't trust may be the result of one, or all of these factors. Identifying those traits can seem challenging at first.
Even so, you must learn this since if you love to play online games, you will come across many review sites.
UScasinos Quick Tips for Spotting Bias
Spotting bias in reviews is easy if you know what to look for. However, if you are not skeptical, i.e., you are not looking for it specifically, it's easy to miss it completely.
When reading reviews, you should pay attention to the following:
Conclusion
At the end of the day, it's always wise to check out casino reviews before depositing your money. With our help, we will ensure you always stick to licensed casino sites.
In addition, we also understand that every casino is made differently. It is still our duty to show you the good, the bad, and all the fun in between.
FAQs
How did we come up with the UScasinos rating guide?
The UScasinos rating guide is a comprehensive look at the casino operators. By using user testing and being players ourselves, we're able to come up with a rating guide that helps any level of player.
How often is the rating guide updated?
The rating guide always has the same foundation, but we do regularly add specialized rating criteria as it becomes the standard in the industry.
How are ratings calculated?
Each of the casino ratings has 5 separate subcategories that will alter the overall score. Ultimately, we do take the state gambling regulation into consideration, since that can have a huge impact on the operator.
Who rates the casino operators?
The team of UScasinos experts personally reviews all casino sites in the US. Our responsibility is to keep all of the reviews up to date, clear, and simple to understand. With a combined experience of over 10 years in the industry, all of us bring a wealth of knowledge to the table.