SweepSlots Casino is a relatively new addition to the US sweepstakes market. They focus only on US players, with all of their operations targeted at them. There is a decent game variety, but there are gaps. In terms of bonuses and promotions, there's a new one every day! They also have one of the better deposit bonuses.
Pros
No purchase necessary

Mobile friendly interface

Daily sweepstakes drawings

Jackpot games

Community Discord channel

Slot tournaments
Cons
No mobile app

Lacks table games

No live chat support

Issues with navigation
The most obvious cons are the few missing game types and the rather restrictive freebie terms. There are also some navigation issues we came across as we were preparing our SweepSlots review. Their Facebook page shows no activity, despite them claiming they use it for updating their community on the latest developments.
Last but not least, the casino forces you to register before showing you any payment details and requirements. It's considered a cheap trick into getting players to commit to something they potentially won't find acceptable.
SweepSlots Casino No Deposit Bonus
New players signing up at SweepSlots Casino will be eligible for a registration or affiliate bonus of 10,004 Gold Coins exclusively at UScasinos. Moreover, you also have an opportunity to claim a deposit welcome bonus. Lastly, upon signing up, you also get the daily bonus. Consider it an extra treat from SweepSlots.
SweepSlots new player bonus
| | |
| --- | --- |
| Bonus: | 10,004 Gold Coins |
| Bonus type: | No deposit bonus |
| Affiliate code: | |
Don't forget to use code 16539 in the 'Bonus Code' field when registering at SweepSlots Online Casino.
You can use this currency to play all games, however, you have access only to the "for fun" mode, meaning you can't redeem your balance. Compared to other sweepstakes casinos, this is an "okay" offer at best. We've seen other sweepstake casinos offering sweepstake currency for free.
Daily Login-Bonus
When you log in daily, you receive a bonus of 1,000 Gold Coins + 50 Sweeps Coins. You can use these on any games you please, free of wagering requirements. Note, you can win credits that you can exchange for real money only if you play with Sweeps Coins.
Daily login bonus
| | |
| --- | --- |
| Bonus: | 1,000 Gold Coins + 50 Sweeps Coins |
| Bonus type: | Login bonus |
| Bonus code: | No code required |
The offer is half as good as what their competitors offer. There should be at least 100 Sweeps Coins available every day. This gives you the chance to spin the reels at least a few times. You only need one or two bonus feature triggers to get a balance that can give you a chance at winning some of the tournaments.
SweepSlots Deposit Bonus
If you decide to purchase Gold Coins, you get a 10% to 20% Gold Coins and Sweeps Coins bonus with any purchase up to $20 or $50. Remember to use the code MAXCOINS to redeem your deposit bonus.
Deposit bonus
| | |
| --- | --- |
| Bonus: | 10% to 20% Gold Coins + Sweeps Coins bonus |
| Bonus type: | Deposit bonus |
| Bonus code: | |
Their freebies are mediocre, but the deposit bonus offers a lot of opportunities. We have seen a deposit bonus of this kind at other sweepstakes casinos. You are incentivized to purchase more coins, or better said, in bigger batches.
How to Claim the SweepSlots Casino Bonus?
It takes just a few steps to claim the SweepSlots bonus offer. Follow the steps:
1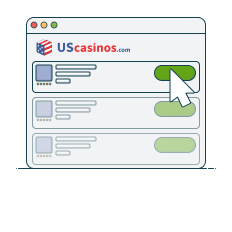 Click on our link
Connect to the SweepSlots main page by using the link in this review.
2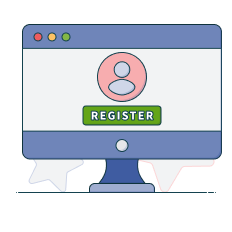 Create account
Follow our steps in this review to register for a free SweepSlots account.
3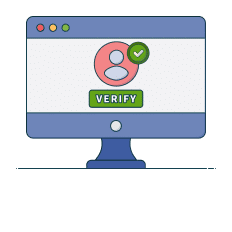 Verify account
Check your email for an account verification link within 12 hours of registration.
4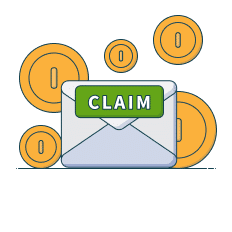 Claim the coins
Head to the SweepSlots Finance area to view your newly claimed bonus, the requirements, and progress.
5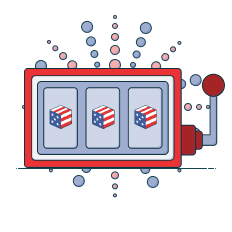 Start playing
Try out the casino games with your free coin allowance.
Other Sweep Casino Promotions
Whenever you play at SweepSlots Online, you will be rewarded for your loyalty in several ways.
SweepSlots encourage players to participate in regular slot tournaments for those who like a bit of competition. It is a low-cost event with prize pools that reach millions of gold coins.
For additional promos, check out the official 'Promotions' section for the most recent offers, including any bonus codes.
Types of Coins at SweepSlots Casino
There are two types of coins at SweepSlots Casino, Sweeps Coins and Gold Coins. While they vary slightly, the coins work hand in hand.
Sweeps Coins
First, players cannot purchase Sweeps Coins (SC) outright; they can only be given as a gift or bonus within a prize package. Despite that, the SC must be played anywhere from 1 to 20 times before they can be redeemed as a prize. You can get SC in the shop, with every GC purchase you make.
Gold Coins
Unlike Sweeps Coins, Gold Coins (GC) can only be purchased and used for games, but they do not have any real money value. For example, once you purchase Gold Coins, you will get some Sweep Coins as an added bonus.
How Does SweepSlots Casino Work?
As a new social sweeps website founded in 2022, SweepSlots Casino meets the following criteria for establishing a strong foundation.
Legal aspect

The SweepSlots Casino is legal for players 18 and older located in the US. Sadly, players from Washington state and Idaho are not allowed to participate in any sweeps games. While the casino meets all legal requirements, there are not many signs of activity at the casino.

Coins

Players are awarded 10 Sweeps Coins every 24 hours, and those coins are used to enter sweepstakes. Plus, with every purchase of Gold Coins (GC), players are awarded even more free Sweep Coins. The casino incentivizes you to buy GC in bulk, to benefit from the deposit bonus.

Bonus

Alongside the daily log-on offer, players will get even more coins by purchasing Gold Coins. Once the SweepSlots Casino becomes more established, we're hoping for a rewarding VIP program for existing players. This is something you won't find at most other sweepstakes casinos. Usually, they offer flat amounts of GC. At SweepSlots Casino, you get more if you make bigger purchases progressively.

Sweepstakes

The SweepSlots Casino offers an enticing and exciting way to enter drawings. Rather than playing in a traditional casino, players are given 10 sweepstakes entries every day. Every 24 hours, a winner is selected at random.

Connect with social networks

SweepSlots uses Facebook to keep its customers up-to-date about new games and promotions, for instance. Unfortunately, gameplay is not available on Facebook. In addition, you cannot sign up with your Facebook account. They use Facebook solely as a platform for updates, but their page is dead, with no activity at all.
Opening an Account at SweepSlots Casino
To open a new gambling account at SweepSlots, simply follow the steps below.
Purchase and Payout Methods at SweepSlots Casino
Purchasing gold coins at SweepSlots Casino is easy and secure. Even though purchasing coins is not required; it's the best way to get more coins than the daily allowance.
As for the purchase methods, players can choose to use traditional debit and credit cards, or virtual wallet options such as Skrill.
The "Redeem" option allows you to cash in your sweepstake winnings when the time comes. Following this, you will be able to exchange Sweep Coins directly for real cash.
Keep in mind – prizes will be credited to the account or online wallet where you purchased Gold Coins.
SweepSlots Casino Games
During your visit to SweepSlots online casino, you'll run into five different software providers, including a few custom-made slots. The casino game variety at SweepSlots casino is slot focused, with a variety of fun graphic effects.
Despite the low number of games, there is an average variety of themes. Still, those who enjoy Keno can even choose between two games.
SweepSlots Casino game variety

| | |
| --- | --- |
| Total number of games: | 25+ |
| Best slot game: | Mafia Hunt |
| Best jackpot slot: | Rich Murphy |
| Best roulette game: | N/A |

| | |
| --- | --- |
| Best blackjack game: | N/A |
| Best baccarat game: | N/A |
| Best video poker game: | N/A |
| Other games: | Keno |
You can clearly see which game types are not available. However, slot players will find enough diversity, both in terms of bonus games and themes. Since it's not one or two providers supplying SweepSlots, there's variety!
The list of game providers at SweepSlots casino is as follows:
Casino Web Scripts
Slotopaint
Geco Gaming
Altea Gaming
Igrosoft
Slots
There are 20+ slot games, or at the time of updating this SweepSlots Casino review, there were 24 slots. Here are the best nine slots by RTP available. Note, we've included only slots that we could verify the RTP for.
| Slot name | Provider | RTP |
| --- | --- | --- |
| Ancient Wonders | Casino Web Scripts | 97.07% |
| 777 Slot | Casino Web Scripts | 96.07% |
| Cleopatra's Ancient Treasure | Casino Web Scripts | 96.07% |
| Mystic Gems | Geco Gaming | 95.95% |
| Luxuriouslot | Casino Web Scripts | 94.56% |
| Country Jackpots Bounty | Casino Web Scripts | 94.56% |
| Cheese Burglars | Casino Web Scripts | 93.53% |
| Treasure of the Wild Bears | Casino Web Scripts | 93.12% |
| Rich Pirates | Altea Gaming | 93.08% |
Surprisingly, we couldn't find the RTP for the majority of the games. This is not something any player will be happy about. However, there are a few titles that offer pretty good odds, such as Ancient Wonders 3D slot and 777 Slot game by Casino Web Scripts.
Other Games
Besides slots, you can choose to play one of the two video poker games, or keno. There are a couple of other card games titled Robo Wild Sevens and Royal Flush Party. The two keno games are titled Las Vegas Keno and Golden Egg Farm Keno. Lastly, there's a scratch card game called Pirate's Treasure Hunt 2. Besides this one, there are no other games of this sort.
Supported Platforms
Generally, there are three ways to play at most social casinos: Facebook or Amazon, via a mobile casino app, or on the casino's website. Regrettably, that's not the case with SweepSlots since it's only available on one supported platform.
Let's explore the differences between the platforms and see what that means for SweepSlots users: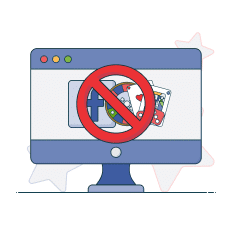 Facebook
Playing SweepSlots on Facebook is not supported, but it can be a great way to stay up-to-date on new slot games. To stay relevant in the sweepstake sphere, they have to add Facebook integration. Other casinos offer signing up with your Facebook account!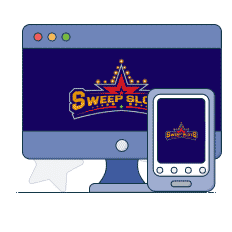 Website
The website is the only way to access the SweepSlots game library. The overall experience is quick and reliable and works well on laptops and mobile devices. That said, the web app has basic navigation which focuses on the games. Changing from GC to SC is also easy and simple.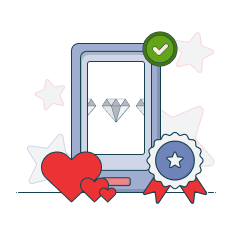 Mobile
At the moment, SweepSlots Casino does not offer a mobile app for iOS or Android. The site is designed with HTML5, so mobile casino users can play on any handheld device using a web browser. Their competitors are doing a much better job on this front too.
As an added plus, Discord provides a direct line of communication between members of the SweepSlots community.
SweepSlots Mobile Casino
With SweepSlots Casino, you can access the site from a mobile device with ease. All SweepSlots games are displayed on the homepage and available in vertical or horizontal view.
Moreover, each game comes with a green how-to-play button with step-by-step video instructions.
No matter what browser you use, you will get the exact same experience as playing on the SweepSlots desktop casino.
You can find the cashier at the top of the screen. Also, here's the main menu button. However, we noticed there are some glitches, and the menu was not working right when reviewing the site. Hopefully, you don't experience any issues with this. This is not acceptable when real money is involved.
The Company Behind SweepSlots Casino
Looking back, this newly launched sweepstakes site clearly incorporates a lot of the basic functionality of an excellent social casino site. To join SweepSlots, players must be 18 years old and reside in the United States (except Washington).
SweepSlots company details

| | |
| --- | --- |
| Minimum age: | 18 |
| Responsible gambling measures: | Deposit limits, session limits, self-exclusion |
| Other products: | N/A |
| Founded: | 2020 |

| | |
| --- | --- |
| Excluded states: | Washington and Idaho |
| CEO: | N/A |
| Publicly traded: | N/A |
| Owner: | Regal Technologies, LLC |
It looks promising, but there's no significant movement in any direction. With a little over 30 games, covering slots, keno and video poker, there's a lot of room for growth.
Alternatives of SweepSlots Casino
The social casino market is full of different kinds of social casinos, each with its own characteristics and gaming libraries.
SweepSlots Online Casino makes for an exciting adventure, but there are many other sweepstakes casinos accepting US players on the market. In our team's opinion, the following social casinos are the best alternatives for SweepSlots:
SweepSlots Casino alternatives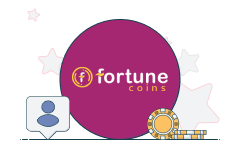 Sweepstakes rewards
Facebook integration
No loyalty rewards program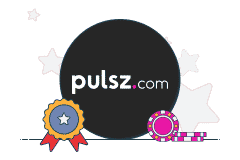 Loyalty program
Much better game offer
Small table game variety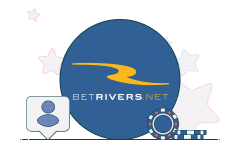 300 + free casino games
VIP rewards program
No sweepstakes
Fortune Coins make things easier with their Facebook integration. It has the same feel of SweepSlots, but they are more generous with their sweepstake freebies. While they offer different games, quantitywise, they are very similar.
Pulsz Casino has a better app, and way more slot games to choose from. Their welcome bonus offer is slightly better as well, and you can download their app on your Mac, iPhone or your Android device. We recommend doing this if you're not going to jump to a different sweepstake casino.
If you are in it for the fun, and not the real money prizes, you should check out BetRivers.net. They have the best user interface and the best game offer. However, there this is just a social casino. You are playing for fun only, there's no potential for winning real money prizes.
Conclusion
In summary, SweepSlots Casino is safe and they have a somewhat decent slot offer. However, they still need to improve their offer. The deposit bonuses are what makes this a worthy option and a sweepstake and social casino to consider.
If it hadn't been for the deposit bonus, SweepSlots Casino would be inferior in most aspects when compared to its closest competitors. We also recommend purchasing GC in larger batches to take advantage of the bonus coins.
FAQs
Is SweepSlots Casino legit?
Yes, it is, SweepSlots Casino is a legit sweepstakes site. SweepSlots follows all regulatory and safety standards for sweepstakes casinos, making it a safe and legit sweeps casino option.
How do I get Sweeps Coins?
Players can earn SweepSlots Sweeps coins through daily log-ins or by purchasing gold coins. You can request a withdrawal when you've collected enough Sweeps Coins and cleared the wagering requirements.
Can I play blackjack, roulette or other table games at SweepSlots Casino?
Not at the moment, SweepSlots Casino only offers slots and Keno. Hopefully, we can expect to see a set of standard table games in the near future.
What is the minimum age to play the games at SweepSlots in the US?
Players 18 and older in the US are welcome to play at SweepSlots Online Casino, with the exception of Washington (WA).
How do you withdraw money from SweepSlots Casino?
It takes only a few steps to withdraw your SweepSlots prizes. While in SC mode, select 'Redeem funds' from the drop-down menu. Here, you can view your available winnings, the payout method, and the e-mail address.