Huuuge Casino New Account Bonus
If you're searching for a fun-filled social casino, look no further, Huuuge Casino was meant for you. Unlike other social casinos in the market, Huuuge Casino features a story mode game with endless levels and a true social aspect.
We will get into the details, but let's start with the most important part, the new player sign-up bonus.

Huuuge Casino new player bonus
| | |
| --- | --- |
| Bonus: | 500,000 coins |
| Bonus type: | No deposit bonus |
| Bonus code: | |
Keep in mind that this new player bonus will only apply if you create an account,
the guest player account is not an option.
However, the Huuuge Casino new player promo is the perfect way to get started on this social casino.
Since Huuuge Casino coins are the main currency, the objective is to get more coins by leveling up, winning games, or getting them from your friends.
How to Claim the Huuuge Casino Bonus?
Claiming the Huuuge Social Casino bonus is a bit different, considering that the casino is only available on a mobile app.
So, before you get ready to claim the bonus, make sure to at least get the app downloaded.
After the app is installed, follow these steps to claim your bonus:

1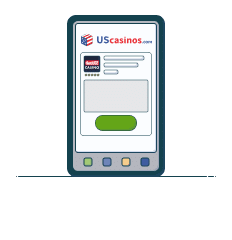 Click on our link
Visit by using the link on this Huuuge Casino review.
2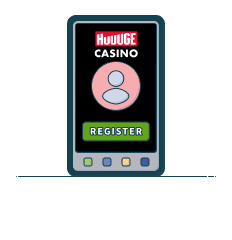 Create account
Once the Huuuge casino app loads, choose from one of the account options to create your account.
3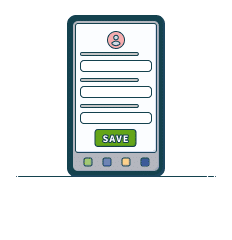 Fill out details
Although it depends on your choice, make sure to fill out your personal account info.
4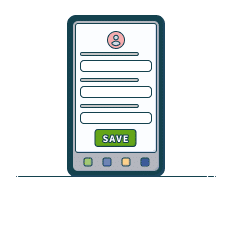 Activate account
Follow the link in your email to confirm your new account and get even more free Huuuge Casino coins.
5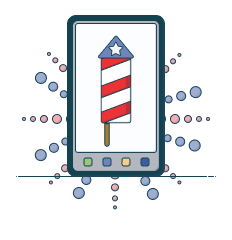 Start playing
Once your account is active, your chips will be available after the tutorial levels.
How to Get Chips at Huuuge Casino?
Besides the welcome offer, there are a few simple ways to get more Huuuge Casino chips. Players can choose to purchase the casino chips or they can also win them playing games or leveling up.
Free Chips – Don't worry, if you want to go the free route, Huuuge casino chips are extremely easy to win.
Once you create your account, you can win free chips connecting your Facebook account, joining the Billionaire League, and collecting the Betty Bonus every 15 minutes.
Keep in mind – the Billionaire League encourages players to donate chips to the club they want to join, which in turn gives players access to a bigger prize pool.
Plus, leveling up is fun, easy, and you'll get plenty Huuuge free chips at every new level!
Purchase Chips – Another great way to get Huuuge casino chips is by purchasing them. Huuuge casino always runs specials on chips, and you can find those in the top center of the lobby screen. Similarly, chips can be purchased on slots and table games during game play.

Hint – Every time you enter a new slot game, the game will automatically place you in the highest bet amount. So, if you don't feel like betting 150,000 Huuuge coins for one spin, make sure to change the amount before you start.nOn the other hand, if you want to level up faster, you should play with the max bet because it speeds up the percentage on your level achievement with every spin.
How Does Huuuge Social Casino Work?
At this point and time, social casinos do not have a standard set of features or rules. Yet, every social casino contains a company-specific privacy policy and terms of service.

Legal aspect

Huuuge social casino is legal in all 50 states, including Washington. In fact, Washington state is tough on any type of gambling operations. Therefore, Huuuge Casino must offer additional resources for players, including the option of self-exclusion.

Coins

Huuuge uses only one type of virtual currency, the Huuuge Casino Chips. These chips can be claimed during any gameplay or level advances or purchased outright by the player. Additionally, Huuuge Casino features a couple of different coins that can only be used for certain parts or features.

Bonus

There are a large variety of different bonus features available at Huuuge Casino. For example, the Huuuge Wheel appears after a player's daily login. With this wheel, players can collect chips for several reasons, such as adding friends, getting likes, and logging in daily. Plus, whenever a player purchases a coin package, the package will come with various bonus game features.

Sweepstakes

Sadly, Huuuge Casino does not follow a sweepstakes model for their social casino. With that being said, Huuuge social casino is strictly for entertainment purposes only, players cannot win any real money.

Connect with social networks

Connecting via a social media network is one of the best ways to earn additional coins. Players can also get more free chips by liking the Huuuge Casino page on Facebook, inviting their friends to the game, or making new friends on the app.
Opening an Account at Huuuge Casino
Before you can start playing at Huuuge Casino, you will have to create a new player account on the mobile app.
Follow these simple steps, and get started today.

One thing to remember is that once you create your Huuuge casino account, you will not be able to create another account for that device. The terms state that only one account per device is allowed.
Huuuge Social Casino Rewards Program
Other than the elusive mention in the terms and conditions, the Huuuge Rewards Program does not mention many details.
To summarize, loyal players will be given the option to participate in the free rewards program after they reach a specific engagement level. The engagement will be tested in a variety of ways, including response time on in-game messages.
Nevertheless, the Huuuge Reward Program benefits include special events, in-game gifts, or other perks.
Purchasing and Payouts at Huuuge Casino
As previously mentioned, Huuuge Casino players can get chips in two different ways, by winning or purchasing them.
However, purchase methods vary depending on the way your account was created.
For example, if you choose the 'Sign in with Apple' option, your account will forever be tied to your preferred iTunes purchase payment. Unfortunately, the only way to change payment methods is to change it on your Apple Wallet or iTunes App Store.
With that being said, the available payment processors are Apple, Google, or Amazon. The supported payment processors accept the following methods for purchasing Huuuge coins:

Since
the casino doesn't directly handle the payment processing
, any payment issues or disputes must be addressed with the processor.
Huuuge Casino is not required to make any refunds, even if it is a game play interruption. Though, in the case that does happen, make sure to contact Huuuge Casino customer service with the details.
Keep in mind – the terms are a bit different if you end up buying a game coin package that has a recurring time duration (every 24 hours for 30 days).
For example, if you purchase coin package, any recurring coins are automatically considered a loss as soon as you place your account on a "cool off" period (responsible gambling feature).
Huuuge Social Casino Games
The slot game variety is huge for an app only social casino. Likewise, the purpose of Huuuge casino is to level up with your own personal avatar. Every time a player advances to the next level, they're given free chips, access to a new slot game, or higher betting limits.
In addition to the extensive slot variety, the Huuge casino app has a surprising table game variety. The table game options are easy to play, informative, and fun.
If you're not sure where to start, take a look at our favorite games by category:

Huuuge Casino game details

| | |
| --- | --- |
| Total number of games: | 204 |
| Best slot: | Aztec Eclipse 2 |
| Best jackpot slot: | Miss Fortune |
| Best roulette: | Las Vegas Roulette |

| | |
| --- | --- |
| Best blackjack: | Berlin Blackjack |
| Best baccarat: | Las Vegas Baccarat |
| Best video poker: | Jacks or Better |
| Other games: | N/A |
Best Huuuge Casino Game Features
Now that we've covered some of our favorite game titles, there are a few game extras to look out for. The first feature worth mentioning is the three different jackpot levels available on select games. Jackpot is the first level, then Mega Jackpot, ending with Colossal Jackpot.
Each jackpot option has a varying minimum and maximum bet limits, different game level requirements, and fluctuating jackpot rewards.
Beyond the extra jackpot levels, another great feature that players can try out is the full-screen mode. Located in the right-hand corner of your Huuuge Casino app, just click the icon that appears to be a screen with arrows, and your screen will instantly maximize.
Our favorite time to use this full-screen mode is during the auto-spin route.
The last feature worth mentioning is the social portion of Huuuge Casino. When comparing Huuuge to other casino operators, Huuuge takes the crown. Besides the option to add friends, you are also able to view other members' profiles, statistics, and even see what game they're currently playing.
Supported Platforms
Unlike other social casinos, Huuuge Casino is only available as a mobile app.
Even though app-only could be discouraging for players who prefer desktop casinos, the Huuuge mobile app is very well made.
In the case that you are searching for a social casino that is available on a desktop, try Chumba Casino. On the other hand, Chumba does not have a mobile app but strictly operates on a web browser. Essentially, you can play Chumba Casino slots on your mobile phone, tablet, or computer.
Huuuge Mobile Casino
Since Huuuge Casino is only available as an app download, our expectations were sky high. Well, the mobile casino app goes above and beyond. Alongside the previously mentioned game features, Huuuge Casino has fun perks around every corner.
So, when you're not busy claiming all the free Huuuge casino coins, you can check out the different areas of the game.
The main lobby features a variety of sections including your avatar and level status, Billionaire League, Lottery, and Player Leaderboard. Truly, it's easy to spend hours playing on the Huuuge Casino mobile app.
Huuuge Casino App
Now that the foundation of the Huuuge Casino mobile app is covered, let's get into the different ways to download the app. At this time, the Huuuge casino app is available on three different platforms:
Apple App Store – For any players who plan on using iPhones or iPads, you will be directed to the Apple app store. The Apple app store will be used to get any account information, payment methods, or app updates. Like with any other app downloads, always make sure to keep your device and the game software up to date.
Google Play Store – Any players looking for an Android version of the Huuuge casino app are in luck! Similar to the situation with other mobile app downloads, the Google Play Store will be the main source for your account information.
Amazon App Store – The last option for downloading the Huuuge casino mobile app is to find it on the Amazon App Store. Unlike the Google Play Store, the Amazon store is only available for Kindle and Fire Stick devices. But, unless you plan on playing the Huuuge casino games on your Kindle, chances are that you will be visiting the Apple or Google Play Store.
The Company Behind Huuuge Casino
Huuuge Casino is a leader in the social casino market, and for good reason. The company may have gotten its start in 2014, but Anton Gauffin (CEO) was part of the mobile gaming industry for almost 10 years at that point.
Thus, the creation of Huuuge Inc. was a landmark moment for the industry. To this day, Huuuge Games is considered the number one innovative developer in social gaming.
The table below briefly outlines the Huuuge company details:

Huuuge Casino company details

| | |
| --- | --- |
| Minimum age: | 18 + |
| Responsible gambling measures: | Cool off period, account closure |
| Other products: | Billionaire Casino, Traffic Puzzle, Stars Slots |
| Year founded: | 2014 |

| | |
| --- | --- |
| Excluded states: | N/A |
| CEO: | Anton Gauffin |
| Publicly traded: | Yes- Warsaw Stock Exchange |
| Owner: | Huuuge Inc. |
As far as responsible gambling measures are concerned,
Huuuge Casino has a different set of responsible gambling resources.
Typically, casinos will allow players to have more account control and set time, game, and spend limits. Unfortunately, with Huuuge Casino being a free to play social casino, they are not subject to the same laws.
Still, the resources are available by contacting Player Support. Categorized under "Video Game Behavior Disorder Resources", Huuuge offers a resource for a helpline, psychiatry, and recovery.
Advantages and Disadvantages of Huuuge Casino
All in all, Huuuge Casino is a well-designed mobile-only social casino app. Truly, this is a top-notch free social casino with a large variety of features, perfect for any level of player.

Pros
Easy to use mobile app

Large variety of game features

Generous coin giveaways
Cons
Too many ads

Vague rewards program
Alternatives of Huuuge Casino
In addition to Huuuge Casino, there are a lot of legal social casinos in the US. Indeed, social casinos do not have an industry-standard model, so, each social casino is drastically unique.
Depending on your preferences and objective, the list below features a few comparable social casinos options:

Huuuge Casino alternatives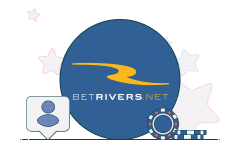 Rewards program
Largest selection of games
Players must be 21+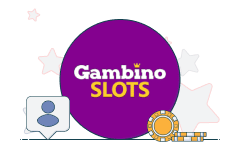 Free spins bonus
Loyalty program
No table games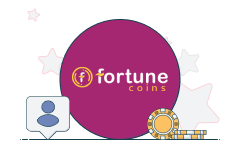 Fast checkouts
Sweepstakes rewards
No VIP program
Conclusion
To summarize, Huuuge social casino is a well-crafted platform. The social aspect of the casino is unlike the competition, and the game features are original and enticing.
In retrospect, the disadvantages are minimal when compared to the pros of playing at Huuuge Casino.
Truly, if you're looking for a great social casino game, we encourage giving Huuuge Casino a try.
FAQs
Does the Huuuge Casino app work on Androids or iPhones?
Actually, the Huuuge Casino app works on Androids and iPhones. Additionally, the mobile app is available on the Apple App Store, Google Play Store, and Amazon App Store.
Can you win money playing Huuuge Casino games?
No, Huuuge Casino operates with specific virtual chips, there's no physical money involved. However, even though Huuuge Casino is a free-to-play casino, players will have an option to purchase more chips at any time.
How do you get free chips at Huuuge Casino?
There's a variety of ways to get free chips at Huuuge Casino. First off, you will be awarded 500,000 free chips after you follow the steps to claim the bonus. Afterward, participate in tournaments, and explore the Huuuge Casino lobby for more free chips!
Does Huuuge Casino have any table games?
Yes, as a matter of fact, Huuuge Casino has a solid selection of popular table games. Plus, all of the table games encourage interactions between players at the same table. In addition to the chat feature during gameplay, Huuuge Casino features an option to send your opponents a drink or small gift.
Is Huuuge Casino legit?
Yes, Huuuge Casino is a legit social casino app. As a matter of fact, Huuuge Casino has been referred to as an innovative developer in social gaming. It's clear that this social casino is a well-respected and legit casino operator.