About UScasinos.com
We are a platform where casino players and gaming enthusiasts can find everything they need related to casino gaming in the US.
With our expert content, we aim "to be the lighthouse of the gaming industry" and make it easier for players to navigate the market.
Who We Are
We are part of KaFe Rocks Group, an affiliate gaming company with more than 150 employees with a presence in 15+ markets worldwide, and the US gaming market is our latest challenge.
Our Values
We have several fundamental values. These ideals are present in everything we do, say, or write at UScasinos. We consistently prioritize the needs of the players.
Transparency

Whatever the case is, we always give you the whole story. By getting the complete picture, we ensure you're provided with all the necessary details to make an informed decision when playing online.

Honesty

We do not have any favorites and are impartial when ranking online casinos. Nothing can cloud our judgment because our goal is not to promote arbitrarily selected online casinos but the ones that will meet your needs best.

Relevancy

Your time and your trust are of paramount importance. Our reviews and casino guides include what's relevant to the query at hand. The rankings we offer are based on relevant data, excluding anything that does not affect the end user's experience.

Accountability

Each of us takes ownership of our words, actions, and results. We fact-check all data presented on UScasinos and promptly correct our mistakes.

Completeness

The goal is to provide you with all the necessary details and offer our expert opinion. Without this, you can have many questions and doubt our advice. Half research is as good as no research.
The UScasinos Team
We are a group of individuals with extensive knowledge in the gaming industry. Through our passion and expertise, we can provide players with everything they need to know about legal, secure, and licensed US casino sites.
Here are just some of the people behind every casino review, game guide, and casino bonus update.
Currently, we are looking to expand our team. Our UScasinos careers page features all our current job openings if you want to join us.
What We Do
Our goal is to offer updated information on anything gaming-related online and offline. All of our pages are created with a single purpose. We want to help the reader and not please casino operators.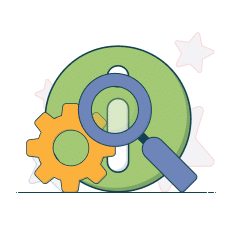 Research
This is the only way to come up with an unbiased verdict on the online casino's quality. Any section or area that can be compared is carefully logged for future reference. We base our recommendations on real data.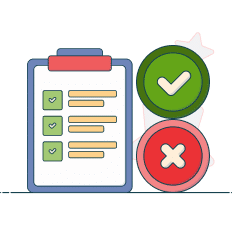 Test
While we can track and monitor the product, we must test the casino's service. We go through the whole registration process and from making a real money deposit to playing casino games. We even talk to customer service agents.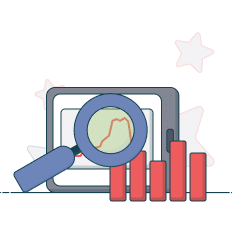 Monitor
We continuously monitor all online casinos to ensure that we didn't do the test at the wrong time, such as during maintenance or before a big update. We can't keep track of every update, but whatever the novelty is, you can find it at UScasinos in a few days.
How We Rate
As we're all about transparency, you must know how we conduct our casino reviews and what we use as a base for all our top lists.
We believe that our reviews should be honest, independent, and free of bias. Here's a detailed list of crucial things we take into consideration.
To learn more about our rating process, visit our how we rate page, where we cover each rating step in depth.
Our Business Model
We are an affiliate website, meaning we don't offer any casino gambling activities ourselves. Instead, we provide content about legal online casinos licensed by US gaming regulators.
All of the expert advice on our website is free, thanks to the commission we receive from the websites you access through us.
We use tracking links

Clicking a button or a link that takes you to an online casino attaches a cookie, sort of a tag, to your browser. This tracking does not track your activity past our site or the respective casino to which the link belongs. You can learn more about our privacy policy here.

We earn commission

If you join with one of our links, we receive a small commission from the casino as a marketing fee. Luckily, the US online casino market is competitive, and we have many options for you.

We recomend safe and licensed casinos

Whether we receive a fee on not, our listings are unbiased because the only way to grow is to be honest, transparent, and independent, both with our online casino reviews and top casino listings.
We don't list online casinos that do not have a legal license. In reality, we carefully assess who we collaborate with and never include operators that do not meet our criteria.
The Brand and Its Origins
Have a look at the most important milestones for UScasinos: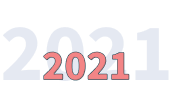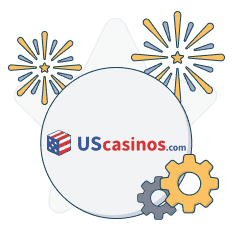 We started working on UScasinos
In March 2021, we started preparing for the launch of UScasinos.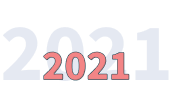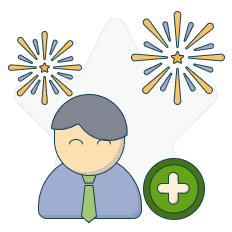 Team grows
At first, we started small, but by June 2021 our expert team grew, and we were able to tackle even more casino-related topics.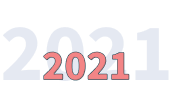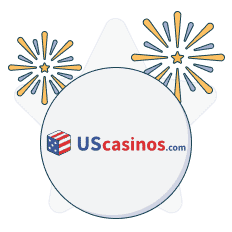 Official launch
UScasinos.com launched in August 2021, as a platform for players to discover legal, secure, and licensed online casinos in the US.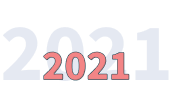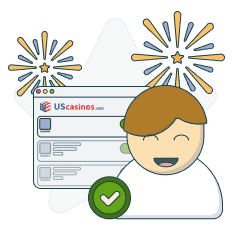 First visitors
In October 2021, we started getting our first "satisfied" visitors.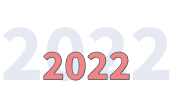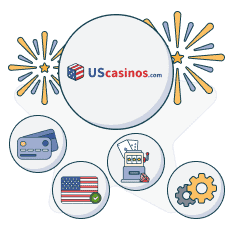 Completed several hubs
At the start of 2022, we had completed several hubs on our UScasinos, including regulated states, payment methods, casino games, and software providers.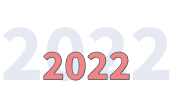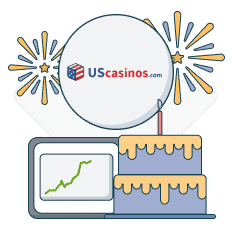 Growing user base
As UScasinos, is nearing almost 1 year since its launch, our month-over-month customer base continues growing.
Advocates For Responsible Gambling
Besides the fact that we only partner with operators that prioritize responsible gambling, we are full supporters of responsible gambling.
Our goal isn't to encourage gambling but to help our readers make informed decisions and gamble in a safe environment.
Where We Are
The headquarters of our parent company KaFe Rocks is in Malta. Nevertheless, we are a fully remote company, and our team operates from several locations across the world.
Contact Us
We'd love to hear your thoughts about UScasinos. Feel free to get in touch if you have suggestions for improvements, changes, or other remarks. You can use our contact form or email us for any inquiries.