Fortune Coins Casino is a rather recently launched social casino that also offers sweepstake competitions. Compared to real money casinos, it's more compact, with fewer games and payment methods, but with enough diversity in both departments.
There's no app to download, the gameplay runs in your mobile web browser.
Pros
Fast checkouts

Sweepstakes competitions

No app download required

24/7 customer support
Cons
Smaller game selection

No rewards program
It could use more games, at least a few dozen more. In addition, they can add more table and card games. But, if you are into slots, the coverage is decent. Unlike other sweepstake and social casinos, there are not that many loyalty rewards. To be precise, we couldn't find any.
Fortune Coins Casino New Player Bonus
New players get Fortune Coins and Gold Coins from different sources. For example, you can get 140,000 Gold Coins and 300 Fortune Coins on signup, if you register with your Facebook account. You then get a daily bonus of 30,000 Gold Coins and 100 Fortune Coins. Lastly, if you verify your phone with Fortune Coins Casino, you get another 10,000 Gold Coins and 100 Fortune Coins.
| | Gold Coins | Fortune Coins |
| --- | --- | --- |
| Email registration | 100,000 | 200 |
| Facebook connect | 140,000 | 300 |
| Phone-verification bonus (optional) | 10,000 | 100 |
| Total potential bonus | 150,000 | 400 |
It should be noted that you need to play the Fortune Coins at least once before you can redeem them. They mention playthrough requirements (the equivalent of wagering requirements), but there are no details about this. Also, any sweepstake redemptions are gated with a KYC check. Have your documents prepared!
How to Claim the Fortune Coins No Deposit Bonus?
If you want to claim the full value of the welcome bonus, you will have to verify your phone number. 100 FC is a good enough incentive for a few seconds of your time, including another 10,000 of GC.
Here are the steps:
1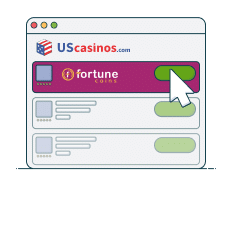 Visit Fortune Coins Casino
Click the link in this Fortune Coins Casino review to go to the direct casino page.
2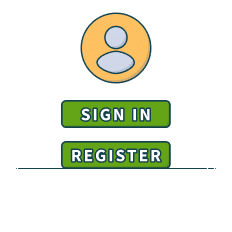 Register with Fortune Coins Casino
Register using your personal information. Make sure the details are correct as they are requested at the KYC check if you are redeeming coins.
3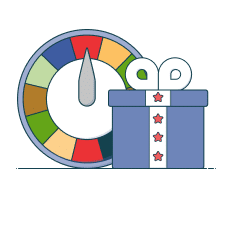 Verify your account
Open your email, and click on the provided link to verify your account. Resend the email if you can't see it in your inbox.
4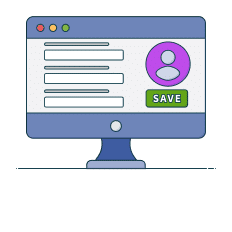 Connect with Facebook (optional)
Connect your Fortune Coins Casino account with Facebook. This is entirely optional but will give you more bonus coins to play with.
5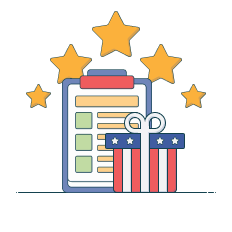 Verify your phone number
Verify your phone number with the casino to get automatically get the last bonus coins. You receive an SMS code to verify the number.
Once you do this, you can also claim your first daily prize, which is 30,000 GC and 100 FC. You can find the daily prizes in the Free Coins tab, located just next to your balance at the top of the screen.
As always, check your regular inbox and spam folder for Fortune Coins account emails.
Other Promotions
We already mentioned a few of the promotions you get as a registered Fortune Coins Casino player. Here are all of them listed in one place.
FC bonus with every GC purchase – the higher the GC count, the more FC you get
Daily bonus of 30,000 GC + 100 FC
Mystery bonus – it's a mystery, we can't know what you get
Handwritten claimable reward
Watch video ad for free coins
Refer a friend
There is no loyalty or rewards program at Fortune Coins Casino. The Daily Rewards acts as such, but it's only one promo. You won't benefit from better conversion/redemption rates, nor you will get access to better purchase deals if you play longer at Fortune Coins Casino. This is a big blow to their overall ratings and something they should address.
Coins at Fortune Coins Casino
There are two types of coins at Fortune Coins casino, Gold coins (GC) and Fortune coins (FC). Gold coins are the main virtual currency, and players can win or purchase Gold coins.
Gold Coins (GC) – Free Coins
The free coins at Fortune Coins Casino are called Gold Coins. You use them to play all the games available at the casino. However, you cannot win any real money prizes. In short, this is the "for fun" balance.
You can get Gold Coins by purchasing them in the following ways:
Purchasing GC in the Coin Shop
Logging in daily as part of the Daily Rewards
Referring friends
Randomly, as part of the Mystery Bonus promo
The quantity of free GC is acceptable, and their price is decent. It's a shame there's no bridge that can get you to real money prizes. Then again, it would be unfair to the operator as it exposes them to fraud and abuse.
Fortune Coins (FC) – Purchase Coins
The Fortune Coins are what gets you access to the sweepstakes competitions. Any FC play enrolls you into the sweepstake tournaments that are running daily at Fortune Coins Casino. Note, GC play does not increase your score in the tournaments, only FC does!
It's good that with every GC purchase you also get FC, but we think there should be a dedicated offer for FC. We believe players flock to Fortune Casino because of the sweepstake element, not the free play.
If GC amounts are decent, the FC amounts could use a little bump. It will only improve the player experience, as they can play longer. The prize pool of the tournaments doesn't have to change.
Every 100 Fortune Coin can be redeemed at a prize value of $1 USD. To withdraw your Fortune coins, you must have a minimum of 50 coins.
How Does Fortune Coins Casino Work?
Through Fortune Coins Casino, players can experience a visually appealing social casino that includes sweepstakes capabilities. It's a "for fun site" that offers sweepstakes casinos. The latter, renders them unavailable in three states in the US.
The casino makes money from the Gold Coin purchases, and uses them as main source of funding for the sweepstake tournaments. It's not that complicated, but at first glance, it might seem too good to be true.
Legal aspect

The operator is based in the US, and has some operations there. Their primary market is the US and in part, Canada. You cannot join Fortune Coins Casino and take part in sweepstakes if you're residing in Nevada, Idaho and Washington.

Coins

Since there are two types of game modes on Fortune Coins, players can switch between Gold or Fortune coins. Gold coins are used for free game play, while the Fortune Coins can be exchanged for real money after you meet the threshold of 50 FC. Note, you have to play the FC at least once before you can redeem them.

Bonus

The welcome bonus for Fortune Coins is decent, but at this time, the other promotions are advertised only via email or Facebook. Still, the current promotions include daily and hourly wheel bonuses after successful account login. Bonuses are used merely as incentives to play more, not to reward.

Sweepstakes

Sweepstakes social casinos like Fortune Coins Casino offer players the chance to earn cash and prizes. A player can withdraw Fortune Coins for real money or play and win more. According to the terms, players can withdraw up to $5,000 USD per day. The prize pools average 250,000 FC, which is equal to $2,500. 1st prize is usually 120,000 FC or $1,200.

Connect with social networks

A new Fortune Coins account can be created with an email address. However, Fortune Coins does not allow players to directly play the game via the Facebook app, even though it recommends connecting to the social media site. Plus, Facebook simplifies the process of referring friends.
Social and sweepstake casinos operate differently from real money gambling sites, which are available in only six states. To bypass these gambling laws, casinos like Fortune Coins sell currency. In accounting terms, you're not gambling, you're just playing a game. It's more of a "pay to win" game than it is gambling.
Purchase and Payout Methods at Fortune Coins Casino
As opposed to traditional online or land-based casinos, social casinos do not offer the same depositing or withdrawal processes. Technically, players do not deposit money into the Fortune Casino account.
Instead, players are encouraged to buy Gold coins to play the free Fortune Coin games. There are several coin packages, and each includes a different number of free Fortune Coins.
Here are the offered packages:
| Gold Coins | Fortune Coins | Price |
| --- | --- | --- |
| 1,000,000 | 515 | $5 |
| 5,000,000 | 2060 | $20 |
| 20,000,000 | 5170 | $50 |
| 50,000,000 | 10400 | $100 |
| 200,000,000 | 20750 | $200 |
| 700,000,000 | 31500 | $300 |
Below are the payment methods you can use to purchase more Fortune Gold coins:
Typically, when it comes to cash-out methods, Fortune Coins uses the purchase payment method that has already been used on your account. Therefore, make sure your card details are correct and that your name matches your account name.
Before completing your payout, you are required to provide personal documents to verify your identity. In general, Fortune Coins withdrawals can take up to two weeks. This is too long, even for a social casino.
Fortune Coins Casino Games
There are lots of fun Fortune Coins games for players at any skill level. At the moment, Fortune Coins offers more than 40 games from Blazesoft. Supposedly, they were supposed to get more games a few months after the launch, but we're still not seeing any additions.
Besides slots, they also offer a few other types of games. This is great, as we've seen casinos with more than 300 games, yet they only had slots to offer.
Take a closer look at the Fortune Coins game details:
Fortune Coins game offer

| | |
| --- | --- |
| Total number of games: | 43 |
| Best slot: | Ariel's Song |
| Best jackpot slot: | Lucky Panda |
| Best roulette: | N/A |

| | |
| --- | --- |
| Best blackjack: | N/A |
| Best baccarat: | N/A |
| Best video poker: | Joker Poker |
| Other games: | Fish, Keno |
Ideally, they should just add more games. The UI, the filters, the navigation is okay, but there's room for improvement. These improvements will be necessary once and if they add more games. It will be impossible to navigate a bigger library with the filters currently available.
Depending on what kind of coins you're playing with, you are eligible for one of the four jackpots. You can trigger them with any spin:
If you are playing with FC, you can win Fortune Coins, if you are playing with GC, you can win Gold Coins.
Slots
There's a total of 35 slot games available at Fortune Coins Casino. There are slot games with oriental elements, mythology, and there are the usual classic casino symbols, like lucky sevens and jewels. It's not that wide of an array, but it's not that limited.
These are the top 10 games by RTP available at Fortune Coins.
| Slot name | Provider | RTP |
| --- | --- | --- |
| Pyramids of Giza | Blazesoft | 96% |
| Fairy Tale | Blazesoft | 96% |
| Lucky Panda | Blazesoft | 94% |
| Farm Treasure | Blazesoft | 94% |
| Dia De Los Muertos | Blazesoft | 94% |
| Genie's Lamp | Blazesoft | 94% |
| Hot 777 | Blazesoft | 94% |
| Hope Diamonds | Blazesoft | 94% |
| 777 Hotline | Blazesoft | 94% |
| Magic Castle | Blazesoft | 94% |
Blazesoft is not a bad game provider, but it's not the best either. Moreover, only a handful providers can singlehandedly power a casino site without leaving room for improvement. Pragmatic Play's slot games are diverse, NetEnt's slots are arguably the best in the business, Blazesoft simply cannot match this.
Other Games
The Fortune Coins table game selection is non-existent. There is only video poker and Casino War available. You can also enjoy Keno and the Wheel of Luck.
Here's the full list of other games, that are not slots:
Casino War!
Keno
Jacks or Better
Wheel of Luck
Joker Poker
Emily's Treasure
The last one on the list is unique. While it's a slot, there are arcade components. Certainly a unique take on casino games, but it's not for everyone.
There are no roulette or blackjack games. You also don't have access to any baccarat games. Adding these three will elevate Fortune Coins to a whole new level, attracting potentially three times more players.
Supported Platforms
A social casino typically offers three different ways to play: Facebook, Amazon, and a mobile casino app. However, that's not necessarily the case with Fortune Coins Casino.
Fortune Coins is an HTML5 casino site, meaning it can be accessed using a conventional web browser without downloading a mobile app.
Here are the specific details for each type of platform:
Fortune Coins Mobile Casino
Fortune Coins Casino is entirely browser-based, so you don't have to download anything. Though this may be a problem for some players, it also means fewer chances for the app to crash or take up storage space.
Above all, it's refreshing to have games that load quickly on smartphones. On that note, Fortune Coins Casino accepts three mobile browsers: Safari, Chrome, and Firefox.
It is a bit counterintuitive to find the game navigation at the top of the screen, just under the Coins balances. In the main menu, located in the top left corner of the screen, you can access customer support, your game history, switch off the sound and you can redeem the coins that are available. If for whatever reason customer support wants your account ID, you can find it in the main menu, at the very top, under your email.
The games load fast and they do look better in landscape mode.
It's not a casino site with a lot of pages. It's compact, simple, and easy to navigate. To be honest, even without a dedicated app you can download, it does a very good job!
The Company Behind Fortune Coins Casino
Brought to you by Social Gaming LLC, Fortune Coins is a new, eye-catching, vibrant, and well–designed social casino.
In retrospect, it is pretty apparent that the developers did a lot of work to incorporate the basics of an excellent social casino site into this newly launched sweepstakes site.
Below you can find the exact details behind the company:
Fortune Coins Casino details

| | |
| --- | --- |
| Minimum gambling age: | 18+ |
| Responsible gambling measures: | Account limits including game and limits, account time out, self-exclusion |
| Other products: | N/A |
| Year founded: | 2021 |

| | |
| --- | --- |
| Excluded states: | Washington (WA), Idaho (ID), Nevada (NV) |
| CEO: | – |
| Publicly traded: | No |
| Owner: | Social Gaming LLC |
Make sure that you look at the company details and determine if you're legally permitted to participate at Fortune Coins Casino.
Notably, the Fortune Coins sweepstakes rules do not mention any excluded states. Nevertheless, it seems safe to assume that players in Idaho, Nevada and Washington state won't be able to withdraw coins for cash when they play a sweepstakes casino.
Notably, the Fortune Coins sweepstakes rules do not mention any excluded states. Nevertheless, it seems safe to assume that players in Washington state won't be able to withdraw coins for cash when they play a sweepstakes casino.
Alternatives of Fortune Coins Casino
Fortune Coins is a decent sweeps casino, but it doesn't have it all. If you're looking for table games, you must go elsewhere. If you want a better rewards program, you must go elsewhere. If you simply want more slot games to choose from, Fortune Coins Casino cannot deliver. Here are the top three alternatives you should consider.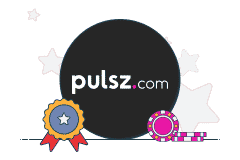 Sweepstakes prizes
Vibrant graphics
Limited table games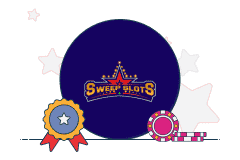 Mobile friendly interface
Daily sweepstakes drawings
No live chat support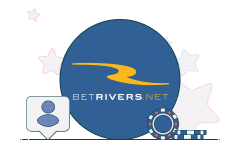 400+ casino games
Rewards program
No sweepstakes model
Pulsz Casino is your best "better" alternative to Fortune Coins. They have more than 300 slots to offer, and they offer blackjack. The design is very different from what we can see here. In addition, there's more structure in terms of loyalty and rewards prizes.
SweepSlots Casino is a direct alternative to Fortune Coins. They have a similar design, and one would expect seeing the same games. They do better in terms of game provider variety but are just as bad in terms of quantity.
Lastly, BetRivers.net, or also known as Casino4Fun, can offer a free to play environment with a better game variety. However, they do not have sweepstakes. If they introduce them, it will become by far the best sweepstake casino.
Conclusion
All in all, compared to some of the more established sweepstakes casinos that accept US players, Fortune Coins is taking off in a big way. To clarify, Fortune Coins is a well-designed social casino with a rich gaming library, a dedicated customer support staff, and cash payouts.
Ultimately, Fortune Coins did a great job of taking the most important criteria and making a site that delivered all that and more. The only thing they need to do is beef up that game offer, and provide a structured loyalty rewards program.
We're hopeful for a full Fortune Coins Casino release by Summer 2022.
FAQs
How old do I have to be to play at Fortune Coins Casino?
To play at Fortune Coins Casino, you must be 18 years old. In addition, players must live in the United States or Canada to sign up.
Do I have to make a purchase to play at Fortune Coins Casino?
Not always. There are two types of game modes at Fortune Coins casino. Gold coins are the main form of currency, and more fortune gold coins can be purchased or won. On the other hand, Fortune coins are given as gifts to purchase gold coins. In short, Fortune coins cannot be bought but can be cashed out for real money.
Are all of the games at Fortune Coins Casino slots?
Not at all. As a matter of fact, Fortune Coins Casino has more than 40 casino games. The casino offers a few table games, Fish and Keno titles, along with popular slots.
How do I complete a deposit on Fortune Coins?
There are several ways to purchase Fortune Coins, in-app or in the lobby. If you're in the lobby, go to the 'Buy/Free Coins' to look at the available coin options. On the other hand, if you need extra coins to continue your game or increase your bet, you can purchase coins in the games. Since the platform you decide to use changes how the game screen looks, the in-game coin packages will be located in different spots depending on the device.
How to I contact customer support at Fortune Coins Casino?
Contacting Fortune Coins customer support is extremely easy. On your browser, look for the link that says 'Contact Us'. Afterward, click on the purple floating help icon. A ZenDesk assistant will appear; from there, you type in your question and wait for a response. We recommend scanning the Fortune Coins FAQs for any commonly asked questions if it's less pressing.