MyChoice Social Casino New Account Bonus
MyChoice Casino is a fantastic choice for new social casino players. Start your new MyChoice account with 2,000,000 credits, completely free.
MyChoice new account bonus
| | |
| --- | --- |
| Bonus: | 2,000,000 in Virtual Credits |
| Bonus type: | No deposit bonus |
| Bonus code: | No code required |
Plus, once your new player account is set up, you will be awarded with a daily login bonus of 3,000,000 credits. To summarize, your new account balance will be a whopping 5,000,000 virtual credits– just from the new player and daily login bonus!
How to Claim the MyChoice Casino Bonus?
Follow these next few steps and be on your way to claiming the MyChoice casino bonus.
1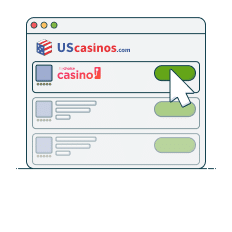 Visit via link
Use the link in this MyChoice casino review to visit the main site page.
2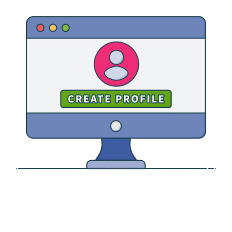 Create profile
Click on the 'create profile' button on your screen.
3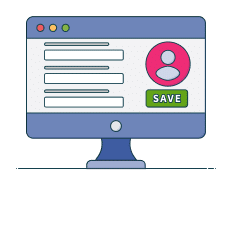 Set up
Go through the guided setup to fill out your correct personal information.
4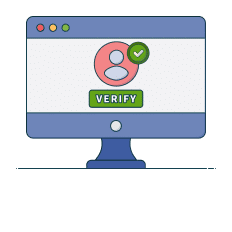 Confirm your account
Check your email account for a link to verify your new MyChoice Casino account.
5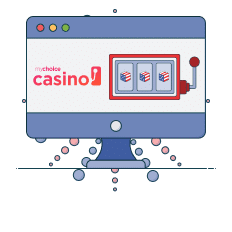 Start playing
Use your new account balance towards any of the available casino games at MyChoice.
How to Get Coins at MyChoice Social Casino?
Once you join MyChoice casino, you will be awarded virtual credits. Besides this, players will have an option to purchase credits.
Getting coins at MyChoice Casino is pretty easy, and can be done in two different ways:
Purchase- purchasing credits at MyChoice social casino is a great option for players who want to get past the limits.
Win- There are a set of standard ways that players can win virtual credits at MyChoice casino. First of all, every player has a shot to win up to 1 billion credits by spinning the Fortune Wheel. This is a fantastic way to replenish your virtual wallet, without purchasing any extra credits.
Other Promotions
In addition to the standard new player welcome bonus, MyChoice creates account specific promotions depending on your level.
Sure, while the ongoing promotions can vary dramatically depending on outside factors like holidays, your status level is a major contributing factor.
Notably, the slot tournament section is our favorite MyChoice casino feature; and it even comes with its own set of perks. Just head over to the events area, and the tournaments leaderboard will be highlighted according to specific categories.
Once you're there, you will only be allowed to enter tournaments in order of the required levels. Each MyChoice tournament includes its own set of entrance fees ranging from 1,000,000 to 25,000,000 in virtual credits. Then, any winnings will be distributed depending on the overall rankings.
Additionally, the high roller blackjack and video poker rooms are perfect for more traditional table game players.
How Does MyChoice Social Casino Work?
MyChoice social casino is a well operated social casino. It features a more classic take on a social casino atmosphere. Additionally, the casino game variety includes an equal balance of animated and classic games.
Essentially, there's a lot behind this intricate casino, including the following criteria:

Legal aspect

MyChoice casino is legal across the United States, including the District of Columbia for players 21 and older. Unfortunately, there's no information on whether MyChoice is available for players in Canada.

Coins

Unlike the competition, the coins are referred to as credits at MyChoice casino. All of the MyChoice virtual credits are meant for entertainment purposes only and do not have any real money value.

Bonus

New players can expect to see a variety of bonus offers at MyChoice casino. Besides the daily spin bonus, players are eligible for so much more, including a bonus every 4 hours.

Sweepstakes

MyChoice casino does not follow a sweepstakes model. Instead, MyChoice casino rewards loyal players with the choice rewards program, which is a plus in itself.

Connect with Social Network

Accessing MyChoice social casino can easily be done through Facebook. Despite this, MyChoice does not require or reward players for connecting to a social network.
There are no sweepstakes available here. For more information, take a look at our Fortune Coins review. Their sweepstakes offer is more than decent. Moreover, the interface is simple, and you easily switch between "for fun" play and sweepstakes.
Opening an Account at MyChoice Casino
The best part about opening a new player account at MyChoice casino is the instant and generous coin giveaways.
Just follow these next steps to get your new MyChoice account set up today:
Opening an account is going to include a lot of the same steps as claiming the MyChoice casino new player bonus. With either process, we would recommend taking some time to get familiar with the casino lobby and perks.
MyChoice Social Casino Rewards Program
The MyChoice Casino rewards program is one of the best in the market. Since MyChoice doesn't have any options to cash out virtual credits for real-money or prizes, the rewards program is the next best thing.
The best part, the MyChoice rewards program can be used at over 35 locations within the Penn National Gaming family. Plus, you will start racking up the rewards as soon as you sign up for a MyChoice casino account.
As soon as you sign up for your account, you will be able to check out your rewards program standing on the main site.
Purchase Methods at MyChoice Social Casino
One of the main differences at social casinos is the option to purchase credits that increase your virtual bankroll. By purchasing virtual credit packages at MyChoice casino, you will be able to get even further in your overall experience.
There's no need to head to the main lobby since the MyChoice coin shop is easily accessible from any area. After you're in the coin shop, choose from any one of the packages, and enter your payment information.
The available coin purchase methods at MyChoice casino include:
Notably, MyChoice social casino does not offer any additional gaming features with the purchase of virtual credits. If you're looking for coin packages with added features, we recommend playing at a more traditional online casino site like Chumba Casino.
Although social casinos have an option to purchase coin packages, it is not required. In fact, the large number of ongoing free coin promotions make it easy to rack up the free MyChoice credits.
MyChoice goes above and beyond for players in Washington. To be exact, instead of purchasing coin packages, players can get free virtual credits by mailing in a postcard. The exact details are explained in the terms and conditions, but the credits are typically awarded within 30 days.
MyChoice Social Casino Games
MyChoice Casino has a wonderful selection of casino games. In fact, the game variety at MyChoice includes a large number of classic slots, as well as the more popular social games.
On that note, we are happy to report that MyChoice casino has filtering capabilities for the game choices. Some of the filters to choose from are; staff picks, popular, featured, and new or classic slots.
Above all, these were the most notable casino games at MyChoice:
MyChoice Casino game details

| | |
| --- | --- |
| Total number of games: | 182 |
| Best slot: | Chili Chili Fire |
| Best jackpot slot: | Jackpot Inferno |
| Best roulette: | American Roulette |

| | |
| --- | --- |
| Best blackjack: | Blackjack Classic |
| Best baccarat: | Baccarat Classic |
| Best video poker: | Jacks or Better |
| Other games: | Keno, High Roller |
Supported Platforms
Playing casino games at MyChoice social casino is effortless, and can be done on these supported platforms: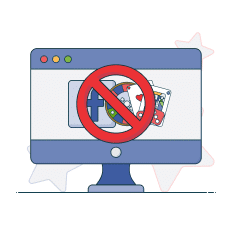 Facebook
If you're unsure where to start, connecting to the main MyChoice casino site is easy through your Facebook account. However, MyChoice casino does not connect to social media sites, and in turn, it doesn't offer additional coins for liking the Facebook page.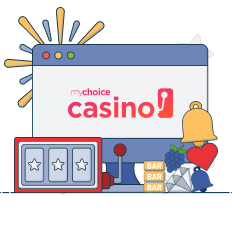 Website
The website browser is a highly convenient way to access the MyChoice casino gaming library. The overall experience is quick, vibrant, and reliable.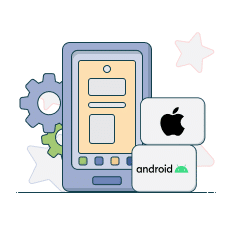 Mobile
Mobile app users can access the MyChoice casino on an Android or iOS app. The entire download process is seamless, and the gaming experience is equally as good as the regular site.
MyChoice Mobile Casino
Accessing the MyChoice casino is a breeze, even on a mobile device. Unlike the competing social casinos, the interface at MyChoice casino is quick and well designed.
The mobile site offers the same game filtering options as the regular site- including the search feature.
Choose from any mobile web browsers to access MyChoice casino, including Firefox, Chrome, and even Safari.
Casino App
Even as much as we recommend utilizing your mobile browser to play on MyChoice, the casino app is our favorite way to play. After the quick app download, sign in or create a new MyChoice account to get started.
From there, the gaming selection will be identical to the desktop version. The only difference will be that the lobby icons will be located at the bottom of the screen, rather than the top. The graphics are vibrant on every MyChoice casino-supported platform.
The Company Behind MyChoice Casino
MyChoice casino is owned and operated by Penn National Gaming, a Pennsylvanian treasure. Still, MyChoice casino is only one out of many ventures by the brand. In retrospect, it's a fantastic way to show the country what Penn National Gaming is all about.
MyChoice casino is available across the US for players 21 and older. However, MyChoice casino offers players in Washington a different type of experience.
To be exact, instead of purchasing coin packages, WA players can get free virtual credits by mailing in a postcard.
MyChoice company details

| | |
| --- | --- |
| Minimum age: | 21 + |
| Responsible gambling measures: | Questionnaire, self-exclusion |
| Other products: | Barstool Sportsbook |
| Year founded: | 1972 |

| | |
| --- | --- |
| Excluded States: | N/A |
| CEO: | Jay Snowden |
| Publicly Traded: | Yes- New York Stock Exchange |
| Owner: | Penn National Gaming, Inc. |
Advantages and Disadvantages of MyChoice Casino
Above all, MyChoice casino is a fantastic social casino for any level of player. Plus, the owners are a reputable USA company, which makes it more trustworthy, in our opinion.
Check out all of the pros and cons of MyChoice social casino:
Pros
Large selection of games

Casino mobile app

Easy to use site

Generous rewards program
Cons
No sweepstakes

No social media connection
Alternatives of MyChoice Social Casino
Granted, we are giving MyChoice casino a rave review, but we understand that alternatives are essential, especially when there are so many options.
Depending on what you're looking for, these are the social casinos we would recommend as an alternative for MyChoice:
MyChoice Casino alternatives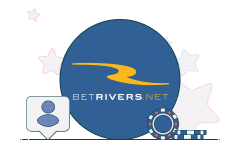 Large game variety
Loyalty rewards program
Players must be 21+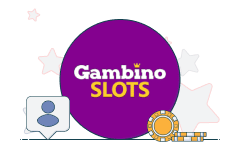 Unique free spins bonus
VIP program
No table games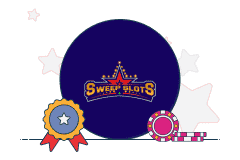 Slot tournaments
Sweepstakes model
No mobile app
Conclusion
To summarize, MyChoice Casino is a well-structured and sophisticated casino. This structure flows throughout the entire site and the casino mobile app. Plus, it's always nice to see a clean and uncluttered casino, especially when it's not the norm for the industry.
Between the enticing welcome bonus, casino game variety, and generous rewards program, MyChoice casino has it all.
FAQs
Can I win real money at MyChoice Social Casino?
Unfortunately, MyChoice Social casino is just an entertainment extension in the Penn National Gaming lineup. With that being said, MyChoice Social Casino does not payout, and players cannot win any real money rewards.
Does the MyChoice Social casino app have table games?
Yes! As a matter of fact, the MyChoice casino game lineup is identical on all of their supported platforms. Players can expect to see a solid variety of slots, table games, Keno, and high roller games. Plus, every casino game at MyChoice is completely free – you just bet with virtual credits!
Can Washington residents play at MyChoice social casino?
Yes – and they qualify for even more free virtual credits! Truly, Washington online casino players have it made at MyChoice casino. Instead of purchasing coin packages, WA players can mail in a postcard for extra credits. Check out the MyChoice terms and conditions for the exact requirements.
What's the minimum required age for players at MyChoice casino?
Currently, players must be 21 and older in order to play at MyChoice Casino. On top of providing an enjoyable experience, MyChoice casino is a safe and reputable social casino operator.
How do I send friends a gift on MyChoice social casino?
Unfortunately at this time, MyChoice casino does not offer any options for gifting other players. However, MyChoice casino encourages players to send friend referrals in return for more coins. Simply access the friend referral section under your profile settings.