BetRivers Social Casino New Account Bonus
BetRivers Social Casino is curated with every level of player in mind. First thing's first, the BetRivers welcome bonus gives players $250 in Virtual Credits – no strings attached.
BetRivers Social new player bonus
| | |
| --- | --- |
| Bonus: | $250 in Virtual Credits |
| Bonus type: | No deposit bonus |
| Bonus code: | |
Considering that BetRivers social casino game currency is comparable to the value of real-money, $250 VC's is a substantial bonus. The biggest difference is, BetRivers.NET is for entertainment purposes only, and Virtual Credits do not have any real-money value.
Although we'll get into every aspect of the BetRivers Social Casino, let's start by going over the process to claim your new player bonus.
How to Claim the BetRivers Casino Bonus?
The process to claim the BetRivers.NET USA or Canada bonus offer is stress-free and only takes a few steps.
1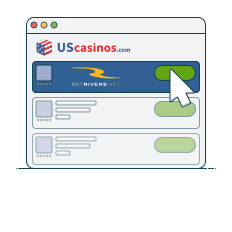 Visit via link
Access the BetRivers social casino site using the link on this review.
2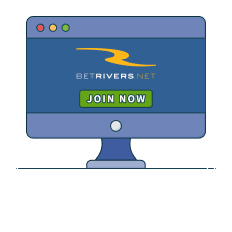 Join now
Click on the join now button on the screen.
3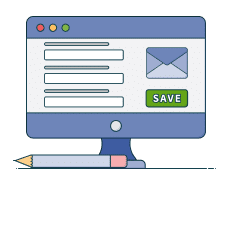 Fill out personal info
Go through the process of setting up your new BetRivers player account.
4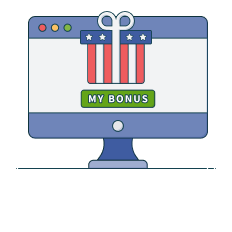 Claim virtual credits
After confirming your account, claim the new player bonus by going to your player account promos section.
5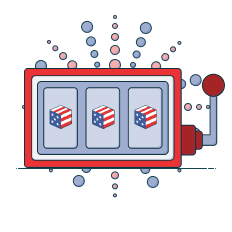 Start playing
Play any one of the 400+ casino games with your free $250 virtual credits.
If you previously have made an account on the real-money BetRivers Casino site, you will be prompted to sign in instead. Plus, players must be 21 and older to play on both the real-money and the BetRivers Social Casino site.
How to Get Coins at BetRivers Social Casino?
Unlike traditional social casinos, the main currency at BetRivers.NET is Virtual Credits (VC).
Outside of the social casino site, VC's do not have any real money value and cannot be cashed out for real money prizes.
Likewise, Virtual Credits packages are available for purchase and range between 50 credits for $1.99 to 37,500 credits for $299.99.
Other BetRivers Casino4Fun Promotions
Alongside the introductory bonus, BetRivers runs ongoing promotions throughout the site.
Each time you log in to your account, an alert featuring new games and promotions will pop up.
Though these updates include new slot game titles, look out for free VC promo codes and account-specific daily promotions.
Additionally, players can trade Play Points for a variety of VC$ prizes.
How Does BetRivers Social Casino Work?
Although social casinos do not have a standardized model, all of them share the following similar qualities:
Legal aspect

The BetRivers Casino4Fun social casino is legal in all 50 states, as well as Canada. In order to sign up for an account and play, users must be 21 and older.

Coins

All of the virtual coins used on BetRivers.NET are called Virtual Credits.

Players can purchase more virtual credits to use for game play, but Virtual Credits (VC$) cannot be redeemed for real cash. Ultimately, BetRivers.NET is meant for entertainment purposes only.

Bonus

Alongside the daily bonus log-on offer, players will get a chance to win free Virtual Credits by taking free daily spins.

However, since BetRivers has a Rewards Program, players will earn a variety of bonus styles.

Sweepstakes

Unlike some other social casinos, BetRivers.NET does not have a sweepstakes model incorporated into the social casino. On the other hand, players will be able to participate in the BetRivers rewards program, whereas the sweepstakes casinos do not have such programs.

Connect with Social Networks

Typically, social casinos encourage connecting to a social network like Facebook to play at the casino. Yet, BetRivers social casino is still relatively new to the social aspect.

At this time, the social casino is modeled after their real-money site and does not include any social media connectivity.
If you were expecting to see sweepstakes, you would have to look for them elsewhere. Currently, there are many sweepstakes casino alternatives to choose from.
Opening an Account at BetRivers.NET
Opening a new player account at BetRivers Social Casino is a quick and similar process to claiming the initial 250 VC bonus.
As an added step, make sure to verify your email address and customize your email notifications.
BetRivers Social Casino Rewards Program
The BetRivers Social Casino rewards program slightly varies from the real-money casino program. Instead of sharing one program, social casino players are fully equipped with their own set of prizes and perks.
Ultimately, reward prizes are calculated by Play Points, and these points can be earned by placing wagers. While the calculation is not clear, the Play Points rewards are easily attainable and reward packages range anywhere from 10 to 1,500 Play Points.
Keep in mind, the rewards program for BetRivers Social Casino does not include any real-money prizes.
Purchase and Payout Methods at BetRivers Social Casino
Chances are, with so many thrilling casino games to choose from, you may want to purchase extra Virtual Credits at some point. There's no need to stress, the purchase process is fully transparent and easy to access.
First, visit the VC$ store payment options by clicking under your total VC amount. From there, you will be required to select a VC package and follow the on-screen directions for processing.
To summarize, BetRivers Social Casino accepts the following payment methods:
After comparing the BetRivers Casino4Fun purchase methods alongside other social casinos, we were happy to see PayPal among the listed payment providers.
BetRivers Social Casino Games
BetRivers casino4fun easily takes the first place prize for the largest social casino gaming library. When compared to the leading social casinos in the industry, BetRivers outnumbers others by at least 150 games.
That being said, the game quantity does not guarantee the quality of the gaming library. Thankfully, the lineup at Casino4Fun is filled with classic slots alongside the new and exclusive games.
BetRivers Social game variety

| | |
| --- | --- |
| Total number of games: | 462 |
| Best slot: | Floating Dragon Hold & Spin |
| Best jackpot slot: | Grand Spinn Superpot |
| Best roulette: | Lightning Roulette |

| | |
| --- | --- |
| Best blackjack: | Infinite Blackjack |
| Best baccarat | Classic Baccarat |
| Best video poker: | Side Bet City |
| Other games: | Slingo, monopoly, exclusive slots, live dealer games, virtual cars |
Above all, BetRivers social casino offers live dealer games, which is very new to both the real money gambling community and the social casino community.
On top of the free to play live dealer games, you can also place bets using their Virtual Credits at the BetRivers Sports Zone – a social sports betting site.
One aspect worth mentioning is that the social casino game library at BetRivers mirrors the real-money casino games. Though the lineup isn't identical, BetRivers Casino4Fun is the best operator to try if you prefer traditional casino games and multiple slot software providers.
Supported Platforms
Although it's strictly an online casino, BetRivers Casino4Fun is only available on one supported platform. For some players, this may be a make-it-or-break-it situation, but we think it's the best solution for this casino giant.
Let's explore the differences between the platforms and see what that means for BetRivers: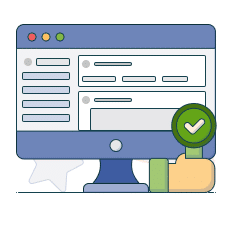 Facebook
Unfortunately, BetRivers is not available for play through Facebook.
Still, we would highly recommend to players to like and follow the BetRivers Facebook account. In fact, they feature updates on new slot games and promotions on a regular basis.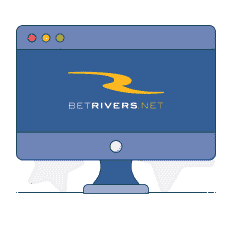 Website
The website browser is our favorite way to access the social casino gaming library. Sure, a few of the game links are broken, but the overall experience is quick and reliable.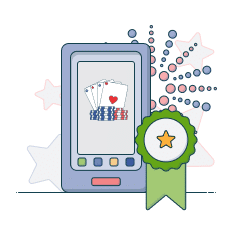 Mobile
BetRivers Social Casino does not have a mobile app, but it is available for play on a mobile device. In fact, we prefer this method as it doesn't require a large app download or updates.
All in all, the BetRivers Social Casino site is a well-designed and transparent site, and the account customization options are unlike other social casinos.
BetRivers Mobile Casino
Accessing BetRivers Casino4Fun is extremely easy on a mobile device. Just head over to the site by clicking our sign-up link. Then, the link will automatically direct you to the web version by using your preferred web browser.
That's not all – BetRivers.NET allows players to switch from horizontal to vertical view. Some games will be available in both directions, otherwise, it will require you to rotate your device.
Mobile Casino App
At the time of this review, BetRivers social casino does not have a native mobile app. Mobile apps are not available for iOS or Android devices.
Typically, we would see the lack of a casino app as an extreme negative for an online casino, but not in this case. In fact, players will be happy to know that the entire gaming library is available on their phones.
Truly, BetRivers Social Casino is the ultimate proof that there's no need to minimize the slot selection to prevent usual app lag issues.
The Company Behind BetRivers Social Casino
BetRivers Social casino is part of a massive real-money casino company, Rush Street Interactive (RSI).
Essentially, since every real-money BetRivers product is legal and licensed with the state and government, we feel even more confident and safe playing at BetRivers social casino.
With a product line going beyond physical casinos, RSI is easily becoming one of the largest gambling operators in the US.
BetRivers Social company details

| | |
| --- | --- |
| Minimum age: | 21 + |
| Responsible gambling measures: | Self-exclusion |
| Other products: | BetRivers Casino, BetRivers Sports Zone, BetRivers Sports Book, SugarHouse Casino |
| Year founded: | 2012 |

| | |
| --- | --- |
| Excluded states: | N/A |
| CEO: | Richard Schwartz |
| Publicly traded: | Yes – New York Stock Exchange |
| Owner: | Rush Street Interactive |
Note- Technically, RSI operates real money online casinos in 4 states, but the BetRivers online casino brand is only available in three states.
Therefore, the social casino is a great option for a legit BetRivers experience. Plus, the real money casino is only available if you live in or visit PA, West Virginia, or Michigan casino sites.
Advantages and Disadvantages of BetRivers Social Casino
There are many perks to playing at BetRivers Social Casino. Truly, even with a few hiccups, BetRivers is a fantastic option for players looking for a good combination of table and slot games.
Pros
Large selection of games

Responsive web browser

Live dealer games

Extensive FAQ
Cons
Broken game links

No mobile apps
Alternatives of BetRivers Social Casino
Alternatives are few and far between for BetRivers Casino4Fun. Sure, the other traditional social casinos are great for what they are, but they do not have the same level of variety.
However, out of the available online social casinos, these are the few that we recommend:
BetRivers Social alternatives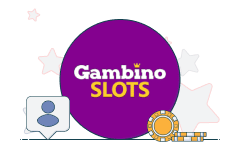 Loyalty program
Multiple platforms
No table games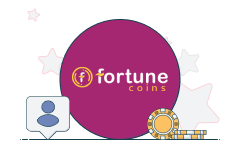 Fast checkouts
Sweepstakes prizes
No rewards program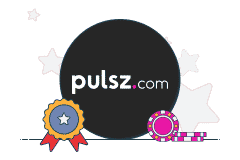 Rewards program
No ads
Smaller table game selection
Conclusion
Taking everything into consideration, BetRivers social casino is a fantastic online casino site, even without the important social aspect.
All in all, BetRivers Social Casino is a great mixture for new and seasoned slot players. Still, the extensive gaming library can easily overwhelm a player looking for a traditional social casino.
To summarize, the welcome bonus offer is a great opportunity for players to try the large free casino game selection.
FAQs
Is BetRivers Social Casino legit?
Yes, BetRivers Social Casino is a legit social casino. In fact, the online social casino is available for players 21 and older in the United States and Canada. Similar to other legit online casinos, BetRivers social uses a Random Number Generator and encourages responsible gambling.
How do I cash out at BetRivers Social Casino?
BetRivers Social Casino does not have any cash out options. Because BetRivers.NET is a social casino, it is meant for entertainment purposes only. Additionally, players can purchase and get free virtual credits for use on the 400+ casino games.
Does BetRivers Social Casino have a mobile app?
Currently, BetRivers Social Casino does not have a mobile app. However, the website site works well on a mobile web browser. Despite the functionality of the mobile web browser, we hope to see an iOS and Android app in the near future.
Can I send gifts to my friends on BetRivers Social Casino?
At this time, BetRivers Social Casino is not set up like a traditional social casino game. While you can view the leaderboard with the casino users, you are not able to friend them. Additionally, BetRivers does not allow players to transfer virtual credits to another player's account.
Is BetRivers Social Casino free?
Yes, BetRivers Casino4Fun is a completely free social casino developed by Rush Street Interactive. BetRivers Social Casino features more than 400 casino games, including a solid selection of innovative live dealer games.