Most Famous Casino YouTube Slots Stars Net Worth in 2022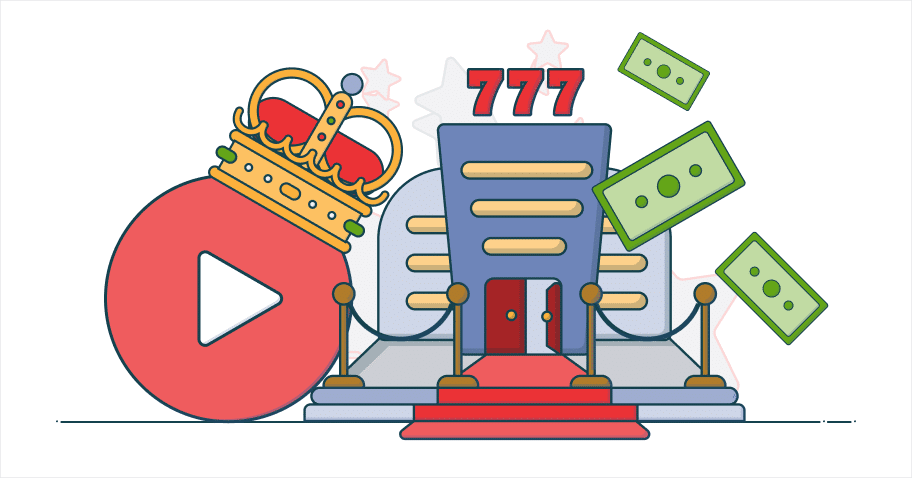 With so much top-quality content from the world of sport, music, and entertainment available on YouTube, why would you want to watch someone else play slots? In fact, there are a number of very good reasons why YouTube slot videos have become so popular. YouTube casino slots wins are becoming trendier than ever.
First and foremost, you can get an idea of how to play a game without having to risk any of your own cash. You can learn about the mechanics of a particular slot. Is it volatile, offering high-risk action but potentially high rewards? Or is it a low variance game that delivers a steady stream of low-value wins, but jackpots are rare? Big YouTube casino slots win, complete with all the flashing lights and hypnotic casino sounds are always entertaining too.
The world of YouTube slot videos is a competitive one. To stand out, the hosts need to deliver fresh and innovative content. Viewers expect to be entertained as well as informed. The best online slot influencers manage to do just that.
Here are the Top 6 Casino Slots YouTubers.
Brian Christopher Slots – $207 estimated earnings per video
470k subscribers:
97.2k avg. views per video
What started as a whim on a 2016 Las Vegas long weekend trip has turned into big business for Brian Christopher. The Canadian recorded himself playing the slots uploaded the footage to YouTube and found himself a surprisingly large audience.
The former actor turned YouTuber has gone on to produce thousands of YouTube slot videos showcasing his play on many of the casino world's most popular games. Win or lose (and as he says himself, 'lose we do!'), you're up close to the action. Viewers can also tune in for live streams every Wednesday and Thursday evening.
It's not all been plain sailing though. The Ontario native's original Brian Gamble's channel fell foul of YouTube regulations and was removed from the site.
It subsequently re-appeared as Brian Christopher Slots and has gone from strength to strength. He now has over 470,000 subscribers and his videos have been viewed more than 311 million times! Among his most popular clips is a $4,000 bet on a pair of high-limit slots which has been viewed over 3.6 million times.
Christopher's videos have become so popular he even has a fan club, 'The Rudies', whose name is based on his 'rude' catchphrase which he'd say follows a winless spin.
The most popular YouTube slot acknowledges that he makes most of his money from YouTube and not from winning on the slots. He told the Toronto Star in 2020, "Slot machines are designed to take your money. So I always tell people: 'If you've made a dollar, cash out, take your money and run. Because you've already beat the system." Good advice.
You can also find the current YouTube slots king on Instagram (where he has +40k followers) and TikTok. Check out YouTube Brian Christopher Slots for more.
WatchGamesTV – $203 estimated earnings per YouTube slots video
387k subscribers:
38.8k avg. views per video
Unlike Brian Christopher who focuses on live casino slots, Ibby Zekerie aka WatchGamesTV centers on online games and slots. The Bulgarian-born streamer's high-stakes gameplay has attracted a huge online following. The WatchGamesTV YouTube channel has more than 387k subscribers and his videos have been watched almost 60 million times.
WatchGamesTV also streams content via Twitch where he has upwards of 81k subscribers. See what he gets up to when not streaming by joining the 21k followers to the Instagram account.
The most popular slot video on WatchGamesTV is a big win on the Gates of Olympus slot.
With an estimated fortune of $1.5 million, WatchGamesTV is among the biggest YouTube slot video earners. Check out all the clips at YouTube WatchGamesTV.
NG Slot – $157 estimated earnings per video
321k subscribers
74.7k avg. views per video
Another huge star in the world of YouTube slots is Narek Gharibyan, aka NG Slot. The California-based streamer's videos are packed full of high production values and visual flair. Combine that with enthusiastic presentation and the channel has become a firm favorite with slot fans.
Most of the action centers on live casino slots with new videos posted on a daily basis. The most viewed video on the NG Slot YouTube Channel is a $130,000 Handpays Jackpots on the Lightning Link, Dragon Link, and Lock It Link slots.
As you'd expect, the NG Slot Instagram and TikTok platforms are very popular with 22k and 66k followers respectively.
That popularity has brought an estimated fortune of some $1.4 million.
Check out NG Slots today.
Lady Luck HQ – $153 estimated earnings per YouTube slots video
203k subscribers
68.5k avg. views per video
Want a taste of Vegas from the comfort of your own home? Let Lady Luck HQ take you there. The husband-and-wife team plays high-stakes slots from some of the best-known casinos in Las Vegas.
That simple formula has proven to be extremely popular with slots fans around the world tuning in to the action. The channel's most popular video featured an $18,000 jackpot on Konami's Rio Dreams slot and has been viewed more than 7.1 million times.
Francine Maric, the friendly face of Lady Luck HQ is a prolific social media user. You can keep up to date with all lady Luck HQ's new on Instagram, TikTok, and Facebook.
You can meet Lady Luck HQ herself via meet and greet events which are listed on the official Lady Luck HQ website.
Lady Luck HQ has an estimated net worth of $800,000.
Check out all the videos at the Lady Luck HQ YouTube Channel.
VegasLowRoller – $102 estimated earnings per video
133k subscribers
45k avg. views per video
His name might be VegasLowRoller but there's no shortage of big wins on display when you scroll through the videos at this popular YouTube channel.
A big, outgoing personality combined with very flashy visuals means that the VegasLowRoller channel won't be for everyone. Those that do like it really seem to like it though. No fewer than five of VegasLowRoller's videos have been viewed more than one million times.
Expect the usual selection of big wins and outlandish action from the Vegas video clips. You'll also get some useful technical primers on the slots including videos on volatility and the like.
VegasLowRoller isn't just known for his slot knowledge. The host has also shown considerable dedication to his health, dropping loads of weight to really get in shape. Like the rest of the content, the transformation is visible on the YouTube channel. His dog, Gigi, has also become something of a YouTube sensation.
Like most YouTube slot streamers, VegasLowRoller is a prolific user of social media. Expect regular updates on all the usual channels including Instagram and TikTok.
Check out the full collection of content at the VegasLowRoller YouTube Channel.
The Big Jackpot – $83 estimated earnings per YouTube slots video
348k subscribers
21.5k avg. views per video
Offering players the thrill of high-stakes action without having to spend a penny is The Big Jackpot. This YouTube channel is centered on big bet slots action at Las Vegas casinos. Expect wagers here to range from between $75 and $5,000 per spin.
The combination of high roller action and flashy visuals has been a hit with fans with The Big Jackpot channel attracting 348k subscribers.
The channel's most viewed clip was 100 spins at $30 a spin on the Dragon Link slot which has been watched over 3.3 million times.
With over 75k followers on TikTok and 21k on Instagram, The Big Jackpot is a regular social media user. His net worth is estimated at around $480,000.
If you want to know more about how to make money using the YouTube platform, check out Scott Richter aka The Big Jackpot's 12-point guide at Entrepreneur.com.
The full collection of over 3,400 slot clips is available on The Big Jackpot YouTube Channel.
Conclusion: Watching YouTube casino slots wins is generating (even more) money
What started out as an enjoyable sideline for many of the slots influencers above has gone on to become a highly successful and lucrative business. They know what their viewers like and target their content accordingly.
Indeed, YouTube content providers can often be more influential than traditional celebrities when it comes to promotion.
It's worth noting that even though the subject matter is slots, most of the money comes from YouTube ad revenues and not from playing the slots themselves.
Watching the YouTube slot influencers make high stakes bets can certainly be exciting viewing. Especially if the hosts are enthusiastic and engaging and there are some big jackpot wins and big losses thrown into the mix. However, YouTube casino slots wins are more satisfying to watch.
If after watching all those YouTube slot videos and you fancy having a go yourself, be sure to check out our guide to the best slot machines around.
Sources:
https://influencermarketinghub.com/youtube-money-calculator/
https://us.youtubers.me/