Planning a Las Vegas Long Weekend With $300 (updated 2022)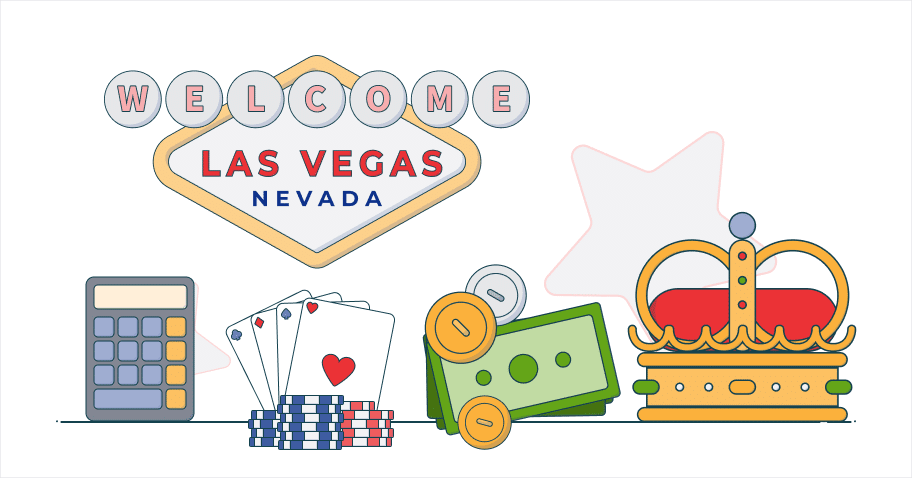 Las Vegas is widely considered the entertainment capital of the world. It can be hard knowing what to pick with so much going on. However, the ultimate question is whether you can have a Las Vegas long weekend itinerary with just $300 in your pocket?
In this blog post, we will give you an overview of Vegas nightlife. Where to stay. Where to eat and drink. Where to party. What to see. We will then total everything up at the end to see how far $300 will take you.
With a bit of forward planning, you can enjoy plenty of Las Vegas luxury at bargain prices.
Fine Dining on a Budget
You will be in heaven if you are a foodie. From Gordon Ramsay's restaurants to Emeril's New Orleans Fish House, where you can expect to spend at least $35 for a typical plate, Vegas is brimming with dinner places to tickle your tastebuds.
However, you don't have to spend a fortune to find some great bites. Old Soul, for example, dishes up American classics, and it is very affordable. The restaurant is a firm favorite with locals, averaging 4.9 stars from just under 100 reviews published on Google.
Another good option is Wolfgang Puck Bar and Grill at the MGM Grand. Expect classic 'grill' favorites as well as iconic pasta dishes. You'll find fine dining here at very reasonable prices.
As a city that attracts visitors from around the globe, a Las Vegas itinerary can include pretty much every style of cuisine you could wish for. From Korea to Guam, Malaysia to Egypt, there's a restaurant to match.
With so much choice, it's an ideal place to try something a little exotic that you wouldn't be able to find at home. Take, for example, Marrakech. Its outlandish decor will transport you to an atmospheric Arabian souk while its traditional Moroccan dishes are packed full of spicy flavor. The platters make Marrakech a great pick if you're out with a group. With 633 reviews on Yelp.com at an average of 4.5, it's a hit with locals and tourists alike. You might even get a belly dancing show if you're lucky!
Thai restaurant Le Thai is also moderately priced, and with a live DJ playing some nights, you can eat out and party in the same place!
View this post on Instagram
Partying Until the Early Hours in Las Vegas
Vegas is renowned for its nightlife. There are some trendy watering holes, including the Bird Bar. You can sip on cocktails, or you can grab a bucket of five beers for $35 with friends.
For those that are happy to party until the early hours, Vegas delivers. You can expect to see world-class DJs, such as Tiesto or Markus Schulz at Hakkasan or Omnia, and entry prices range from $25-$100. Also, drinks inside the club can vary from around $5-$20, so perhaps drink before you enter.
When planning your itinerary in Las Vegas, don't forget to factor in travel costs. Traveling in style, such as a limousine, may set you back about $60 an hour. Alternatively, you can get down the strip by Uber, or taxi, where the meter will start at around $3.50. Or you can hop on the bus, which is $8 for a 24-hour pass.
Casino Night Owl
Whether you want to indulge in some poker or chance your arm on the roulette table, it is hard to put a price on a casino visit. The MGM Grand is one of the most reputable casino brands, but if you want to avoid substantial losses, you can play the slot machines for as little as 1c. Would you rather be playing online at MGM? Check out for betmgm bonus code and start playing now!
Back to Vegas and If you fancy rubbing shoulders with the high rollers at one of the most luxurious casinos in Las Vegas, the Bellagio is certainly worth a visit. This opulently designed resort is home to thousands of slots and more than 200 table games if you fancy trying your luck. If you want to keep your cash in your pocket, it's still a great place for people to watch. You might even spot a celebrity or two.
You've probably heard about Las Vegas casinos offering players free drinks. It's true. And it's a very important one to include in your itinerary. Don't make the mistake of going to the bar and asking for a glass of something though. The free drinks are only offered to people who are playing slots or table games. Have $1 bills ready for tips. Of course, alcohol can impair judgment, especially when gambling so pace yourself.
View this post on Instagram
What is the #1 Hotel in Vegas?
Vegas has a plethora of incredible hotels. If you are on a budget, you may want to check out the Strat, which is $65 per night.
However, if you want to splash out, check out the Wynn or the Bellagio, with rooms costing around $210 a night.
When you visit Vegas can have a big impact on prices. Avoid busy times, such as convention season or Spring break. If there's a big heavyweight title fight on, expect to pay more too.
A Las Vegas long weekend is among the most popular vacations for US travelers. You can often get much more bang for your buck if you visit midweek rather than Friday or Saturday night.
The Strip is four miles long but as we've seen above, buses, cabs, and Ubers are frequent and cheap. If you don't mind staying in a venue that's a little further out, you can get often get a bit of luxury for a bargain price.
Take the Tropicana for example. One of the oldest casinos in Vegas, it's been fully refurbished but is still brimming with 1950s charm. Located at the South end of the Strip, it has all the casino games you could wish for as well as a theater, comedy club, live music and a host of top dining options. Off-peak rooms are available for as little as $50 per night.
View this post on Instagram
Offbeat Attractions for a Las Vegas Long Weekend
As well as the casinos, nightclubs, and theaters, there are plenty of more offbeat attractions in Las Vegas. Take The Mob Museum. Set in a restored 1930s courthouse, it explores the history of organized crime from the early days of Las Vegas through to the present day. Tickets are priced at $32.50.
Escape the Strip and go exploring on the Downtown Las Vegas Pop Culture Walking Tour. The 90-minute walk takes in the carnival atmosphere on Fremont Street, classic 1950s Rat Pack casinos, amazing street art, and the hip Fremont East. You'll even get a cocktail at El Cortez. This slice of old-school Vegas was once owned by mobster and Sin City pioneer Bugsy Siegel. Enjoy this look at hidden Vegas from $35.
Golf and rock music fans should check out the incredible Kiss-themed mini-golf venue at the Rio Casino. Packed full of quality memorabilia and backed by a non-stop Kiss soundtrack, it's not like golf you'll have played anywhere else. What other course could feature Kiss frontman Gene Simmons' oversize tongue? Entry here is free. To play 18 mini-golf holes costs $12.
Just over the road from the Kiss Mini Golf is the Pinball Hall of Fame. You can play on over 400 classic machines from retro classics to the hottest new releases. Entry is free. Just take plenty of coins to play with the machines.
View this post on Instagram
48 Hours in Vegas for Couples
It might not quite be up there with Paris or Florence but 48 hours in Vegas is an extremely popular romantic weekend destination for couples. There's much more for couples to do on a Las Vegas long weekend than gamble as well.
Take a trip on the largest observation wheel in North America. Soaring 550 feet into the sky, it offers stunning views of the Strip and beyond. Tickets are available at $29.75.
Vegas is a great place to take in a show and they don't come much more memorable than the spectaculars created by Cirque du Soleil. At the time of writing, there are five Cirque du Soleil shows running with tickets starting from $69. Our pick would be the stunning 'Love' at The Mirage which is based on classic songs from The Beatles.
After all the partying, take the pace down a notch or two by enjoying a luxurious couples' spa. Enjoy a reviving sauna, take a dip in a hot tub or indulge yourself with a treatment or two. The Roman baths at Qua at Caesars offer a suitably luxurious way to wind down.
Of course, if you're feeling really romantic, you could even get married or renew your vows at the world-famous Viva Las Vegas wedding chapel, complete with a crooning Elvis-alike.
View this post on Instagram
The Perfect Luxury Las Vegas Itinerary for $300
A bit of itinerary preparation for a Las Vegas long weekend can deliver plenty of great value. There's still plenty of room for spontaneous partying but bagging a cheap (but luxurious) room, a lavish meal, and show tickets in advance can really work wonders if you're trying to do 48 hours in Vegas on a budget.
For a cheaper night out in Vegas, $300 will be ample. You will be able to find a reasonably priced meal, hotel, and after-dinner entertainment. But if you want to have a truly luxurious night out, we suggest pushing the boat out a little by bringing $500 or more.