Best Online Casino Slots in the US 2022
If you're looking to play online casino slots for real money, you've come to the right place. We provide a hand-picked list of top-rated US online slot casinos, reviewed by industry experts.
Browse our top list of trusted casinos or scroll down to learn more about payout rates, variance, and the basics of online slots.
Top Rated Online Slot Casinos in 2022
#
Casinos
Bonus
Visit site
T&Cs

1.

888casino

$20 free + 120% up to $500

Play

2.

BetMGM Casino

$25 free + 100% up to $1,000

Play

No deposit bonus: 1 x bonus
Welcome bonus: 15 x bonus

3.

Borgata Online Casino

$20 free + 100% up to $1,000

Play

No deposit bonus: 1 x bonus
Welcome bonus: 15 x bonus

4.

Caesars Casino

$10 free + 100% up to $1,000

Play

No deposit bonus: 1 x bonus
Welcome bonus: 5 x deposit + bonus

5.

Golden Nugget Online Casino

100% up to $1,000 + 200 Free Spins

Play

Welcome bonus: 10 x deposit + bonus
Free spins: 1 x bonus

6.

Mohegan Sun Casino

100% up to $1,000

Play

Welcome bonus: 30 x bonus

7.

SugarHouse Casino

100% up to $250

Play

8.

Unibet Casino

$10 free + 100% up to $500

Play

No deposit bonus: 1 x bonus
Welcome bonus: NJ - 25 x bonus | PA - 10 x deposit + bonus
The Most Popular Slots in the US
There are thousands of online slots for real money, provided by various gaming software suppliers such as NetEnt, IGT, and WMS.
However, some online casino slots stand out from the crowd. Take a look at our list of the most popular online slots in the US:
This online slot machine list is a great starting point for beginners. Over time, you'll develop your own favorites as you master advanced slots mechanics.
Which is the Best Online Slots Casino for You?
Each one of our recommendations is chosen from a large list of real money casinos in the US. Moreover, these sites are thoroughly reviewed based on strict criteria by our team of in-house experts. We want our readers to enjoy a quality playing experience and the best games to choose from, without having to spend hours on the research.
Take a look at our detailed selection process and see how we ensure we only recommend the best slots casino sites to our readers.
Online slots library

We look for US online casinos partnered with the best gaming providers, such as NetEnt, Big Time Gaming, IGT, Konami and NextGen. This ensures a quality slots selection with hundreds of titles to choose from. These providers are known to offer excellent payout rates, the best graphics, variety in themes and frequent new releases.

Game filters & user experience

Most casinos have hundreds or thousands of real money slots. This is why we prioritize slots casino sites that have good sorting filters. You should be able to filter slots by category, payout rate, "Hot and Cold", features, themes, and so forth.

Average payout rates (RTP)

The best gaming providers have good overall payout rates. However, many online casinos only feature a small selection of a provider's slot library. We analyze the average RTP to ensure satisfactory payout rates across the board.

Secure and fast payments

Casinos are not all about slots. One of the most important elements is access to convenient payment methods and fast withdrawals. Online casinos that accept PayPal and fast bank transfers are an obvious choice.

Slots bonus offers

As bonuses play an important part in your online slot machine experience, we analyze the different ongoing bonuses offered by casinos. We make sure to feature casinos that offer frequent slots bonuses. Some sites also offer free spins welcome bonuses, but they're not very common.

Quick live support

The key aspect of having smooth slot game sessions is fast access to live chat support. We test a casino's availability, response times and knowledge. This way, you know you'll be in safe hands if something goes wrong or you need help with something.
Types of Online Slots
Slots are categorized as classic, video, and progressives. Every slot machine online has the same basic elements: reels, paylines, and the spin mechanic. However, they can be different in gameplay, features, payout potential and graphics.
Keep scrolling for an explanation of each slot type and its main characteristics.
Classic Slots
Classic slots have 3-reels and are also known as "fruit machines" as they usually feature fruit symbols on their paylines.
These games are known for simple gameplay, basic features, and vintage graphics. They aren't the most popular types of slots out there. You'll usually only find a dozen or two classic slots in a given casino.
Nonetheless, some players prefer the simplicity of classic slots. That is why they'll likely have a place in online casinos' gaming libraries for years to come.
Video Slots
Video slots are the modern, best online slot machine type of today. Nowadays, almost every new slot is a video slot.
Most video slots have 5 reels and exciting bonus features and symbols like free spins, Wilds, Scatters, and many variations of such symbols and features.
Video slots have the best graphics and sound effects, and they're regarded as the most entertaining slot machine online. A typical online casino has hundreds of video slots.
Progressive Jackpot Slots
A progressive jackpot slot is a regular video slot with a huge jackpot. The jackpot keeps growing as more people play the game until someone wins. These are the kinds of slots that feature huge jackpots, often into the millions.
Because a portion of each bet contributes to the increasing jackpot, these slots often have lower payout rates than video slots. This is why we don't recommend these slots for beginners or players on a tight budget.
Megaways Slots
Megaways Slots are a video slot variant with increased ways to win. The Megaways online slot machine, invented by Big Time Gaming, broke new ground in online casinos.
A typical video slot has 25 paylines, meaning 25 "ways to win". However, Megaways slots have 1000+ ways to win. These games have outstanding winning potential. But they also have more complex reel mechanics, symbols and bonus features.
The downside of Megaways slots is they're highly volatile and pay out less frequently. For many players, the risk is worth it, especially if you're playing with a higher budget.
How Online Slots Work
There are different elements to video slots that sometimes confuse beginners: RTP, Volatility, Wilds, Scatters, and Bonus Rounds. Our experts put these in simple, easy-to-read terms to help you pick which online casino slots are right for you.
RTP & Volatility
RTP and Volatility are common terms attached to every video slot. Understanding these concepts is key to choosing what type of slot is best for you.
RTP
RTP stands for Return to Player percentage. It is a theoretical estimate of how much you should win by playing a certain slot machine online. For example, a slot with an RTP of 97% should give you back 97 cents for every $1 spent.
It's important to emphasize that these estimates are theoretical and are based on millions of spins. That is why a higher RTP doesn't mean bigger wins. Everyone's personal experiences will differ.
Here are the top 3 slots with the highest RTP we feature on our site.
Volatility
Volatility, also known as variance, is an estimate of how frequently and how big a slot pays out.
Once again, it's important to highlight that this is a general estimate. A low RTP can still pay out big, and vice-versa. The real results come over multiple play sessions.
High Volatility: Bigger, less frequent payouts. High volatility slots are good for high-rollers and bigger budgets.
Low Volatility: Smaller, more frequent payouts. Low volatility slots are good for players on a budget and using wagering bonuses.
Medium Volatility: This is an online slot machine that offers a fine balance between payout frequency and payout size. They're a great one-size-fits-all option.
Paylines
Paylines are an essential part of every video slot. They are "invisible lines" where symbols connect and winning combinations are formed. We always advise betting on the maximum number of available paylines.
The minimum bet depends on the number of paylines. For example, if a slot has 25 paylines and a minimum bet of 1 cent per payline, the total minimum bet is $0.25.
You don't need to understand paylines to play slots for real money. It's more important to be aware of a slot's RTP and volatility.
Wilds and Scatters
Wilds and Scatters are special symbols that increase your chances of winning. These symbols don't exist in classic slots, only in video slots, Megaways, and other more modern slot variations.
The combination of Wilds and Scatters make video slots exciting to play. They add a lot of variety and action that classic slots lack.
Wilds
Wilds substitute for nearly all other symbols in a video slot. They help in forming winning combinations by acting like a "wild card", as their name implies.
If, for example, a winning combination is formed by three "Sphinx" symbols, that combination can be formed with two "Sphinx" symbols and a Wild.
Nowadays, there are many types of Wilds such as:
Walking Wilds: These symbols move across reels on each successive spin.
Expanding Wilds: This is one Wild symbol that, upon appearing, expands to cover an entire reel.
Sticky Wilds: These Wilds remain in place once they appear for multiple spins.
Stacked Wilds: These symbols cover an entire reel and help in forming huge winning combinations.
Multiplier Wilds: These can double, triple or quadruple your win, depending on the number of Wilds on screen.
Scatters
Scatters are symbols that generally activate online casino slots' bonus rounds.
Scatters are typically connected to the slot's theme. For example, in IGT's Cleopatra slot, the Sphinx is the Scatter symbol. Typically, 3 or more Scatters on a payline activate the bonus round.
Bonus Rounds
The bonus rounds, typically activated through Scatter symbols, often hold the biggest winning potential. This is especially true for high volatility slots like Novomatic's Book of Ra or NetEnt's Dead or Alive.
Most commonly, bonus rounds reward free spins on the slot you're playing. In many slots, these so-called free spins round can be retriggered while through more Scatters, generating even more free spins.
Online casino slots' bonus rounds come in several forms, such as:
Free Spins
Simple "click-to-win" bonus games
"Wheel of Fortune" style mini-games
The slots free spins should not be confused with casino free spins bonus offers.
Basic Slot Features
In terms of the basics, most slots have in common usability features for convenient gameplay like:
Autoplay: You configure the number of spins and the online slot spins automatically.
Turbo Mode: This makes spins play out faster if you want quick game sessions.
Loss and Win Limits: In Autoplay, in many slots, you can pre-configure the slot to stop spinning after a certain amount of money has been won or lost
Gamble Feature: Common in older slots, the gamble feature gives you a 50/50 chance of doubling your cash after a winning spin.
How to Play Online Slots for Real Money
Follow your simple, step-by-step guide for beginners that'll have you playing in minutes.
1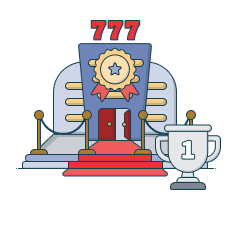 Pick a casino
Choose an online slots casino you like.
2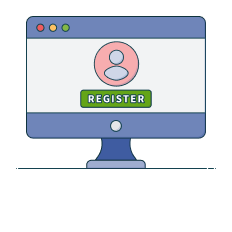 Register
Register your account. It's completely free.
3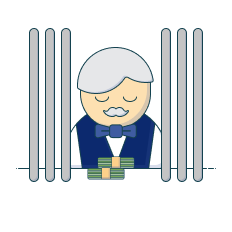 Deposit
Add funds to your account through the casino cashier.
4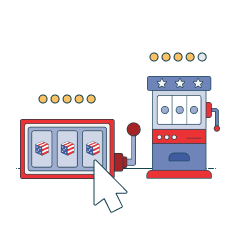 Choose a slot
Open the casino's games library and choose a slot you like.
5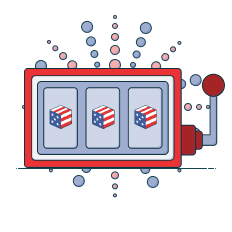 Start playing
Start playing for real money!
Ultimately, the most important step is choosing a trusted online slots casino. The rest is usually pretty intuitive, as online casinos do their best to make sure you have a smooth experience.
Tips for Online Slot Machines
We can give you general pointers that will help you out when playing a slot machine online. You should keep in mind there is no magical way of beating the casino. Online slots are based on luck. Each spin is completely random and independent, and there is no strategy you can use to increase your chances of winning.
With that said, here's our best advice that can come in handy when choosing or playing online casino slots.
FAQs
How to play online slots?
Getting started with playing online slots is easy. The most important step is choosing the right online slots casino. Then you just need to create and fund your account. We provide step-by-step instructions that will get you started playing for real money in no time!
Where to play online slots?
You can play online slots for free or for real money at any licensed US online casino that is legal to play in your own state, like Pennsylvania or New Jersey. Luckily for you, we provide a list of licensed US online slot casinos with hundreds of the best online slots on the market.
Which online slots payout the most?
Typically, highly volatile slots pay out the most because they have the highest winning potential. This comes at the requirement of greater risk, meaning a potentially larger real money investment and a longer game session. We recommend playing Megaways slots such as Bonanza or Who Wants To Be A Millionaire Megaways.
How do online casino slots work?
Online casino slots work using a Random Number Generator (RNG) that determines the outcome of each spin. Once you spin, the symbols arrange themselves randomly across your reels. The basic elements of slots such as Paylines, Wilds, and Scatters are a big part of how slot machines operate.
Can I play real money slots on my phone?
Absolutely, all US online casinos let you play slots on smartphones and tablets running in Android and iOS operating systems, such as Samsung Galaxy Phones, iPhones, and iPad devices. Many online casinos have native apps you can download to your phone for quick access.
Are real money slots legal in the US?
Yes, absolutely! You can play real money slots at any licensed US online casinos by gaming authorities in states like New Jersey or Pennsylvania. All slot casinos we recommend are licensed in their respective state. They can legally offer real money slots to any US resident if they play within the state's borders.
Can I win real money playing online slots?
Yes, you can win real money by playing slots for real money at licensed online casinos. You will need to create a real money casino account, deposit cash using your preferred payment method, and you can get started in minutes.
Whats the best online slots casino?
The best online slots casino is a matter of preference. We have singled out the best casinos on the US market based on strict criteria to ensure you have a smooth, carefree slot playing experience. We take into consideration factors like quality of games, payout speed, customer support quality, and bonuses.
What's the best online slot machine?
The best online slot machine is a subjective choice. We have singled out the most popular online casino slots in the US by gaming providers like IGT and NetEnt. The obvious fan-favorites are slots like Cleopatra and Starburst. However, with thousands of slots out there, everyone has a personal favorite.
Are online slots safe?
Yes, online slots are 100% safe and independently tested by licensing authorities like the New Jersey Department of Gaming Enforcement and independent testers like eCogra. Every spin of a slot machine uses a Random Number Generator (RNG) algorithm to ensure a random, independent outcome.
How old do I have to be to play online slots for real money?
The legal age for playing online slots for real money is 21 in the US. Online casinos must make sure that all players are of legal age to comply with the law. That is why you will need to submit a personal identification document if you want to withdraw real money winnings from any online casino.
Do I have to pay taxes on my online slots winnings?
Yes, all gambling winnings are fully taxable and must be reported to the IRS. You can deduct your losses, but net profits are taxable. You will need to submit proof of your winnings and losses in the form of physical or online receipts, tickets, or statements.