The 5 Most Exciting Gambling Japanese Anime Characters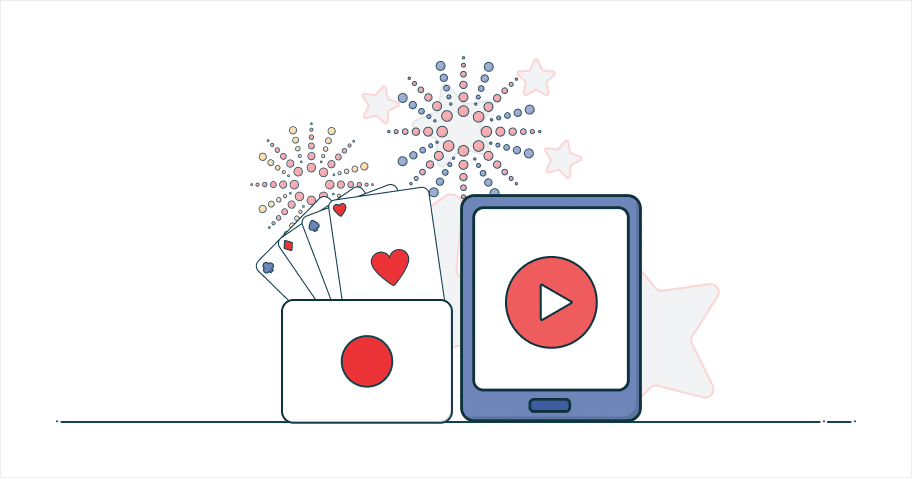 What is it that makes Japanese anime characters quite so popular? There's a unique style to anime series which is very easy on the eye. They're usually bright, colorful, and extremely stylish. If you like animated series with loads of visual flair, Japanese anime art usually delivers it. The action scenes are usually especially well done.
Of course, there needs to be substance to go with the style. Anime delivers here, too. Expect finely crafted stories with plenty of action and twists and turns. Viewers usually find Japanese anime characters to relate to, regardless of what country they're from. Some experiences are universal and anime taps into that. Add some humor into the mix and it's easy to see why anime has become an international phenomenon.
Japanese comic books (manga) and cartoon animations (anime) have become hugely popular, attracting legions of fans around the globe. According to a study from Precedence Research, the global anime market in 2020 was worth a massive $22.6 billion. That figure is expected to rise to over $48 billion by 2030. That's no surprise when you consider the global success of anime shows like Pokemon and Yugioh.
We'll now take a closer look at some of the most popular gambling anime, focusing on one of the main characters in the series, according to Fandom.
Kakegurui
Genre: Gambling / Thriller
Written by: Homura Kawamoto and illustrated by Tōru Naomura
Directed by: Yuichiro Hayashi
Format: TV Series / Live Action Movie
Release date: 2017
Main Anime Character – Yumeko Jabami
Based on a manga comic book of the same name, Kakegurui centers on one of Japan's most prestigious private schools, Hyakkaou Private Academy. Instead of academic or sporting excellence though, the hierarchy at this exclusive establishment is based on success in gambling.
The heroine is Yumeko Jabami, who has transferred to Hyakkaou from another school. Wearing a stylish hime haircut, the burgundy-eyed Yumeko is outgoing and popular with her fellow students.
Behind the friendly façade is a steely character though. She can tell when her classmates are cheating and can easily spot the scams and fiddles they use to con the games.
Fearless and brave, Yumeko is prepared to take on big, high-risk bets even when the stakes are at their highest.
The first series of Kakegurui aired in Japan in 2017 and ran for 12 episodes. It proved so popular, a second series followed in 2018. Viewers outside Japan can stream both series on Netflix.
Kakegurui – Compulsive Gambler, a live-action spinoff, was released in movie theaters in 2019, taking in $2.3 million at the Japanese box office. A sequel, Kakegurui – Russian Roulette followed in 2021, offering even more high stakes gambling action. There's also a video game version available.
The original manga Kakegurui comic book has sold over 5 million copies making Yumeko one of the best-known Japanese anime characters.
Kaiji: Ultimate Survivor
Genre: Gambling / Thriller
Written by: Hideo Takayashiki, Mitsutaka Hirota, Kazuyuki Fudeyasu, Tadao Iwaki, Tomomi Yoshino.
Directed by: Nanako Shimazaki, Ryōsuke Nakamura, Shigetaka Ikeda, Park Jin-kyeong, Masahiro Hosoda, Kim Min-sun, Nanako Shimazaki, Yoshifumi Sueda, Kenichi Kawamura, Hiroyuki Tanaka, Hideo Hayashi, Yuzo Sato, Tadao Iwaki.
Format: Television series (26 episodes)
Release date: 2007
Main Anime Character – Kaiji Itō
Based on the Gambling Apocalypse: Kaiji manga series, Kaiji: Ultimate Survivor went on to become a smash-hit 26-episode anime series.
The series is based on a hard-up everyman called Kaiji Itō and his adventures in the world of gambling. The action begins when a loan shark visits Kaiji who has guaranteed a loan for a colleague. The colleague has disappeared and Kajii is on the hook for 3,850,000 yen (approx. $37,000). Unable to pay, the loan shark offers Kajii the chance to quickly earn the money by playing in a mysterious gambling event on board a ship called Espoir. And so, the adventures in the dangerous gambling underworld begin. The more games he plays, the higher the potential stakes become.
A live-action movie based on Kaiji was released in 2009 with Tatsuya Fujiwara playing the title character. It proved a hit at the Japanese box office, taking in almost $25 million. Kaiji 2 – The Ultimate Gambler followed in 2011. This time, Kaiji has just weeks to clear a 200-million-yen debt. Though not quite as popular as the original live-action movie, it still took almost $20 million at Japanese cinemas.
As Japanese anime characters go, they don't come more memorable than Kaiji.
Rio: Rainbow Gate!
Genre: Casino / Gambling
Written by: Mayori Sekijima
Directed by: Takao Kato
Format: TV Series
Release date: 2011
Main Anime Character – Rio Rollins Tachibana
It isn't always easy for those who work in a casino. The pink-haired, green-eyed Rio Rollins Tachabina is the most popular dealer at the Howard Resort casino. Boasting not just good looks, Rio also possesses a mysterious energy that brings good fortune to her customers. So powerful is Rio that she earns the nickname, 'Goddess of Victory'.
Rio is also a Gate Card Holder. These Gate Cards are 13 magical cards. If any dealer manages to win all of them, they have crowned the world's Most Valuable Casino Dealer. As a Reel Roller, Rio can use illusions to influence the result of a Gate Battle in her quest to win a Gate Card.
During the 13 episodes of Rainbow Gate, Rio battles as a host of opponents on her journey towards dealer immortality.
The character made her debut outside Asia in the video game Dead or Alive Paradise. In it, players can take part in games of poker and blackjack and have Rio act as the dealer. The character has since gone on to appear in a host of games including Rio Sound Hustle, Rio Super Carnival, and Warrior All Stars.
One Outs
Genre: Baseball / Gambling
Written by: Hideo Takayashiki and Mitsutaka Hirota
Directed by: Kazuhiro Yoneda, Shigetaka Ikeda, Tetsuo Yajima, Kazuki Onogi, Nanako Shimazaki, Masahiro Hosoda, Naoki Murata, Kim Min-sun, Miho Hirao, Yuzo Sato.
Format: TV Series
Release date: 2008
Main Anime Character – Toa Tokuchi
Toa Tokuchi is the star of the baseball-themed anime series One Outs. Tall and skinny, the blonde-haired Tokuchi is an ace at a gambling variant of baseball called One Outs. Urged on by veteran star batter, Hiromichi Kojima, who is chasing a final championship, Tokuchi joins the Saitama Lycaons under a very unusual contract. For each batter Tokuchi gets out, he pockets 5,000,000 yen. For each run he allows, he has to pay 50,000,000 yen.
Toa Tokuchi is the classic outsider. A maverick who doesn't always play by the rules, the 20-year-old is a fearless pitcher who tries to get what he wants by any means necessary. Always in control, Tokuchi can spot when the team owner tries to sabotage his attempts at victory.
He might not have the raw power of other pitchers, but Tokuchi's wicked control of spin is usually enough to bamboozle most opposition batters.
Expect a high-stakes season of baseball that's full of financial chicanery, intrigue, psychology, and of course, plenty of action, in the show's 25 episodes.
The One Outs anime series was based on a 19-volume manga collection. There was another appearance for Tokuchi in the sequel, One Outs: The Enthralling All-Star Edition which was released as a single volume in 2009.
Tokuchi is one of the best anti-hero Japanese anime characters.
Saki
Written by: Tatsuhiko Urahata
Directed by: Manabu Ono
Format: TV series / Live Action Movie
Release date: 2012
Main Anime Character: Saki Miyanaga
Competitive mahjong among schoolchildren is the unlikely subject matter in Saki, a 25-episode anime series based on a manga collection of the same name.
The Saki in the title is Saki Miyanaga, a student at Kiyosumi High School who doesn't really like mahjong. When Saki joins the school mahjong club she excels though and aims to lead her team to national championship glory.
Smart and bookish, the short-haired Saki usually wears her school uniform. She's not much of an athlete or a techno-geek. She is great with the mahjong tiles though. Competitive too when the playing against the strongest opponents.
The original anime version of this tale of mahjong and friendship proved very popular. A 16-episode spinoff, Saki Achiga-hen episode of Side-A followed in 2012.
Saki was also the inspiration for a four-episode live-action version which was released in 2017.
Conclusion
What was once just a Japanese fixation has grown in popularity around the world, including the USA. North America is the biggest market for anime outside Japan with almost 43% of works getting an American release.
According to Google Trends, anime is most popular in Hawaii, followed by Nevada and California. Anime has especially found an audience with younger viewers. Studies from Statista show that 44% of those 18-29 have a favorable opinion of the anime genre.
With streaming platforms like HBOMax and Apple+ getting in on the act alongside Netflix (which already has its own Netflix Anime YouTube and Twitter platforms), it appears as if the global market for anime and Japanese anime art will continue to expand.
If you're looking for more gambling-themed movies, check out our top list for Netflix Thanksgiving movies.