Why is Twitch banning casino streams?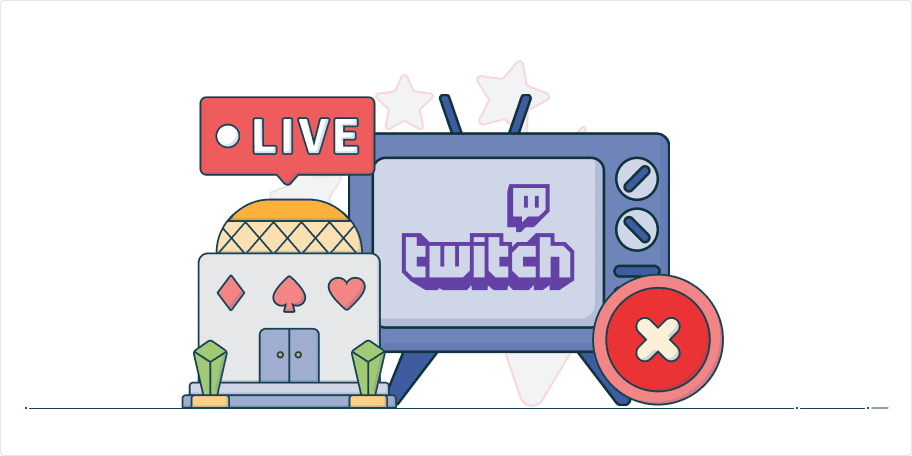 Since its launch back in 2011, Twitch has grown into one of the biggest streaming platforms in the world. Attracting millions of viewers every day, its rise has not been without controversy, especially when it comes to gambling. Some of the platform's most popular content features casino stream feeds. Twitch gambling streamers like Tyler "Trainwrecks" Niknam and Ishmael "Roshtein" Swartz attracting huge, and often very youthful, followings. In September 2022, Twitch announced that it was cracking down on casino streams associated with unlicensed and crypto gambling sites.
What does the Twitch gambling ban entail?
Twitch has announced that from October 18, 2022, it will prohibit the "streaming of gambling sites that include slots, roulette or dice games that aren't licensed either in the U.S. or other jurisdictions that provide sufficient consumer protection." The ban affects sites including Stake.com, Rollbit.com, Duelbits.com and RooBet.com.
The new restrictions don't cover all Twitch gambling though. Sports betting, fantasy sports and poker, which are considered games of skill rather than pure luck, will still be allowed.
Why the Twitch casino stream ban happened
Twitch's relationship with gambling has always been somewhat controversial, especially given that an estimated 75% of the platform's users are under the age of 35. Twitch banned streamers from sharing referral codes and links last year following pressure from staff.
The latest restrictions were sparked after a Twitch user going by the username ItsSliker admitted borrowing thousands of dollars from other streamers. Money which he subsequently failed to pay back.
The UK-based streamer claimed that his bank account had been frozen and needed money to pay his bills. Some of the best-known streamers on Twitch came to his aid, with the likes of Mizkif, Lukeafkfan and Trainwreck all donating cash. Instead, Sliker used the money to fund his worsening gambling habit. It's estimated that the amount ran up to more than $200,000.
Sliker made a tearful confession on Twitch on September 17, admitting that he had "lied to multiple people". His gambling habit started on Counter Strike: Global Offensive and later moved to sports betting.
"I deserve punishment. Whatever happens, happens," he said. "I don't know what to say to the people I borrowed from."
The confession provoked an extremely lively debate about the place of gambling on Twitch. High-profile streamers Pokimane, Mizkif, and Devin Nash threatened a strike during the holiday season (when Twitch's ad revenues are at their highest) if the platform didn't ban gambling streams.
Nash issued a series of tweets attacking the influence of gambling on Twitch. "The issue of gambling on @Twitch should have resolved months ago with a platform wide ban. I left Twitch over this issue and still feel the exact same as eight months ago when I originally took that stand. Gambling is horrible for the platform. Get rid of it."
Days later, Twitch announced details of its latest set of restrictions.
What the Twitch gambling restrictions means for viewers and streamers
Twitch's announcement doesn't mean a blanket ban on gambling-related content. Casino streams associated with US licensed and regulated betting sites are still allowed. As is poker and sports betting content.
Regulated US online casinos provide minimum levels of player protection and security. Something that's not offered by unregulated, offshore online casinos. Funds are secure, which again isn't assured if you're playing on an unlicensed site. Licensed US casinos also have a duty to promote responsible gaming.
What are the alternatives for streamers
Virtual slots are the 11th most popular Twitch stream according to Twitchtracker, attracting thousands of viewers every day. The platform has provided a very good living for the highest profile streamers. The likes of Tyler "Trainwreckstv" Niknam has more than 2.1 million followers and claims to be earning upwards of $1m a month via his relationship with the crypto casino Stake. That will not be allowed under the new regs, which he seems less than impressed with.
return stream tomorrow afternoon, ONE OF THE LAST BJ/SLOTS/ROULETTE STREAMS ON TWITCH, lets hit at least 2 max wins to really piss these clowns off, ALSO podcast, merch & platform news AND been schemin with the boy drake, gonna set up some cool collabs for yall in the near future

— Trainwreck (@Trainwreckstv) September 29, 2022
Other high-profile streamers in the opposite camp have said that Twitch's latest moves don't go far enough.
Devin Nash was positive about the removal of offshore crypto sites but said much more needs to be done. He tweeted, "what we were fighting for was a ban on luck-based gambling because it is objectively harmful to the website and its users. This is not it. Luck-based gambling will still be alive and well on the website on October 18th."
The gambling row isn't the only controversy at Twitch. Many streamers are also upset at the platform's potential move from a 50/50 to 70/30 revenue split from June 2023.
The Twitch gambling ban row looks set to rumble on a while longer.