The top-rated online games for women to play now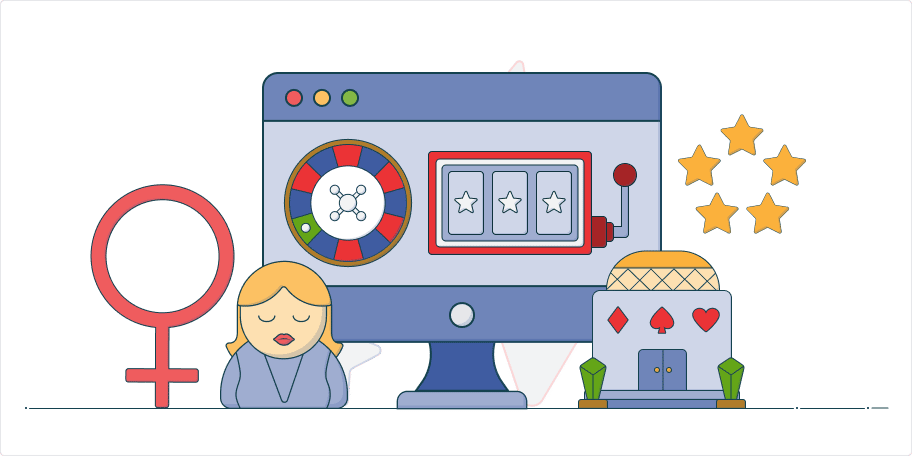 For years, casinos were seen as smoky rooms full of men that weren't very female friendly. Hugely successful poker players like Jennifer Harman and Liv Boeree have done much to buck that male dominated trend. Now, with the rise of legalized online gaming, there are more opportunities for women to try their luck. Studies show that women and men like different things when it comes gambling. Top online games for women include slots, bingo and lotteries while men tend to prefer blackjack, poker and sports betting.
Women are more likely to choose games that are social rather solitary, both at live and online casinos. Similarly, familiar pop culture franchises found in many online slots are especially popular with female audiences.
In this blog, we'll look at some of the most popular online games for women to play right now.
Online Slot Machines
With their classy design and immersive back story, online slots are among the most popular games for women. There are literally thousands of slots to choose from but here are three perennial favorites with female fans.
Cleopatra
Based on the ancient Egyptian queen, Cleopatra is a 20 payline slot from IGT that was a huge favorite with land-based casino players. Filled with colorful hieroglyph symbols and an Arabian-inspired soundtrack, it comes with some decent features too. The highlight is the bonus round where you'll play a minimum of 15 free spins with all payouts trebled courtesy of a 3x multiplier. Cleopatra's exploits have proved so popular, especially with female players, that they've spawned a sequel.
Lotus Land
Lotus Land transports players to Asia and a land of golden temples, exotic animals and beautiful flowers. Feature highlights in this simple game include free spins where standard wilds transform into multiplier wilds which can boost payouts by up to 5x. Visually very appealing, it's easy to see why Lotus Land has become one of the top games for women.
Medusa Megaways
Popular online games for women doesn't just mean pretty visuals and basic gameplay. A case in point being Medusa Megaways which is based on the snake-haired Gorgon from ancient Greek myth. Boasting spectacular visuals, it's also packed full of extras including transforming wilds, free spins and an expanding multiplier. The 96.28% Medusa Megways return to player rate isn't bad either. Tread carefully though as this is a volatile, high-risk slot.
Live Dealer Online Casinos
The social aspect of a game is an important consideration for female players. One way to take advantage of the live casino experience from the comfort of your own home is to play at a live dealer online casino.
Like its name suggests, games are streamed online using a real-life croupier to deal the cards or spin the wheel rather than a computerized random number generator. There are usually plenty of games and varieties to choose from when it comes to live dealer casinos. Favorites include roulette, blackjack, casino poker and baccarat which we'll look at more closely below. The main advantages of live dealer online casinos are the atmosphere and interactivity. The downsides are that play is often slower than playing a totally virtual game and not all games are available around the clock.
Live Game Shows
A relatively recent addition to online casinos, are live game shows. In these games, a live host runs the action and interacts with players. There are huge numbers of live shows to choose from including games based on slots, prize wheels and bingo.
Live Dealer Baccarat
One of the most sociable games to play in a brick-and-mortar venue is baccarat. It's easy to see why the game has made the transition to live dealer online casinos. Super simple to play, it's one of the most immersive games to play online. If you want to spice things up a bit, give baccarat squeeze or baccarat controlled squeeze a look.
Plenty of games for women to choose from
There's plenty of choice when it comes to online games for women. No matter what you choose, there are a few things that you should make sure of before you invest any of your money. First and foremost, make sure you're playing at a legal and fully regulated online casino. This ensures a minimum level of standards and player protections, things that aren't available at unlicensed and unregulated operators.
Most of the games favored by women are games of pure luck. There aren't any strategies or techniques you can study to improve your chances of winning a slot jackpot are big roulette win. As always, and this applies to men and women, only gamble what you can afford to lose. Choose games that you think will offer the most enjoyment, take advantage of any bonuses the online casino might offer and most importantly, have fun. And treat any wins that come as a bonus.