Las Vegas Airport Slot Machines: Worth Missing a Flight to Play?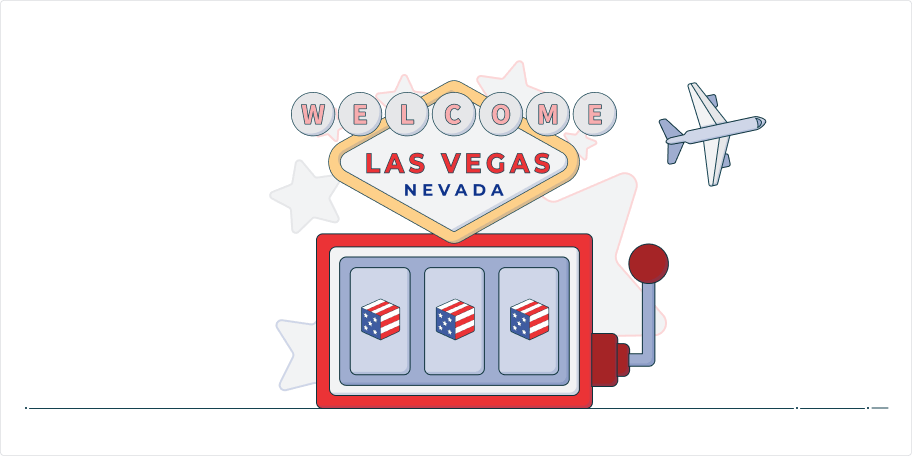 Las Vegas is the undisputed gambling capital of America. There are opportunities to have a bet pretty much everywhere in the city. We don't just mean in casinos, either. We mean everywhere. From the moment visitors set foot in Harry Reid Airport (it will still always be McCarran Airport to us), there are chances to chuck a few bucks into a slot machine.
In fact, Las Vegas's flight hub is home to around 1,500 slots, keno, and video poker machines. The bright lights of the slot machines can certainly be tempting if you have time to kill waiting for a flight. Are they worth a spin, though?
Las Vegas Airport Slot Machines Offer Low Payback Rates
If you've forgotten an essential item and you need to buy it at an airport shop, the chances are, you'll be paying more than at a standard store. There's often a price premium for an airport purchase. It's a similar story with slot machines.
Airport slot machines have a reputation for offering very poor payback rates, especially when compared to slots in Las Vegas casinos. In general, slot players should try and play games that offer the best return to player (RTP) percentages. That figure is the proportion of money wagered on a slot that is paid out in prizes. The higher the percentage the better as far as players are concerned. For example, a slot that has a 95% RTP pays out $95 for every $100 wagered.
Precise RTP figures for airport slots are hard to come, but they're widely believed to be much lower than casino-based slots. Why the low numbers? There's little in the way of competition. If you're waiting in an airport terminal, it's very difficult to hop over to another venue, especially if you're pushed for time.
One potential competitor could be the rise of online and mobile gaming. All online slots are required to publish their RTP rates. These average around 96% and sometimes even higher. The classic Mega Joker online slot, for example, has a massive 99% RTP rate!
Online and mobile gambling are legal in the state of Nevada. Rather than playing on low-value machines, fliers can take advantage of the airport wifi (with a VPN to keep their connection safe and secure) and play online slots on their laptop, tablet, or smartphone instead.
The range of airport slots is rather limited, and many of the games are old and don't have the slick design and range and features you'll find in the best new online slots. The best online slots offer a totally immersive gaming experience which is why you should always play the games with the sound on.
Of course, airport slots are totally legal and not a scam. You just have to know what you're dealing with.
For some lucky travelers with time to kill, they have proved to be very profitable indeed.
Passengers Are Winning More Than $300k in Las Vegas Airport Slot Machines
If airport slots never deliver any decent payouts, nobody will play them. Over the past few years, a number of lucky slots players have struck gold while waiting for a flight.
Take, for example, Californian William J. (he declined to reveal his last name), who scooped a mighty jackpot of $328,655 playing one of IGT's Wheel of Fortune-themed slots in the Airport's B concourse in March.
🚨BIG WINNER! 🚨 Yesterday, William J. of Van Nuys, Calif., struck it BIG at LAS. He raked in $328,655 playing Wheel of Fortune in the B Concourse. Congrats!!! 💵💵💵
Will YOU be the next winner? pic.twitter.com/qj2vMvqcPk

— Harry Reid International Airport (@LASairport) March 10, 2022
That's not the biggest Airport win over the past couple of years, either. A woman from Torrance in California turned a $5 spin on another Wheel of Fortune slot, this time on the C concourse, into a mighty payday of $873,511 back in July 2020.
Another woman had a memorable end to her trip to Las Vegas in February 2021, according to WSLSNews.com. The player known only as Megan H, from Flower Mound in Texas, pocketed a bumper $300,000 payout playing Wheel of Fortune while waiting for her flight. The big win became a social media sensation and gained a huge reaction on Twitter.
Another Texan slots player struck it lucky at McCarran as recently as April 30. Jose Q. gained $14,418 playing the Buffalo Link slot in the Airport's D concourse.
🚨BIG WINNER! 🚨 Earlier this month, Jose Q., of Texas struck it BIG! The lucky winner took home $14,418 playing Buffalo Link in the D Concourse. 💵💵💵 Will YOU be NEXT? pic.twitter.com/mlJz6myvvR

— Harry Reid International Airport (@LASairport) April 30, 2022
As impressive as all these wins are, they're way behind the all-time record payout of $3,961,585.14 that was won by a lucky airport slot player back in 2005.
Conclusion: You must give it at least a try
American rather than international travelers seem to have been the winners of the biggest airport slot jackpots over the past couple of years. That's probably down to travel restrictions.
Returning to our original question from the beginning of this piece? Is it worth missing a slight to play an airport slot? Almost certainly, not.
However, 'You can't win the raffle if you don't buy a ticket', so the saying goes. The same is true of playing an airport slot. These slots don't offer the greatest value for money, so we don't recommend checking in huge portions of your bankroll. If you have time to kill waiting for a flight and a bit of loose change burning a hole in your pocket, they can be worth half an hour of your time. As you've seen above, get lucky, and they can deliver some pretty tasty payouts too. You can almost pretend you're inside a casino. Just close your eyes and imagine the casino sounds surrounding you.