The Top 8 Highest-Grossing Christmas Movies of All Time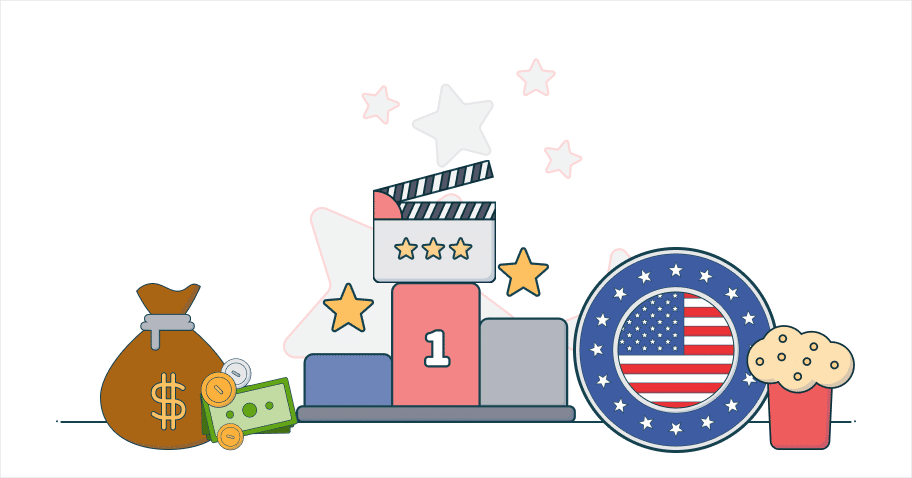 One of the most popular ways to celebrate the holiday season is to see a festive movie. We all have our own personal favorites from Home Alone to It's A Wonderful Life but what seasonal hits provide the biggest commercial bang for their buck? We've crunched the numbers from Box Office Mojo to come up with the eight highest-grossing Christmas movies of all time. We've also looked at a trio of casino-inspired classics that are also well worth a watch if you fancy a break from Santa, reindeers, snow, and other Christmas favorite pastimes.
1. Home Alone – All-Time Earnings $285,761,243
The madcap antics of eight-year-old Kevin McCallister (Macaulay Culkin) defending his Chicago house from burglars after being left at home by his family during the Christmas vacation have proved a real fan favorite since it was released back in 1990. Home Alone topped the US box office for 12 weeks in a row when it first hit movie theaters, including well past the Christmas holidays – a sure sign of a big hit. Made for an estimated $18 million, it's gone on to rake in almost $286 million in the US and another $190 million overseas. Until it was overtaken by The Hangover II, Home Alone was the highest-grossing live-action comedy of all time. With an IMDB average rating of 7.6/10, it's become a must-watch movie for millions of fans every December.2.
2. The Grinch – All-Time Earnings $270,620,950
This big-screen animated version of a classic Dr. Seuss story was a smash hit with moviegoers when released in 2018. With British actor Benedict Cumberbatch providing the voice of the green-furred creature who hates Christmas, it has an IMDB rating of 6.4/10. Made for approximately $75 million, it's taken in almost four times that much at the US box office. Factor in the international box office takings, and The Grinch has taken in over half a billion dollars. That's not very Grinch-like!
3. How The Grinch Stole Christmas – All-Time Earnings $260,465,005
How the Grinch Stole Christmas was the first Dr. Seuss story to be made into a full-length movie. The antics of the revenge-seeking creature planning to ruin Christmas for the residents of Whoville were box office gold. Released in 2000, it took just over $260 million in the domestic market and another $85 million worldwide. That represents very good business for a movie that cost an estimated $123 million to make. It's not proved quite as popular with audiences though, with an IMDB rating of 6.2/10. Jim Carrey spent three hours getting in and out of famous green makeup for his role as the title character for the 92-day shooting of The Grinch. That's dedication!
4. The Polar Express – All-Time Earnings $187,935,490
The most expensive film on our highest-grossing Christmas movies of all time list is this 2004 release about a magical train heading to the North Pole. At the time of its making, the $165 million budget was the most ever for an animated movie. With Tom Hanks voicing the lead role, The Polar Express went on to gross almost $188 million at the US box office and a further $126 million overseas. The first film made entirely using digital capture technology, The Polar Express is a regular addition to the festive TV schedules. In parts of the US, you can even emulate the movie by riding on the real-life Polar Express train. It has an IMDB rating of 6.6/10.
5. Elf – All-Time Earnings $176,630,408
Starring Will Ferrell as a human raised by Santa's elves who travels to New York to meet his biological father, Elf has gone on to become a cult Christmas movie. With an IMDB rating of 7.0/10, it's remained a real favorite with moviegoers too. Made for a budget of $33 million, it's returned over $176 million at the US box office plus another $47 million overseas. The film proved so popular it spawned a Broadway musical, a soundtrack that sold almost 700,000 copies, and even a video game. Will Ferrell has never been better.
Despite the big box office numbers, don't expect to see an Elf sequel, though. In an October 2021 interview with the Hollywood Reporter, Ferrell said that he'd turned down a deal worth $29 million to appear in a follow-up. Asked why, Ferrell said, "I would have had to promote the movie from an honest place, which would've been, like, 'Oh no, it's not good. I just couldn't turn down that much money.' And I thought, 'Can I actually say those words? I don't think I can, so I guess I can't do the movie.'.
6. Home Alone 2 (All-Time Earnings $173,585,516)
1992's Home Alone 2: Lost in New York followed a similar formula to the original 1990 classic. Poor Kevin gets parted from his family during vacation, he bumps into bungling burglars Harry and Marv and madness ensues. The slapstick blend helped turn a budget of $28 million into golden US box office receipts of more than $173 million. Throw in international box office takings of $185 million and you have movie gold.
Its IMDB rating of 6.8/10 is lower than the original movie but still rates highly compared to many other Christmas classics. Eleven-year-old Macauley Culkin was paid a reported $4.5 million to star in Home Alone 2: Lost in New York. At the time, that was the highest salary ever for a child actor. Given the overall box office takings, that record-breaking salary was money well spent.
7. The Santa Clause – All-Time Earnings $145,539,357
Tim Allen stars as an ordinary man who, horror of horrors, accidentally causes Father Christmas to fall from a roof on Christmas Eve and must take his place as the new Santa. Released back in 1994 and made with a budget of $22 million, it's gone on to take over $145 million at the US box office. This unlikely tale proved popular enough for two sequels. They both performed respectably at the box office but didn't have the critical or commercial clout of the original. On the original film's release, Tim Allen had the number one movie in The Santa Clause, the number one rated TV show with Home Improvement, and also topped the bestseller lists with the book, 'Don't Stand too Close to a Naked Man'.
8. The Nightmare Before Christmas – All-Time Earnings $77,368,668
Tim Burton's 1993 gothic masterpiece has the lowest budget of all the movies on our list. Made for $18 million, this dark fantasy has grossed over $77 million in American theaters. Enduringly popular despite the rather dark theme, it was re-released in 2006, 2007, and 2008. A million miles from sugary festive schmaltz, it has an IMDB rating of 8.0/10 which is the best on our highest-grossing Christmas movies of all-time list.
Some Christmas Casino Classics as an Extra
Of course, it's not just festive movies that are released as the holiday season approaches. Films with a casino theme often hit the big screen in November and December.
We're thinking here of the likes of Ocean's Eleven which was released back in 2001. This super stylish heist movie starred George Clooney, Brad Pitt, and a host of top Hollywood talent out to con a dodgy casino owner out of $160 million. The movie was made for $85 million and has grossed more than double that amount in America alone. Worldwide, the movie took in around $450 million. The sequels might not dazzle quite as much as the original but they're certainly worth a look too.
No James Bond film is complete without a bit of gambling and Casino Royale certainly didn't disappoint on that score with a classic high-stakes poker scene. Daniel Craig's arrival as 007 breathed new life into the veteran movie franchise. With a whopping budget of $150 million, Casino Royale went onto become one of the biggest grossing Bond films of all time. The film took $167 million in the US and almost $450 million for a total gross of more than $616 million. And to think, many fans didn't want Craig to be Bond.
Often overlooked in favor of Martin Scorsese's other classics, Casino is an underrated gem. The gritty story about 1970s Las Vegas might not have been box office gold (it cost $52m and grossed around $42 million in the US and $73 million internationally) but this old school classic has stood the test of time with an IMDB rating of 8.2/10. With Robert De Niro, Joe Pesci, and Sharon Stone at the top of their game, this 1995 release is still well worth revisiting.
Conclusion – Home Alone Still Rules
Home Alone impressed critics and audiences alike when it was released 32 (!) years ago. Its blend of sharp storytelling and slapstick humor remains as fresh as ever. It's no surprise that it's at the number one spot in the list of highest-grossing Christmas movies of all time.