Do you own a fake social media account?
Elon Musk's proposed $44 billion takeover of Twitter appears to have hit the buffers with the billionaire businessman citing concerns about the number of fake social media accounts.
Setting up a fake account is easy and there are sometimes very good reasons to do so. Whistle blowers wanting to report unethical behavior can do so, safe in the knowledge that they won't be uncovered. Of course, there are plenty of other, more dubious reasons for running a fake social media account. But what are those?
To find out more about why and how, we surveyed 1,500 US users of both Facebook, Twitter and Instagram platforms. Here's what we found out.
Half of US respondents own 2 or more fake social media accounts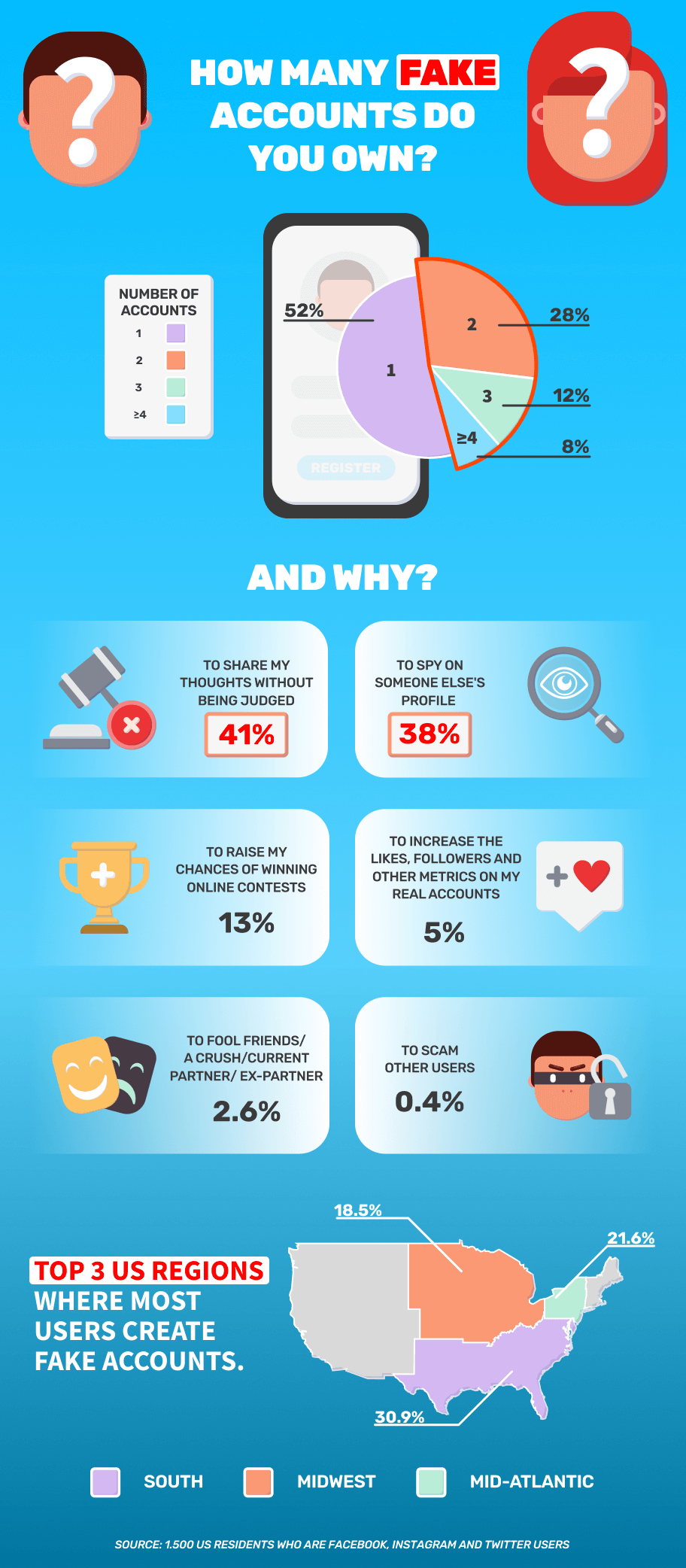 1 in 3 Americans have at least one fake account in addition to their real one. Of those fake account holders, 47.6% own 2 or more.
Gen X-ers aged between 42 and 57 own on average 3 fake accounts, compared to the 2 owned by Gen Z-ers aged 18 and 25.
Users aged 38 years or older make the most use of fake accounts by freeing their thinking from their true social circle without pointed fingers. The younger crowd, average 34 years or below, is primarily interested in wearing a detective hat to snoop on a targeted person's social profile.
The accounts may be fake, but a good number of people (more than 40%) still update them at least once every three months.
Almost a third of those fake account owners polled come from the South (31%), followed by the Mid-Atlantic (21.6%) and Midwest (18.5%).
72,1% of respondents choose Twitter and Facebook over Instagram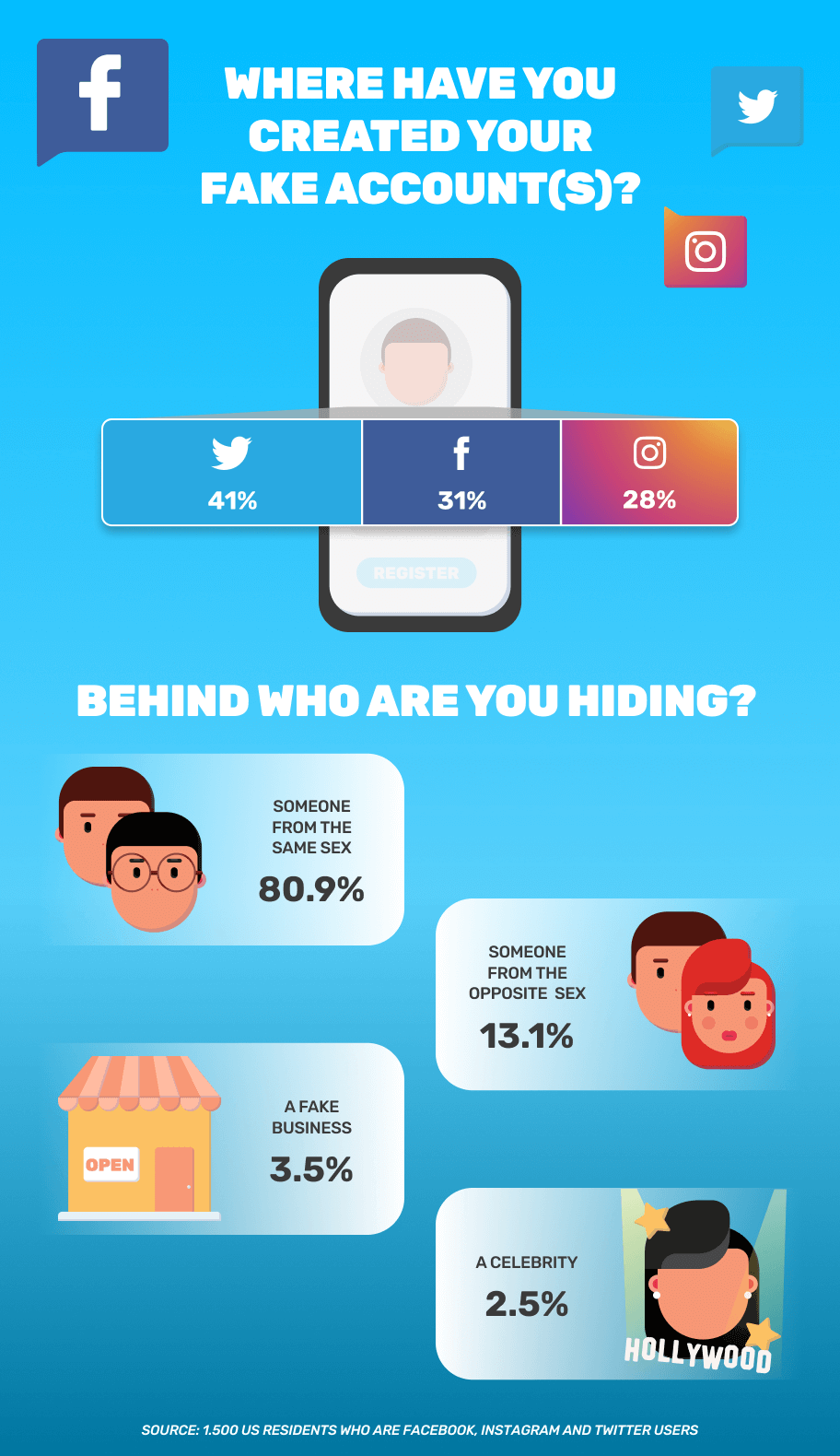 Almost 81% of fake users create accounts of the same sex. The main exception is when users want to spy on other accounts. In this case, they favor creating a fake account of the opposite sex.
94% of fake account owners haven't yet been reported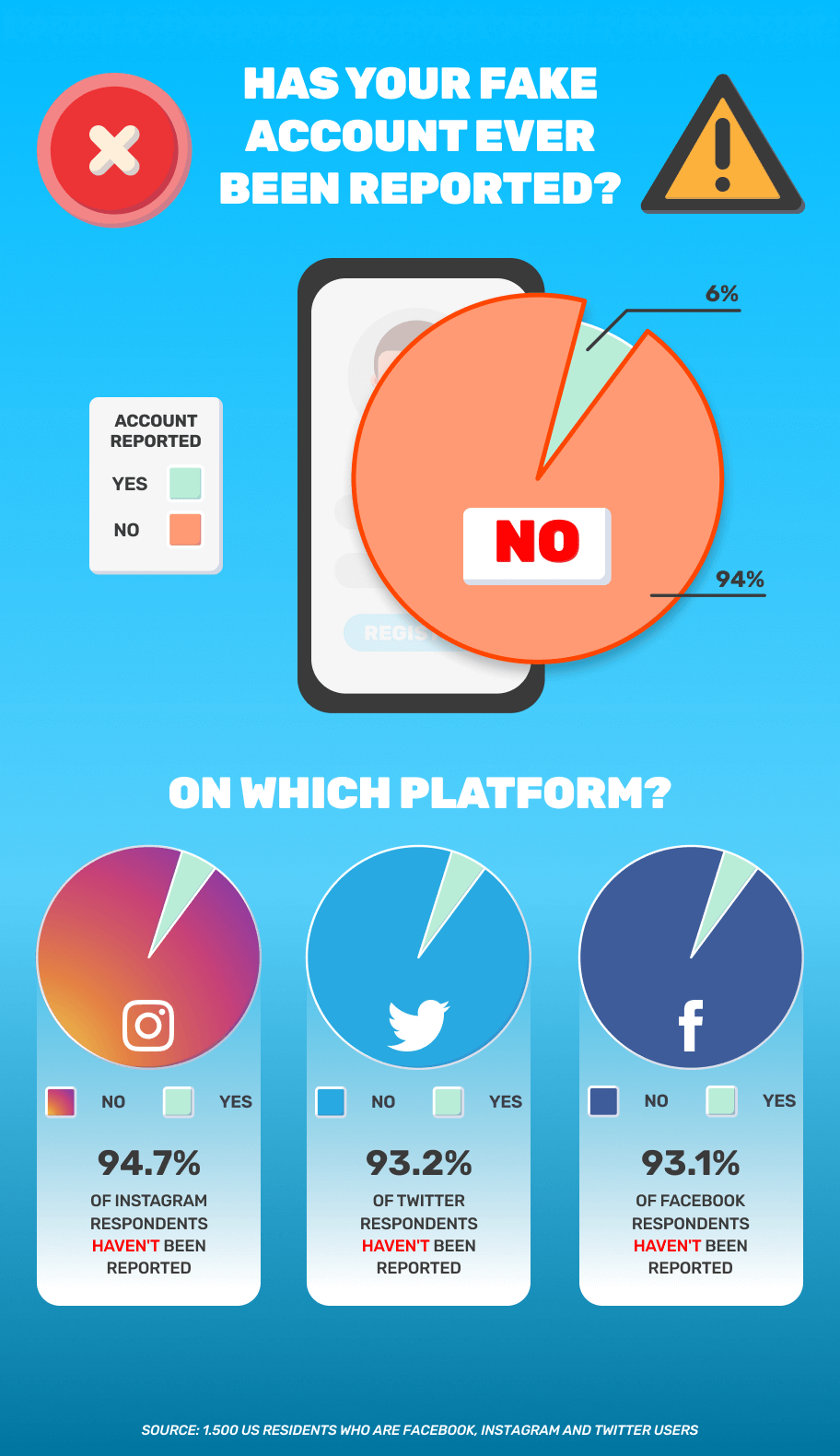 Fake accounts have always been an issue on social media. They've become an especially hot topic in recent weeks courtesy of Elon Musk's proposed Twitter takeover.
As there are already so many fake accounts in existence, they appear to be extremely hard to police. Reuters reported on 7 July that "Twitter removes more than 1 million spam accounts each day." Meta, the parent company of Facebook, said that it 'removed on 1.6 billion fake accounts' in the first quarter of 2022, adding that 'fake accounts represented approximately 5% of our worldwide monthly active users'. Twitter also claims that around 5% of its active users are fake.
What the UScasinos team found, though, goes above the expectations. 94% of respondents with a fake account haven't yet been reported.
1 in 2 fake account owners prefer to keep it a secret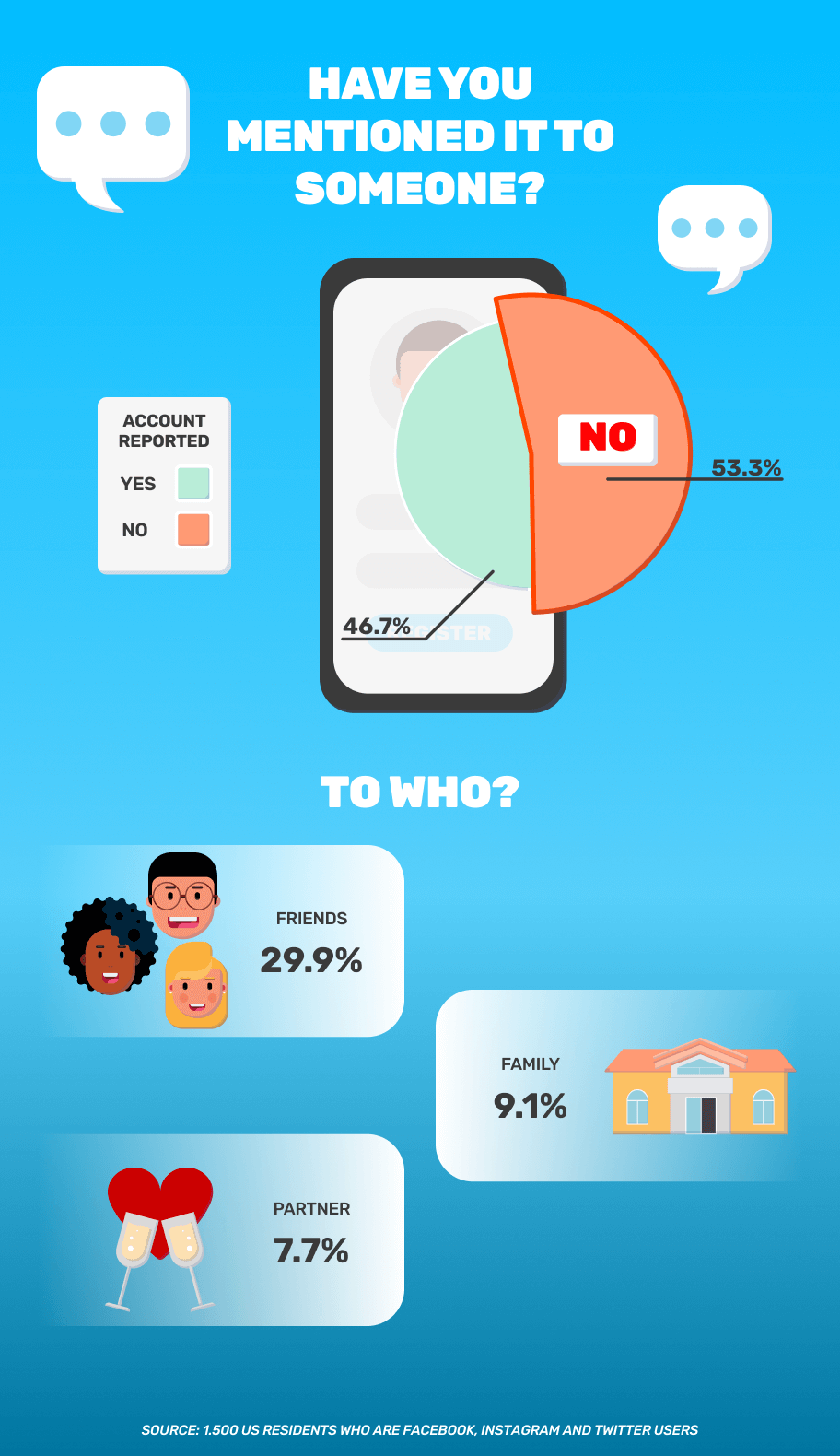 More than half of those surveyed with a fake account (53%) said they prefer to keep that knowledge to themselves.
Of the brave 46.6%, they were most happy to share it with friends (29.9%) compared to family members (9.1%) or a partner (7.7%).
Texas ranks 1st for most fake social media engaged users
Based on the survey, the UScasinos developed a scale of 1-5 taking into consideration 1) the number of fake accounts in each state, 2) the average number of fake accounts per user, and 3) the total time spent on those accounts to come up with the most accurate score on the states with the most and least fake social media engaged users.
These are the states with the highest level of fake social media engaged users:
Texas – 4.51
Florida – 4.28
New York – 4.21
Pennsylvania – 3.91
California – 3.78
Michigan – 3.66
Ohio – 3.35
Wisconsin – 3.26
North Carolina – 3.23
Georgia – 3.14
These are the states with the lowest level of fake social media engaged users:
West Virginia – 1.52
Delaware – 1.79
New Hampshire – 1.81
Missouri – 1.88
Nevada – 1.88
Mississippi – 1.88
Rhode Island – 1.98
Nebraska – 2.11
Arizona – 2.13
New Mexico – 2.13
Kansas – 2.23
Minnesota – 2.27
Utah – 2.27
Nationally, the average score is 2.75.
Methodology
In August 2022, we surveyed 1,500 Twitter, Facebook and Instagram users (only US residents). The study aimed to find out why social media users create fake accounts and look at the patterns and behaviors behind their creation. The average age of those surveyed was 33.53 years.
For media inquiries, please contact [email protected]
Fair Use Statement
Media organizations that want to use the information from this survey are welcome to do so as long as they include a link to this study and credit USCasinos.com.