Mother's versus Father's Day: Which One Are Americans Planning The Most Ahead?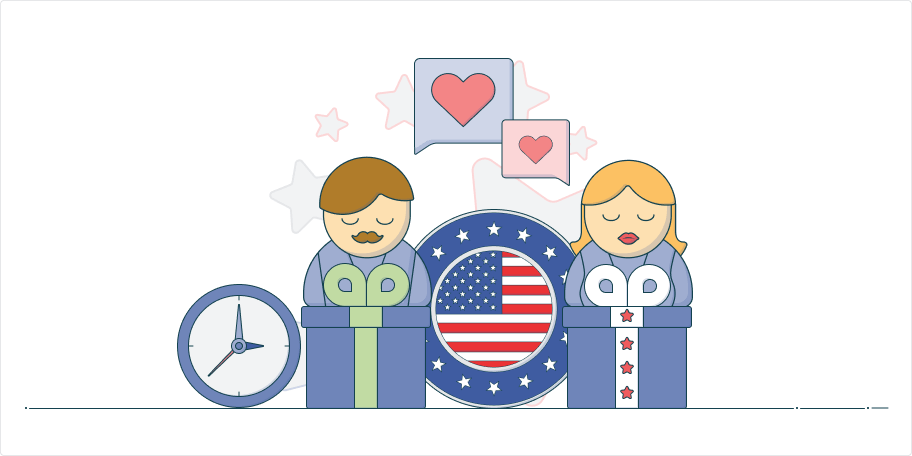 It's that time of year when Americans get to celebrate parents. Mother's Day takes place on Sunday, May 8, with Father's Day following six weeks later on Sunday, June 19. Both are hugely popular events on the US calendar, but which one is deemed more important? Researchers at US online casinos have crunched the numbers to find out.
There are few more popular days on the American calendar than Mother's Day. In fact, according to pollsters YouGov America, only Thanksgiving, Christmas, and Memorial Day are more popular than the annual celebration of all things related to motherhood.
A massive 96% of the 4,091 people surveyed said they'd heard of Mother's Day. The festival was liked by 74% of respondents and disliked by just 5%. The remaining 18% had a neutral opinion.
Mother's Day was trendy among the Baby Boomer generation. Around 78% of Boomers had positive feelings towards Mother's Day compared to just 69% of millennials. Sandwiched in the middle were Generation X respondents at 75%.
77% of women liked Mother's Day compared to 71% of men.
Father's Day was even better known than Mother's Day, with 97% of respondents having heard of it. The popularity of Father's Day didn't hit the heights of Mother's Day, though. It is rated the nation's seventh most popular day behind Veterans Day and Labor Day and just ahead of Easter.
68% of people surveyed had positive feelings towards Father's Day celebrations, with 7% negative. The neutral figure of 22% was a good deal higher than the equivalent 18% for Mother's Day.
Like Mother's Day, it was Baby Boomers who had the most positive feelings towards Father's Day. 71% of Boomers polled liked Father's Day, followed by Gen X-ers at 67% and Millennials at 66%.
The gender split here was similar to Mother's Day, with 70% of women liking Father's Day compared to 66% of men.
There are slight differences in popularity between Mother's Day and Father's Day. Does it also make a difference in how people prepare for them?
Americans Prepare 3 Months Ahead For Father's Day Celebrations
The team at USCasinos.com has analyzed online search data to try and discover any trends and patterns that appear in the run-up to big events like Mother's Day and Father's Day.
According to the research, a bit more preparation time is required when searching for a gift for Father's Day compared to Mother's Day.
On average, over the past five years, children have started searching for Mother's Day gifts one month before the big day. The number of searches increases as Mother's Day approaches, peaking some five days before the celebration.
A bit more thought seems to go into Father's Day gifts. Over the past five years, sons and daughters started their online searches for Father's Day gifts three months in advance. The peak day for present searches came nine days before the big day.
Why do people start searching for gifts for Father's Day much earlier than for Mother's Day? We can only speculate. Gifts for Mother's Day are pretty straightforward to find. Finding a suitable gift for a dad can be a much trickier proposition.
What Gifts Are Americans Most Preferred for Moms and Dads?
So just what gifts are especially popular for Mother's Day and Father's Day? Unsurprisingly, flowers were the most popular potential gift for Mother's Day, appearing in some 30,000 searches over the past 12 months. They were followed by brunch and necklaces (both searched 11,000 times), cake (4,500 times), and a painting (searched 3,700 times).
The most popular search term for Father's Day over the past 12 months was cake (searched 4,000 times) followed by brunch (1,400 searches), a painting (1,100 searches), a book (searched 1,100 times), and a mug (700 searches).
The number of searches for Mother's Day gifts dwarfed those for Father's Day. The range of gifts was fairly similar. Who doesn't like cake after all? Getting a painting also proved popular for bother Mother's and Father's Day, as did brunch.
Make every minute count – Go on a trip to strengthen family bonds
More and more people are placing emphasis on experiences rather than stuff, and that's just as true for Mother's and Father's Day gifts as at other times of the year. While a brunch with a parent is a great idea, why not go big with a big family trip. And if you're looking for a memorable place that offers something for everyone, regardless of budget, you won't go too far wrong with Las Vegas.
If you like the brunch idea, consider The Eggworks. Founded in 2005, it offers a vast range of breakfast options, including sandwiches, homemade soups, and Cincy Chilli served in five ways!
Of course, a trip to the casino is the centerpiece for many a Vegas vacation. You might even spot a celebrity or run into a YouTube slot sensation. There are loads of other things to do in the entertainment capital of the world too. Take in a show, release at a spa, enjoy some fine dining at a Michelin-starred restaurant or awaken a parent's inner youth in one of the many nightclubs.
If you fancy something a little more offbeat, try your luck at the mini-golf venue inspired by legendary rock band Kiss or play on a machine at the Pinball Hall of Fame. For the history buffs, there's the Mob Museum which explores Sin City's historic underbelly, and the Downtown Las Vegas Pop Culture Walking Tour which takes you well off the beaten track to a host of memorable locations.
Conclusion
The Mother's and Father's Day celebrations offer a great opportunity to spend some memorable moments with a parent. Don't ever waste those opportunities. No matter where you are in the world, pick up the phone and give them a call on the big day. Take the chance to enjoy some quality father/mom and son or daughter time.