How to Land Your Next Job Interview as a Casino Dealer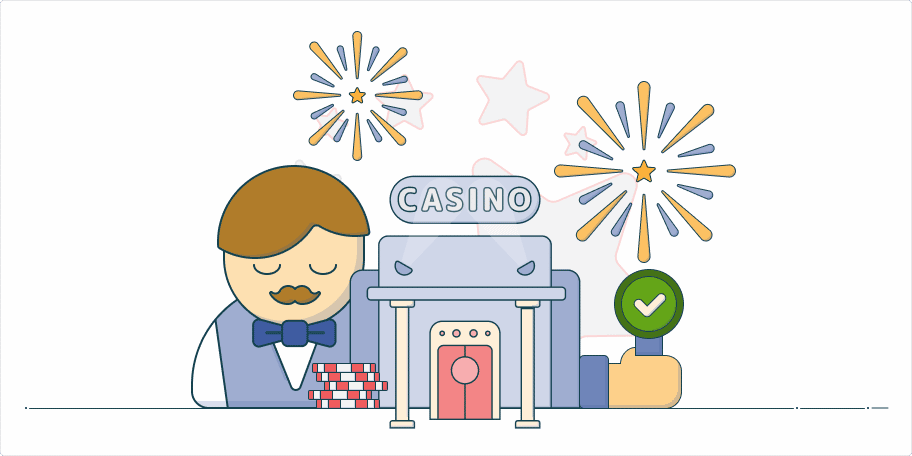 Sick of your current job? Looking for a new career? One occupation that offers expanding opportunities is the role of casino dealer. The live casino industry was hit hard by COVID. On average, casino hotels lost a massive 263 jobs per establishment according to figures from the US Bureau of Labor Statistics. To put that into perspective, the next hardest industry hit was amusement and theme parks which lost 75 jobs per property.
The casino industry is bouncing back though. Hotel occupancy and visitor numbers to Las Vegas are on the increase and not far off pre-pandemic levels. A further boost to the casino economy came from Nevada Governor Steve Sisolak who has lifted the state's Covid State of Emergency.
Increasing numbers of tourists and convention goers mean more visitors to Las Vegas casinos. More customers mean more opportunities to bag a job as a casino dealer. Here at USCasinos, we have some top tips on how to get an interview as a casino dealer and how to ace that interview.
First, things first though. What exactly does a casino dealer do? The dealer ensures that casino games run smoothly and fairly. That includes tables games like roulette and blackjack as well as poker, craps, baccarat and all their assorted variants.
On another hand, dealers also play a big part at live casinos' game providers such as Evolution Gaming. But as a customer facing role, dealers need good people skills as well as being technically proficient with cards and chips. If that sounds like something you'd be good at, read on to find out just what you can expect from a casino dealer interview.
What questions could you possibly be asked during the casino dealer interview?
Like most job interviews, the person asking the questions is trying to find out what you're like as a person as well as your suitability for the role. Are you able to work in a team? Can you show initiative? Are you a self-starter? In short, would the candidate be a good fit for the company's working culture.
A casino dealer interview is no exception. Candidates can expect to be grilled about their general goals, motivations and work style. That will include general questions about you as well as skills and experiences directly related to the casino dealer role.
Common interview questions include:
What attracted you to this role?
What are your strengths and weaknesses?
Can you give an example where you have shown initiative?
Can you tell us about a time when you have overcome a setback?
What do you hope to achieve over the next few years if you get this role?
Like a good scout, 'be prepared' is a great motto for a job interviewee. You'll hear variations of these questions in many job interviews so take some time to prepare detailed, personal and convincing answers.
Impress the panel and you'll likely progress to a second interview. It's here that you'll likely receive questions more directly related to the casino dealer role.
The interviewer will want to know about your relevant experience in the casino industry, whether you've worked in a customer facing position before, what responsibilities you've held and what skills you have acquired.
Common questions on these themes include:
What experience do you have working with the public?
Can you give us an example of how you handled a disagreement between two players at the table?
Do you have experience of casino security protocols?
Are you experienced in a variety of different casino games? Do you prefer a specific game?
Of course, the precise questions will vary depending on your level of experience and the role you're going for. The questions for an experienced casino dealer vacancy will be different to those aimed at rookie dealers. Doing your homework and being prepared will give you a big leg up on the competition here.
How to act at the job interview?
You've got your foot in the door and been called for an interview. Well done. Now's the time to go for it. First impressions are incredibly important, so don't blow it during the first 30 seconds.
First, make sure you're on time. Few things create a worse impression than showing up late. Dress properly. You don't have to go for the full three-piece suit or tuxedo but make sure you look smart. Make eye contact with the interviewer.
The interviewer appreciates that this is a stressful situation so take your time when answering a question. Think about what you want to say then say it clearly and concisely.
Find out about the company before the interview you're hoping to work for. Try and make a connection with the interviewer. Smile.
Be prepared. Be confident (but not arrogant). Show them that you have the right skills and personality and that you're just the candidate they're looking for.
Stay motivated and focused on your goals
Trying to find a new job or starting a career can be a long and sometimes exhausting process. Not every interview will go as smoothly as hoped. Think of these bumps in the road as a learning opportunity rather than a potential disaster.
You'll know better next time when a similar situation arises.
Keep busy, keep motivated and keep working on your skills and it won't be long until a casino dealer interview becomes a casino dealer job.