Is Your Favorite Reality TV Show At Risk?
If some had said 20 years ago that cake bakers, California realtors, and yacht workers would become huge TV stars, people wouldn't have believed it. The rise and rise of reality shows have made TV gold out of those occupations, and plenty of others too.
Reality TV has become a very popular genre among American television viewers. As many as 36% of adults between 30 and 50 watched a reality TV show in 2021 according to research from Statista. The best reality TV shows can run for years and years but in this highly competitive market, many don't last long. A new study has crunched the numbers to see which shows we can expect to be canceled and which are most likely to be renewed shortly.
Researchers at UScasinos.com looked at the characteristics of 61 successful reality TV shows (like Keeping up with the Kardashians) and 60 that had been canceled (including Dance Moms) and compared them to 27 current shows on-air. The study was analyzed via a logistic regression model that yielded results with 81.32% accuracy.
Netflix Reality Shows 57% More Likely to Be Axed Than Competitors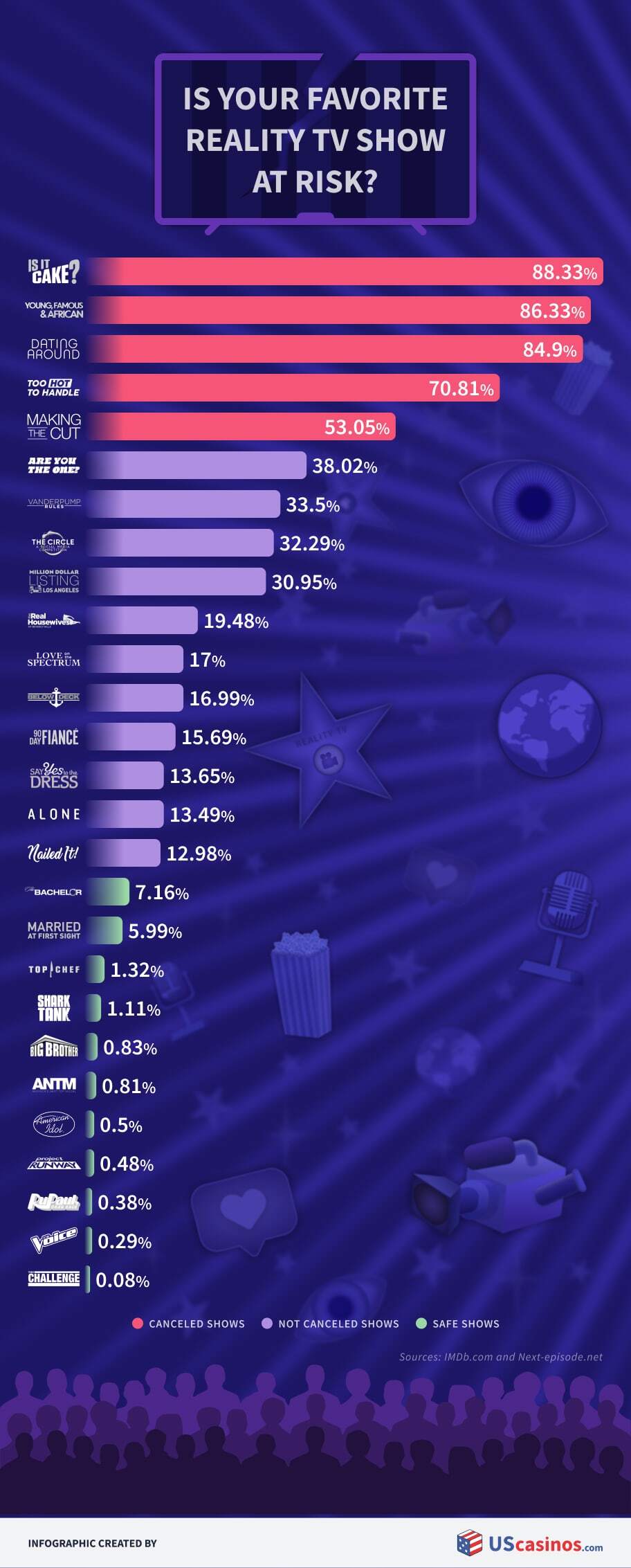 Netflix originals dominate the list of shows most likely to be axed. According to the study, the show at the highest risk of being canceled is the Netflix cooking contest Is It Cake?. According to the numbers, this baking show has gone a little stale with viewers and has an 88.13% likelihood of not returning for a second helping. It also looks like Netflix will be saying 'goodbye' rather than 'I do' to the romance-themed shows Dating Around (84.9%) and Too Hot to Handle (70.81%). The other Netflix show most likely to be canceled is Young, Famous & African (86.33%).
It seems to be a coin flip as to whether Amazon Prime's Making The Cut will, excuse the pun, make the cut. It has a 53% chance of being canceled. We will surely be keeping an eye on this one.
According to the study's findings, contest-style reality shows like are 60% more likely to get axed by TV bosses than those in any other format.
If TV execs could come up with the perfect reality TV format, what would it be? According to the number crunchers, something like the long-running MTV show, The Challenge.
Based on its duration, form, IMDB score, and award wins, The Challenge has been more than up to the challenge of keeping viewers entertained. It has a huge 99.92% chance of renewing for a season 38. Despite its veteran status (it's been on the air for more than 20 years), fans can rest easy in the knowledge that it's highly likely to return.
Some of the other longest-running reality TV show favorites are also very likely to be back. The Voice, RuPaul's Drag Race, and Project Runway all have a better than 99% chance of getting back on the screens.
Reality TV Shows Released After 2020 Won't Survive For Long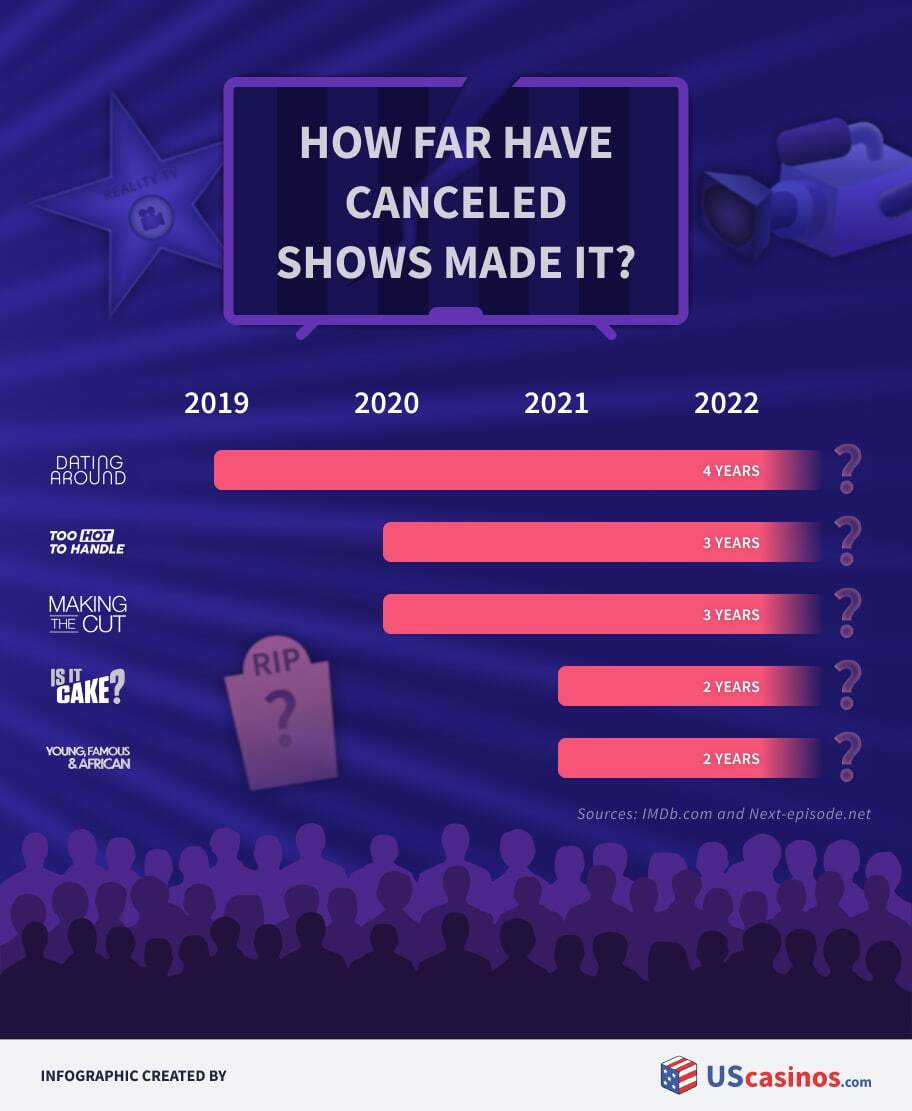 The analysis found that older is better when it comes to reality TV. Shows released in the 2010s were more successful than those launched in the 2020s. In fact, the only two shows launched in the 2020s that are expected to be renewed are Netflix favorites Love on the Spectrum and The Circle.
Love on the Spectrum, which follows young adults with autism as they navigate the world of dating is currently airing its first American season and the numbers suggest it will be back for another. The Circle has been confirmed for season 5 and is likely to return to screens for a sixth season. Both Love on the Spectrum and The Circle have a 65% chance of being retained.
The study found that if a reality TV show can survive its first 5 seasons, they have a good chance of becoming a long-running favorite.
The 'ideal reality show' would have an average duration of 51 minutes per episode. Those with an average of 43 minutes are more likely to get canceled.
Bravo Original Reality Shows Are The Most Successful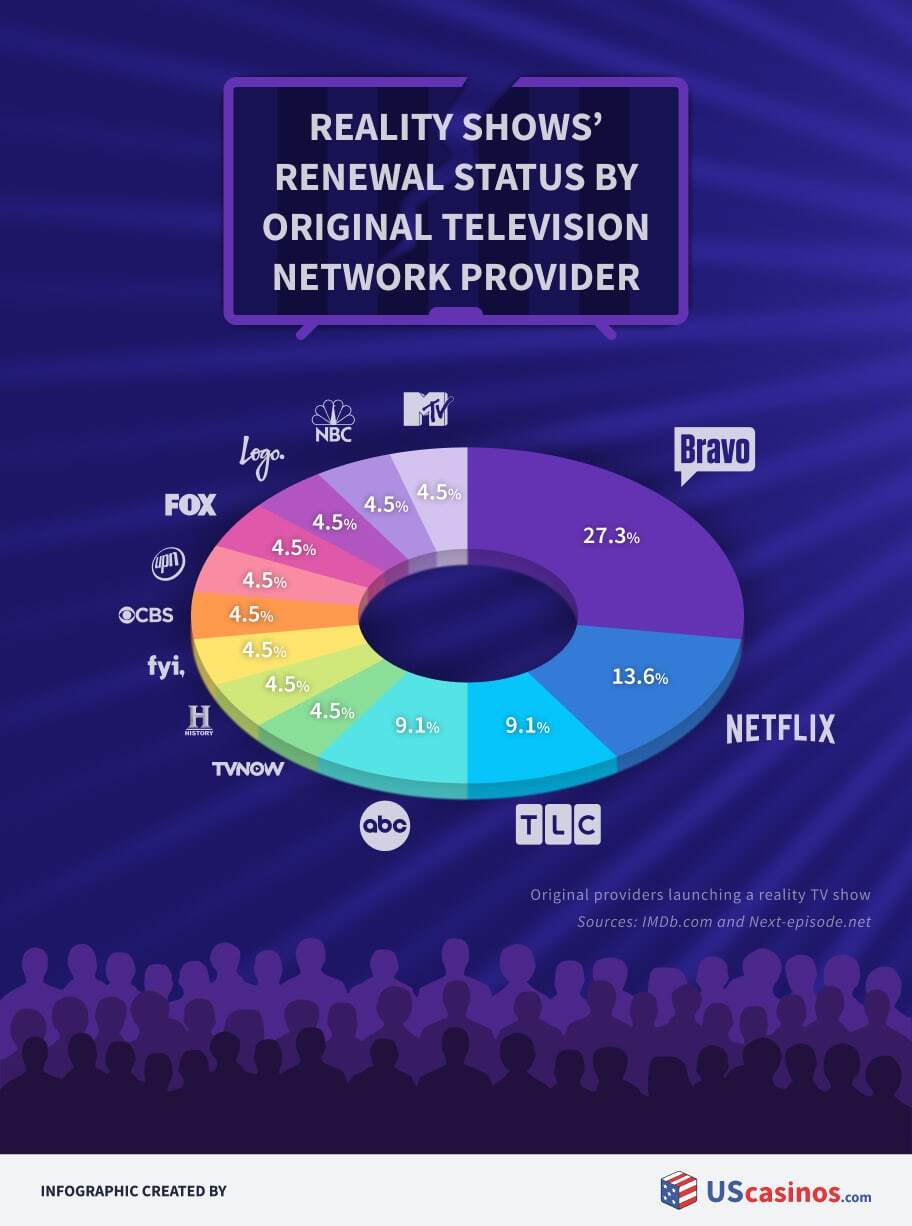 While Netflix Original reality shows were the most at risk of cancelation, the opposite was true of programs on Bravo. Reality shows on this network have a 66.66% chance of being renewed.
Among Bravo's best reality TV shows are Top Chef (98.68% likely to be renewed), Below Deck (83%), Million Dollar Listing (69%), and Vanderpump Rules (66%).
TLC's 90 Day Fiancé's fans are in luck as it's another of the most popular reality TV shows with a very high likelihood of returning for another season. The 'will they or won't they?' dating show has an 84.31% chance of being renewed for a tenth season.
Long-running shows were the least likely to be canceled. CBS's reality favorites like Big Brother, MTV's The Challenge, and Fox's American Idol, all have a probability of being renewed at more than 99%.
Methodology
Researchers at the UScasinos.com team looked at 61 successful reality shows, including Keeping Up with the Kardashians, and 60 that got canceled for their unpopularity.
They went to compare IMDB ratings, number of episodes, number of seasons, episode duration, and awards won and lost from those 121 shows against the 27 current reality shows, looking for patterns between the hits and misses.
Long-running shows were considered those with more than 10 seasons and short-running shows were those with fewer than 10.
Predictions were based solely on the data range collected, using a logistic regression model that yielded results with 81.32% accuracy.
For more information on the methodology and the findings of the study, contact [email protected].