USCasinos Guide to Online Casino Safety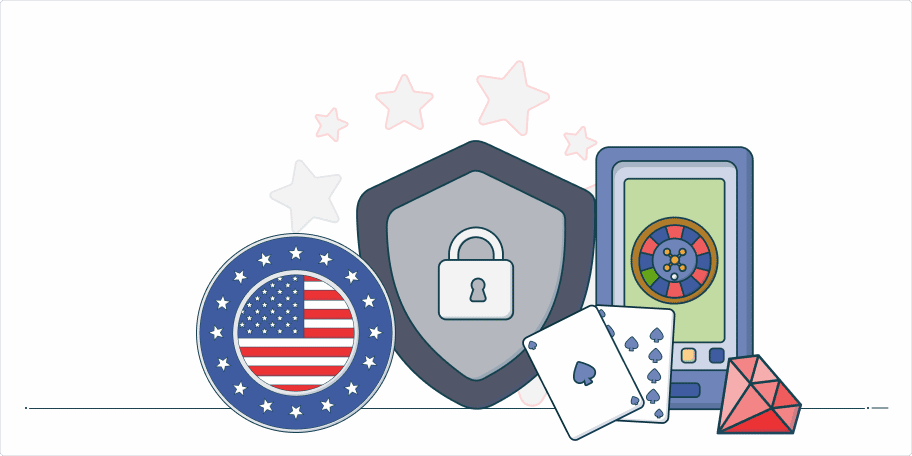 According to the Merriam-Webster dictionary, gambling is defined as "the practice of risking money or other stakes in a game or bet". For most people, it's an entertaining sideline that can liven up a sports event or a trip to a live or online casino. For a minority though, gambling can be problematic. Some players spend more money than they can afford to lose, and others succumb to the perils of addiction.
The National Center for Responsible Gambling (NCRG) estimates that between 6 and 9% of young adults experience some problems as far as gambling is concerned. Around 1% of American adults are thought to have 'a severe gambling problem'.
As more and more states legalize online gambling, it's becoming ever more important to know how to play safely and responsibly. The USCasinos team has compiled a guide containing the best tools and resources to ensure players protect themselves.
What does Responsible Gambling Include?
What does it mean to gamble responsibly? According to the University of Nevada (Las Vegas), it "means taking breaks, not using gambling as a source of income, only gambling with money that you can afford to lose, and setting limits for yourself (both with time and money)." Sounds straightforward enough but there can be plenty of temptations to distract you from these online casino safety goals.
That's certainly the case if you're playing social games with casino themes or at unregulated venues. These often contain features that you won't find in regulated and safe online casinos. According to the NCRG, red flags can include a lack of age limits, the high-speed of play, unclear consumer protections and a blurring of the lines between social and real-money play.
Setting Gambling Limits
The best way to remain in the driving seat when it comes to safe gambling is to take control of things yourself. There are plenty of tools and tricks at your disposal to ensure you do so. These can include setting deposit and time limits. Most regulated online casinos will allow you to choose set amounts and timescales and won't let you exceed these limits. Create a budget and stick to it religiously. As always when it comes to gambling safely, only wager what you can afford to lose. If you win a specific amount, take the cash and stop playing.
If you feel that willpower isn't enough and you need help keeping things in control, there are other options available including self-exclusion programs.
Self Exclusion Programs
Players who feel that their gambling is becoming problematic can self-exclude. This process means that "casinos and online operators must … eliminate direct promotional outreach or marketing to self-excluded individuals, and also must exclude them from complementaries or access to credit."
The AGA reports that self-exclusion programs are now available in the majority of US states.
Problem Gambling Warning Signs
It might not be immediately obvious that your gambling is getting out of control. External tools can flag up potential warning signs though. According to the American Gaming Association, states with legalized gambling can "implement mandatory wagering limits or require online operators to provide a mechanism through which patrons may establish self-imposed limits on deposits, losses, wagering amounts and time spent gambling." States can also make operators implement credit restrictions to prevent players from gambling more than they can afford to lose.
Anti Gambling Software
If you don't want any temptation, consider using anti-gambling blocking software. Once downloaded onto your devices, it will prevent you from accessing any gambling or casino related website or app. In addition to general website blockers, it can add an extra layer of protection for potentially vulnerable users.
The USCasinos team recommends Betblocker, which lives up to its name by blocking more than 4,000 gambling websites. Another good alternative is Gamban, which allows you to block all websites that have even a hint of gambling. They're both available for Windows, Linux and Apple iOS computers as well as iPhones and Android handsets on your tablets and phones.
Tips for Gambling Responsibly and Safe in Online Casinos
Online casino safety is of paramount importance. The regulated online casino industry has a responsibility to provide ethical, fair and legal games and software, to protect vulnerable gamblers and to prevent the underage from playing.
Gamblers have responsibilities too. For starters, they shouldn't play with more money than they can afford to lose. They should try and keep track of wins and losses and be aware of how much time they're spending on gambling apps and websites. Adopt self-exclusion measures if they think they're getting close to the edge. If gambling does become a problem, get in touch with a specialist organization for help.
At USCasinos.com we only recommend legal and regulated sites that place an emphasis on online casino safety. That means sites that follow the rules and offer player protection mechanisms. For more information on this, check out the How We Rate page.