What's In a Name? American Public Picks its Kentucky Derby 2022 Favorites
Alongside the Super Bowl and the World Series, the Kentucky Derby is one of the showpiece events of the American sporting calendar. The highlight of the thoroufaghbred horse racing year returns on Saturday, May 7th with enormous crowds expected at Churchill Downs.
Bookmakers have Epicenter as the favorite for the big race but who does the American public think will win based just on the names of the horses? In fact, most Kentucky Derby watchers aren't expert bettors. They like to have a wager on the big race to spice up the day. How to pick a winner though? Some stick a pin in the race card to find their horse, others take a shine to the jockey's colors. For many irregular punters, following their instinct and choosing a memorable name is the way to go.
Researchers at USCasinos.com have looked at why people who bet using their gut choose the horses they do. The team surveyed over 1,000 bettors from states across America to find out why people favored one horse's name over another. Does a name bring back specific memories of a person or event? Is it a reminder of a friend or family member they like? Does the name have positive expectations?
The research team also looked at how much people who chose a horse using their instinct would be prepared to bet. Who do gut bettors think will win the 2022 Kentucky Derby?
Call Me Midnight The Most Favored to Win the 2022 Kentucky Derby
There are big differences of opinion between the expert handicappers and the gut instinct bettors when it comes to who will win the 2022 Kentucky Derby.
According to the survey, Call Me Midnight, a 50/1 outsider, is the most popular selection to win the Kentucky Derby 2022 for instinct bettors. Trained by J. Keith Desormeaux, Call Me Midnight has finished 7th, 1st, and 6th in its last three grade II and III outings. Not the most obvious formline for a potential Derby winner.
Despite that rather sketchy form, Call Me Midnight was picked by 10.3% of those surveyed to win the 2022 Derby.
Other horses well-fancied without showing much in the way of form include Happy Jack and Dash Attack which were selected by 9.2% and 7.5% of name-pickers.
The opposite was true of horses like White Abarrio at 7/1 and Mo Donegal at 10/1 which are well fancied in the betting markets but weren't chosen by the surveyed name pickers. Just 1.1% of bettors selected White Abarrio or White Donegal.
It seems that age doesn't make much of a difference when it comes to picking a horse's name. Both Call Me Midnight and Happy Jack were popular selections with all generations including Baby Boomers, Gen Xers, Millennials, and Gen Zers.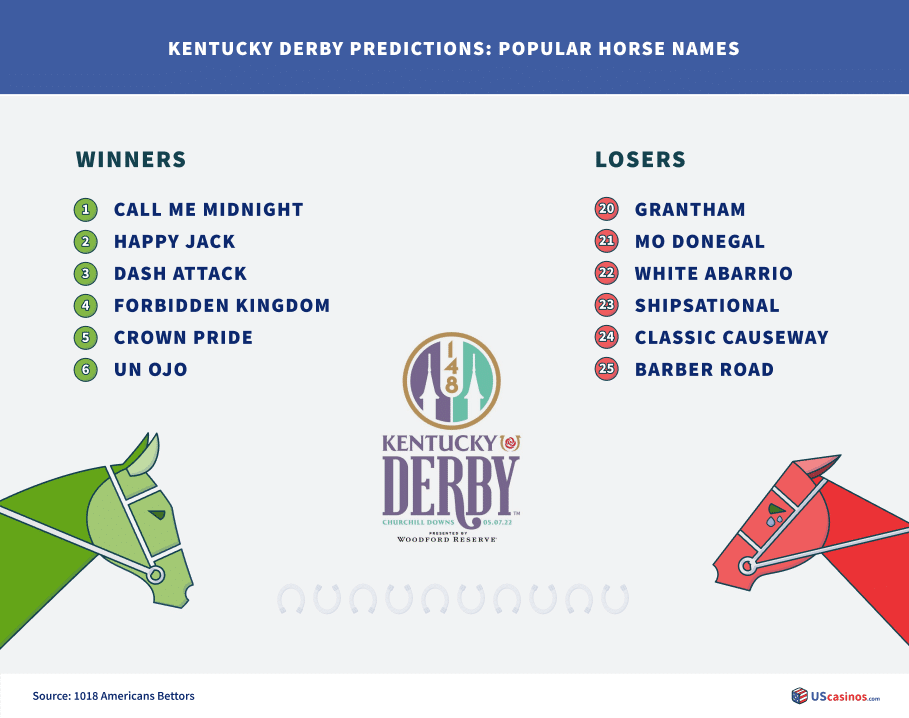 Americans Are Betting More on Horses Whose Names They Never Heard Of Before
A significant number of those surveyed, especially millennials, were prepared to pick a horse they'd never heard of if it connected to their lives in some way. That included the name bringing back memories, having something to do with their lifestyle, or containing something associated with a movie or TV show they'd enjoyed.
Most Americans chose three of the most popularly named horses – Call Me Midnight, Dash Attack, and Un Ojo because they related to something new and unusual.
For Happy Jack though, the most popular reason was that it reminded Americans of someone they knew and liked.
Forbidden Kingdom proved popular as it relates to some curiosity/history fact/fun fact that I know of category. Of the 62 people who chose Forbidden Kingdom, 31 apiece selected the adjectives fantasy and mystery as being important. These race fans are probably lovers of fantasy history too. It was a similar story with Crown Pride which resonated with special curiosities.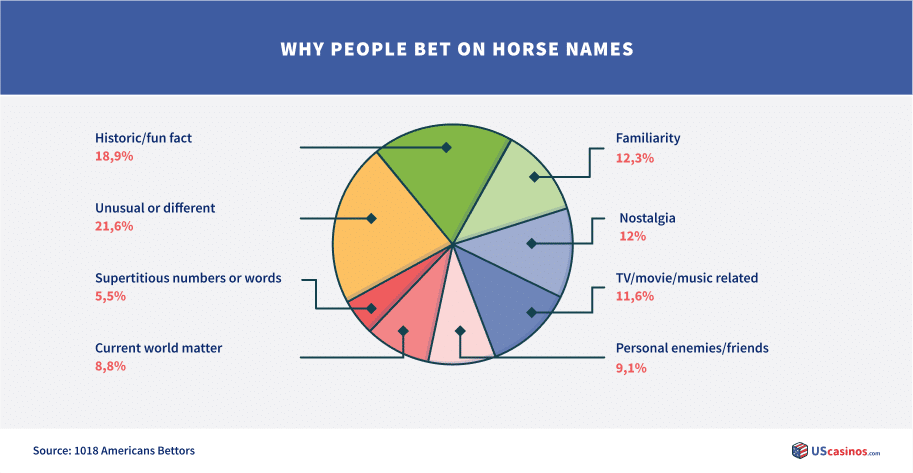 Horse Names Inspiring Friendliness, Movement, and Confidence are The Most Chosen
The survey gave people a number of positive, negative, and neutral connotations to choose from when it came to deciding on a name.
48% of those polled picked positive connotations like friendly, vibrant, and confident. Scoring nearly as highly with 43%, were neutral attributes like active, racer, or fantasy. Just 71 respondents picked negative names associated with aggression and tempestuousness.
The most popular overall adjective was friendly, followed by vibrant and confident.
One-quarter of Americans would bet $50 or more following a Kentucky Derby hunch
So, you've followed your gut and picked a horse by its name rather than its form? Just how much are you willing to follow your instinct by placing a bet on that horse? Researchers asked punters who chose their horse whether they'd make a bet on their selection. Respondents were offered three different cash amounts – $10, $50, or $100 or more.
75% of those surveyed said they would be prepared to bet up to $10 on their chosen horse. Just under a quarter, 22%, said that would wager $50 with just 3% of respondents prepared to make a bet of $100 or more.
Of those $100 high rollers, the horse with the most money wagered was Call Me Midnight at $2,390 followed by Dash Attack ($1,540), Happy Jack ($!460), Forbidden Kingdom ($1,410), and Un Ojo ($1,050).
Multiple $100 or more wagers were recorded for Forbidden Kingdom and Un Ojo at three apiece. Nobody who chose Happy Jack or Crown Pride was prepared to bet $100 on their selection.
Researchers also looked at the most unpopular horses. There was something of a gender split here. Barber Road and Shipsational, both picked just three times, were the least popular with males surveyed. For the women, it was Pioneer of Medina and Mo Donegal which were picked the least (just two and three times respectively).
Mo Donegal was also the least popular horse with youngsters. Not a single Gen Zer picked the horse. Shipsational got no picks from Gen Xers while Classic Causeway drew a blank from Boomers. White Abarrio, with four picks, was least popular with millennials.
The Highest Stakes Come From Texas, Florida, and California
The survey also looked at the states where people were most likely to follow their gut and make a bet on their horse.
Texas was the home of the biggest high rollers (86 respondents), followed by bettors from Florida (84), New York (69), California (68), and Pennsylvania (63). Texans were prepared to wager $2,480 on their selection, the equivalent of 225 mint juleps!
At the bottom of the states was North Dakota at just $10, followed by Maine, Idaho, Wyoming, and Wyoming.
Call Me Midnight got the most wagers from Texan backers at 12. Happy Jack and Dash Attack topped the bill in California and New York.
In the race's home state of Kentucky, 16 of those surveyed were prepared to wager $10 on their selection with a further five prepared to bet $50. None went up to the $100 mark. Those amounts combined to give a grand total of $410.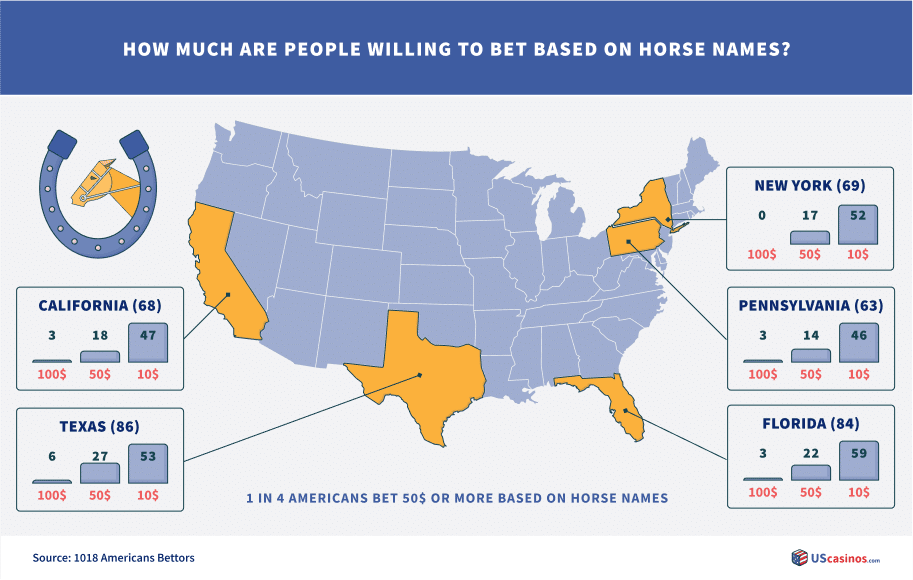 Methodology
Researchers surveyed 1,004 Americans at the end of March 2022. There was a 50/50 split between men and women. The survey tried to find out why the names of certain horses in the 2022 Kentucky Derby were popular or not. Researchers also tried to discover whether Americans were prepared to follow their gut instinct by making a bet on their selection. The survey polled people from across the country and a from a variety of different age groups.
For more information on the methodology and the findings of the survey, contact [email protected].
Fair Use Statement
If you'd like to share this post or its assets with your friends or audience, you are welcome to do so. Please include a link to this page though. Many thanks.