Play Craps Online for Real Money
Find the best Craps casinos for real money in the US. Our experts have created a custom-tailored list of Craps sites based on strict selection criteria.
Discover how to get started playing in minutes or browse our page to learn about Craps. We go over odds, payouts, bets with the lowest house edge, advantages of playing online, and Craps casino bonus offers.
Best Craps Online Casinos in 2022
How We Choose The Best Craps Casinos
Look into our selection process. We highlight the most important aspects of casinos that we consider when choosing a Craps online casino.
Craps Game Availability

Craps game variety comes first when discussing Craps casinos. We make sure the online casino in question has enough variety to satisfy all types of players. You must have access to demo mode for practice, and we also look at the live dealer lobby to base our judgment. Overall, you won't find much variety in Craps compared to Blackjack and Roulette. Gaming providers haven't tapped into developing this game type as much as possible.

Bonuses and Loyalty Rewards

The bonus selection is crucial for many players, so we emphasize this aspect. More specifically, we look for fair wagering requirements and fair Craps wagering contributions. Typically, Craps and other table games contribute far less to wagering than slots. Fortunately, most welcome bonuses available in the US allow you to play Craps online.

Payment Speed

Nowadays, most US online casinos have enough variety in payment methods for everyone. What we also look for instead is the payout speed. This lets you withdraw money faster and play faster. In general, you should always resort to e-wallets for the fastest withdrawals, but we choose Craps casinos that process payouts faster on their end.

Customer Support

We identify quality customer support by looking for quick response times and friendly support agents full of knowledge related to games, bonuses, payments, and similar. Live chat is a must-have, and telephone support is an excellent option. We also look for detailed FAQ sections that help players.

Security and Fair Play

Every Casino with Craps must have a proper US license. We verify the license data per state and ensure the casino has all legal bases covered. We also identify security methods such as SSL encryption related to personal info and payment data security.

Fair Play tools that let you control spending while playing Craps online, such as deposit and loss limits, are convenient. Fortunately, most US casinos offer these by default.
Craps Casino Bonuses
An online casino Craps bonus can double or triple your bankroll. Welcome bonuses offered by the best Craps online casino sites will match your initial deposit by 100% or 200%. Meaning. A $100 deposit will automatically transform into $200 or $300 into your bankroll. And this is just one type of bonus, albeit the most valuable one.
Every bonus comes with wagering requirements and different bonus terms and conditions. Exceptions apply, and there are bonuses you can claim without a deposit, though it's less likely they can be used on Craps.
Craps contribute less to wagering requirements than slots. This contribution is limited to 10% or 20%. This is because it's far easier to wager on table games than on slots, considering the superior odds and betting options of Craps, Blackjack, Roulette, and Poker. You could complete your wagering in just a couple of bets.
We chose the best Craps deposit bonus offers with the fairest wagering requirements on the market. Check out our top list, make your choice, place a deposit, and you can immediately enjoy your bonus cash. Always pay attention to the terms and conditions, and keep in mind that bonuses can be claimed once per household.
How to Play Craps Online
You can easily get started playing Craps in minutes. We recommend heading over to the live dealer lobby of any casino and playing First Person Craps. It offers an easy mode that will speed up your learning process.
1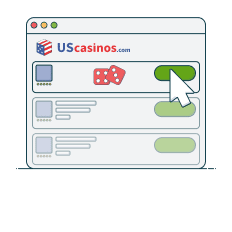 Find a casino
Choose a recommended Craps online casino
2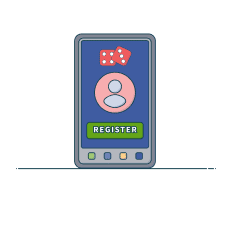 Create an account
Create your free online casino account.
3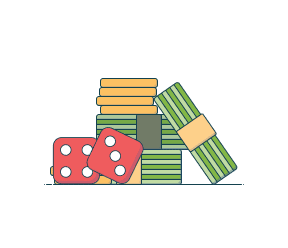 Make a real money deposit
Open the casino's cashier and make a deposit
4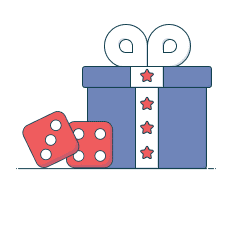 (Option) Claim a Craps deposit bonus
If you wish, claim a welcome bonus
5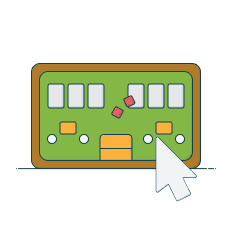 Choose the right game
Make sure to choose the game with the best odds and betting options.
Place your bets
Start placing wagers and enjoying Craps
Why Play Craps Online?
Craps was built with offline play in mind. The game is famous for its real-world interactions, and a competitive spirit, where multiple players throw dice on a loud and busy table. Some bets take multiple rolls to resolve, further increasing tension. If you have ever played offline, you'll find noticeable differences between playing online and offline.
Pros
Faster gameplay

Easier to learn

The same, good odds

Play from home
Cons
Missing out on the social aspect

Fewer betting options
Playing Craps online comes with a few drawbacks. You miss out on a lot of social interactions with real players. To have a similar experience, make sure you're playing Live Craps. It's the closest thing to the real bricks and mortar Craps experience.
Beginner Tips for Playing Craps
As a beginner, you should stick to these principles until you attain a better mastery over Craps. It's essential to avoid the pitfalls of betting systems like the Martingale. These betting systems are common to Craps and other table games, most notably Roulette.
To start with, most Craps casinos will let you practice in demo mode. This offers a perfect opportunity to play as much as possible with no risk. Once you feel you have the basics down, only then should you wager for real money.
It's essential to avoid Proposition and "Big 6 or 8 bets". These risky wagers can quickly eat your entire bankroll. The Pass line bets are simple, and they have some of the lowest house edge. Once you have enough knowledge to combine multiple bets, the game becomes more engaging.
Craps Mobile Apps
You can enjoy Craps on mobile apps on any standard mobile operating system. Gaming providers have adapted the Craps table to smaller screens, including live dealer games.
The most popular live Craps casino game, First Person Craps by Evolution Gaming, is mobile-friendly. Remember that it can be taxing on your Internet or device, considering you are watching a live stream non-stop during gameplay.
What's more, all Craps mobile apps require you to be within state boundaries when playing. A New Jersey-licensed casino app can only be played from NJ.
Mobile gameplay on Craps is the same as on desktop. Availability is also the same, but Craps doesn't have enough variety among US online casinos, regardless of platform.
Different Types of Craps
Craps isn't known for having many types. The "base game" offers nearly infinite complexity and entertainment, and changing it too much would mean changing the entire game. Nonetheless, a handful of variants have stood out over the years.
First Person Craps*

Pioneered by Evolution Gaming, First Person Craps is the first-ever live Craps on the market. It's available at select online casinos for real money only. This game features an "easy mode" that is perfect for beginners. It also simplifies gameplay with visual indicators, helping make better decisions during gameplay.

High Point Craps

In this Craps variant, rolling 11 or 12 means you win straight away. Also, rolls of 2 or 3 on the come-out bet are ignored.

Bank Craps

In bank Craps, perhaps the most common variant, players are pitted against the casino. This contrasts with traditional player vs. player gameplay.

New York Craps

New York Craps doesn't allow any Place, Pass, or Don't pass wagers. What's more, it increases the house edge by adding a 5% commission.

Simplified Craps

This variant only lets you bet on Pass line, Craps, and naturals. As its name implies, it's a straightforward version of Craps with much faster gameplay.
* First Person Craps is the only one from the list currently available in the US.
When playing Craps at a casino, game variants are irrelevant. Any variant will slightly alter the rules to simplify the game or give it a different spin. For instance, in Bank Craps, players don't compete against one another but the casino.
Available Craps Variants in the US
DraftKings' Bonus Craps, Live Craps, First-Person Craps, Diamond Series Craps.
Craps Bets, Odds, and Payouts
Craps has more bets than any casino table game, such as Blackjack and Roulette. However, when you play Craps online, you may see that some bets are unavailable. That's because the game's full complexity cannot be translated online.
Some bets and table etiquettes are encouraged by real-world interactions. Craps is a casino dice game, and the dice are an essential element, often surrounded by superstition and excitement.
Many bets will go against other players' bets, creating a competitive atmosphere. The dice rolling on a Craps table is often the most exciting event in any casino, and this game's flavor comes from the real-world interactions involved during gameplay.
With that said, here's a complete overview of Craps bets, odds, and payouts.
| Bet | Payout | House Edge |
| --- | --- | --- |
| Pass | 1:1 | 1.41% |
| Don't Pass | 1:1 | 1.40% |
| Pass Line: 6 or 8 | 6:5 | 4.76% |
| Pass Line: 5 or 9 | 3:2 | 4.76% |
| Pass Line: 4 or 10 | 2:1 | 4.76% |
| Don't Pass Line: 6 or 8 | 5:6 | 4.00% |
| Don't Pass Line: 5 or 9 | 2:3 | 3.23% |
| Don't Pass Line: 4 or 10 | 1:2 | 2.44% |
| Field Bet: 2, 12 | 1:1 | 5.50% |
| Field Bet: 3, 4, 9, 10 or 11 | 1:1 | 5.50% |
| Place Bet: 6 or 8 | 7:6 | 1.52% |
| Place Bet: 5 or 9 | 7:5 | 4.00% |
| Place Bet: 4 or 10 | 9:5 | 6.70% |
| Hardway: 6 or 8 | 9:1 | 9.09% |
| Hardway: 4 or 10 | 7:1 | 11.1% |
| Any 7 | 4:1 | 16.9% |
| Any Craps | 7:1 | 11.1% |
| Craps – 2 or 12 | 30:1 | 13.9% |
| Craps – 3 or 11 | 15:1 | 11.1% |
Best and Worst Bets in Craps
As a beginner to Craps casino sites, you should stick to a couple of familiar bets to start with. Then, as you develop your knowledge, you can advance to more complex bets with a more favorable house edge.
In terms of the house edge, we singled out the best and worst bets, perfect for getting started to play Craps online.
Highest Odds Bets
Pass

Don't Pass

Come

Don't Come

Place Bet: 6 or 8
Lowest Odds Bets
Any Craps

Any 7

2 or 12 Craps

3 or 11 Craps

Hardway: 4 or 10
You shouldn't completely ignore the "worst" bets unless you're a complete beginner. They have a higher house edge, but the payouts are increased to match your risk.
Pros and Cons of Craps
Craps online has bets with some of the best house edge in online casinos. It's a complex game, and players may prefer the comparative simplicity of Blackjack and Roulette. These games have similar odds as well. Though, for entertainment value, nothing beats the Craps table. The game's entertainment factor, combined with its great odds, clarifies why Craps is an absolute favorite to many.
Pros
Fantastic odds

High entertainment

Involved, dynamic gameplay
Cons
Difficult for beginners

Limited variety in games online
If you want to play Craps online, you shouldn't hesitate because of its complexity. The best US online casino Craps variant – First Person Craps by Evolution gaming – has an "Easy Mode" integrated to help newcomers adapt to the game.
Alternatives to Craps
In some bets, Roulette, Blackjack, and Video Poker offer just as good odds as Craps. The extra positive is that these games are far easier to learn and master.
Alternatives to Craps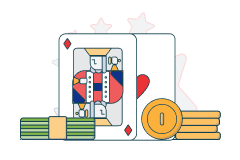 Great house edge
Engaging gameplay
Difficult to master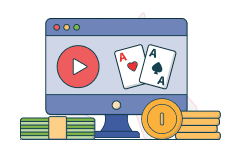 Excellent odds
A lot of variety
Lack of innovation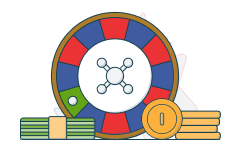 Simple to learn
Good odds
Repetitive gameplay
Blackjack offers a similar dynamic and entertainment to Craps, whereas games like Roulette and Video Poker will match the house edge of some of the best Craps bets. Yet, as a casino dice game, Craps is unique. And finding a similar game but more accessible is impossible.
Summary
While not all online casinos offer virtual or live Craps, these operators do. Whether you like to play for real money and claim a sign-up bonus, or you want to try the game out, it's at your discretion.
Thanks to the high demand for Craps online in the US, you can choose from 4 different types, out of which we recommend First Person Craps.
To get started, browse our curated top list of the best Craps casinos, or follow our beginner-friendly step-by-step guide. You can enjoy playing Craps online on desktop and mobile just as easily.
FAQs
What is the best bet to make in Craps?
The best bets in Craps are the Pass and Don't Pass, as well as the Come and Don't Come bets. These bets have the lowest house edge out of all Craps bets, and they are the most beginner-friendly
Where can I play Craps online for money?
You can play Craps online for real money at any licensed US online casino. Just make sure the casino you are accessing is available in your state. Cross-state play is not allowed, but you don't have to be a state resident in order to play. Physical presence is all that's required.
How do you practice Craps without a table?
You can practice Craps without a table by playing free online Craps. All you have to do is create your account with an online casino, then navigate to the games lobby. When you find Craps, click on "Demo" instead of real money play, and practice with no costs attached.
Do Craps casinos use loaded dice?
No, Craps casinos do not use loaded dice. All elements of the Craps table, including the table itself, is subject to technical audits by 3rd parties and/or licensing authorities. If a casino is caught cheating, they would be signing their own closure.
What casinos have live craps?
All the best US online casinos have live Craps. That's because these sites are partnered with Evolution Gaming, the best live casino supplier in the industry. Evolution Gaming offers live Craps in several game variants, and multiple tables.