How to Play Baccarat
We show you how to play baccarat, starting from the basics. Learn about the objective of the game, table layout, card values, and how each hand is calculated.
We'll also guide you through playing a round step-by-step and explaining the Baccarat rules. In the end, you'll find betting tips that will help maximize your chances.
Basics of Baccarat
What are the "parts" which constitute the Baccarat machine? Offline or online, the game is played on the same table.
Before we start, we need to explain the table layout and the purpose of everything related to the playing field: The Dealer, Commission Box, and Betting Areas (Player, Tie, Banker).
The Baccarat table

Baccarat is always played on a table, whether it's offline or online. The table contains every element relevant to the game, and it's being overseen by the dealer.

Betting areas

The betting areas: Player, Banker and Tie is where you must place your wager before the round starts. You can only wager on one bet type at a time, per game round. Your stake can't be increased if a round is in in progress.

Dealer

The dealer deals the cards and oversees the table. Online, the software assumes the role of the dealer, whereas live dealer lobbies at online casinos are overseen by real people.

Commission box

The Commission Box is a symbolic feature online. It's designated for the 5% commission that goes to the house. Offline, it also serves as a tip box in addition to a commission box.
How to Play Baccarat
To get you started playing, we cover a complete guide on how to play baccarat, a game round from start to finish explaining how everything plans out, primarily targeted at beginners.
1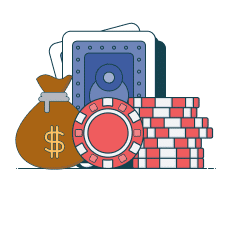 Place your bet
You can bet on Player, Banker or Tie. Best practice is to always bet on Banker. You can only place one bet per round.
2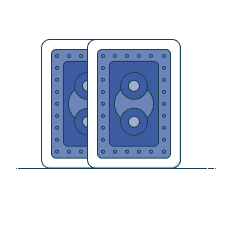 Receive cards
The dealer deals two cards for the Player and Banker each. The Player is the first to get his card.
3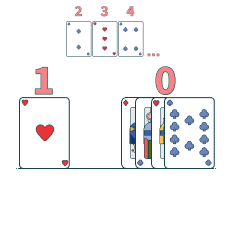 Understand hand values
Face cards and 10's value 0 points , Aces (A) are 1 point and all numbered cards are valued what's written on the card.
4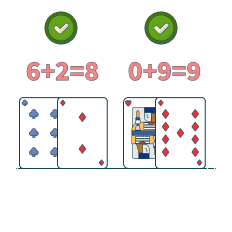 Did anyone get a "Natural" hand?
A natural hand is when someone gets an 8 or a 9 from the first two cards, ending the round instantly.
5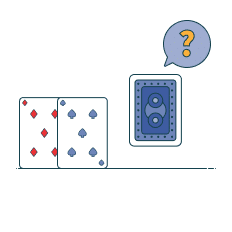 Will anyone get a Third Card?
The hand values of Player and Banker decide whether a third card is drawn. This is an automatic process.
6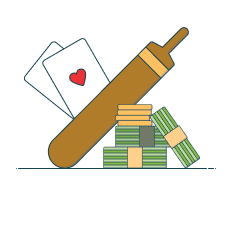 Collect winnings and start again
Once all sides have the total maximum cards for the round, the higher valued hand wins, and the next round begins.
Complete Guide to Baccarat
Follow our complete guide to baccarat that will take you through all the basics. We equip you with the necessary knowledge to start playing immediately.
Objective
The win condition in Baccarat is straightforward. By betting in a Baccarat round, you are betting to guess which side will win: the Player or the Banker. A Tie bet is also possible, but it's a rare outcome (1 in 9). At the end of the round, whoever has the highest hand total – wins. The maximum hand points are 9, and Tie happens when the Player and Banker have equal points and all cards have been drawn.
Card Values
Having learned the game's objective, the table layout, and the purpose of each game element, we can focus on the cards: how they are valued and how each hand is calculated.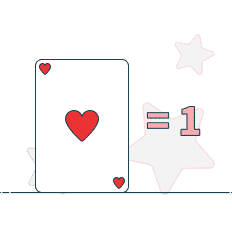 Aces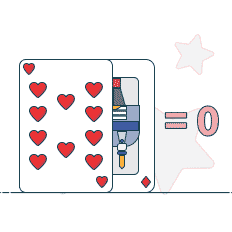 Tens and Face Cards
Tens and Face cards are worth 0 points.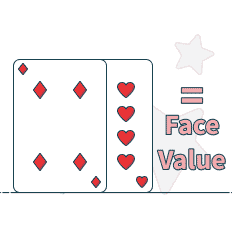 Numbered Cards
Numbered cards are worth their face value, meaning 2 is valued 2, 5 is valued 5, and so on.
How Are Hands Calculated?
The hand of the Player and Banker in Baccarat is calculated by combining the total value of all the cards in your hand but subtracting the first number if the value exceeds 10.
This means that in baccarat, a total hand value of:
2 = 2
5 = 5
10 = 0
12 = 2
15 = 5
Example:
Scenario: Player is holding 7 + 6, Banker is Holding 7 + King.
Player hand: 7 (face value) + 9 (face value) = 16 = 6
Banker hand: 7 (face value) + (0 value) = 7
Banker wins.
Essentially, all you need to remember is that every card higher than 10 is worth 0. This will massively help you in calculating each hand automatically, even as a complete beginner.
Baccarat Rules
Baccarat's rule set is described through the types of bets you can make, how they interact with each other, and the card values.
The game rules can vary slightly in baccarat games online, but you can expect the same odds and payouts in most cases.
What is a Natural in Baccarat?
A natural win in baccarat happens when the Player or Banker (or both) get a total hand value of 8 or 9 from the first two dealt cards. A natural does not pay out more than a regular bet, like "21" in the table game classic Blackjack, but it does pay out the winning side instantly. That's because any natural wins end the round instantly.
In the event of two naturals (Player and Banker), the higher natural wins, or if they are the same (9 and 9 or 8 and 8), a Tie is declared.
Third Card Rule
As we said, this rule is unimportant because the entire "Third Card" process happens automatically. You, as a player, have no input whatsoever.
Below we explain the conditions on the Player and Banker sides for when a Third Card Rule is drawn and when it's not. This rule is unimportant because the process happens automatically, and no player input is involved.
Still, if you want to know more about the conditions for the third card rule, we covered them below.
Player Third Card Rule Chart
| Player hand value | Third card is drawn? |
| --- | --- |
| 0-5 | Yes |
| 6-7 | No (stand) |
| 8-9 | No (natural win) |
Banker Third Card Rule Chart
In the case of a Player third card, it's decided whether the Banker will also draw one. This depends on the value of the said third card, as shown below.
| Player's 3rd card | Banker draws if hand value is | Banker stands if hand value is |
| --- | --- | --- |
| 2 – 3 | 0 - 5 | 5 – 7 |
| 4 – 5 | 0 - 5 | 6 – 7 |
| 6 – 7 | 0 - 6 | 7 |
| 8 | 0 - 2 | 3 – 7 |
| 9, 10 | 0 - 3 | 4 – 7 |
Bet Types
Baccarat has three bet types: Player, Banker, and Tie.
It's important to know that in this game, the Player is not the actual player role, and the Banker is not an actual banker role. These are just bet names.
You can wager your chips and bet on anything in any round. Once the round ends, if the bet you choose wins, you will get a payout according to the table rules and paytable.
Player

This bet makes a prediction that the "Player" bet will win in the game round. The player is the second-best type of bet you can make. The bet name can mislead you that it's in your favor, but the Player bet has a higher house edge than the Banker, sitting at 1.36%. The difference is not big, but it can show itself in the long run.

Banker

As simple as its name says, making this bet means you are predicting that the Banker will win. The golden rule of Baccarat is "always bet on Banker". This bet comes with a house edge of just 1.06%, and it's slightly better than Player. However, consider that in most Baccarat variants, all Banker wins have a 5% house commission. This is how casinos compensate for the higher edge of Banker bets. If possible, try and play a "No Commission" version of Baccarat.

Tie

This bet means you are betting that the Player and Banker will have an even sum of card values at the end of the game round. The house edge of this bet is about 14%, whereas the payouts are usually 9:1 or 8:1. This makes betting on Tie not worth it in any given scenario.

Side bets

Side bets are sometimes offered by certain game variants or casinos. These bets typically with a disproportionate odds to payout ratio, and they're generally not a good value bet. Examples of side bets include "perfect pair" with a house edge of 17.07% and payout of 11:1, "either pair", "small, "big" and "super six".
Baccarat Odds, House Edge, and Payouts
The odds and house edge are typically proportional to the payouts in baccarat, but a bet like a Tie should always be avoided.
Betting on a Player or Banker won't make a big difference, despite the slight change in odds. This is especially true when considering the 5% commission on all Banker bets.
Odds and House Edge
Shown below is the full chart of odds and house edge, as well as the effect on the odds from the deck size.
| Type of bet | Number of decks | Probability | House edge |
| --- | --- | --- | --- |
| Player | 1 | 44.68% | 1.29% |
| Player | 8 | 44.62% | 1.24% |
| Banker | 1 | 45.96% | 1.01% |
| Banker | 8 | 44.68% | 1.06% |
| Tie | 1 | 9.36% | 15.75% |
| Tie | 8 | 9.52% | 14.36% |
As you can tell, the number of decks slightly affects the odds and payouts, but not when compared to the deck influence in Blackjack or similar card games.
Payouts
Here are the payouts per baccarat bet type, reaffirming why you shouldn't bet on Tie.
| Bet Type | Payout |
| --- | --- |
| Player | 1:1 |
| Banker* | 1:1 |
| Tie | 9:1 |
*Every winning Banker bet is subject to a 5% commission. The house edge in the table takes this into account as well.
The Banker is the last to act, which is why it has slightly higher odds than Banker. That is, although the house takes a 5% commission from every winning Banker bet. There are some exceptions to this and "No Commission" Baccarat tables.
How to Play Baccarat and Win?
These tips should guide newcomers in learning how to play baccarat, but they also involve tips on maximizing your profit while playing.
Useful Terms
Any useful terms related to playing baccarat offline and online players should know?
There are dozens of terms, but these are the ones players are likely to meet at land-based casinos and online overall.
Ready To Play Baccarat?
Baccarat may not be as popular as Roulette or Blackjack, but its ease of access and great odds make it a good choice for all casino goers.
Once you sit down at the Baccarat table, you will master it in minutes. You could know a handful of game rules, but your knowledge of them can't affect the outcome.
Sitting down and betting on Banker is what you should do for maximum profit, no matter your level of experience.
We recommend playing "No Commission" Baccarat to achieve the highest odds. The 5% commission is removed, resulting in higher wins on Banker bets.
FAQs
How do I play Baccarat in an online casino?
To start playing Baccarat at an online casino, you must create a casino account. Then, open up the games lobby and find your preferred Baccarat variant of choice. Of course, you will need to deposit some real money first via your preferred payment method, but playing in demo mode for fun is also possible. It's also preferred for new players learning the ropes.
What is the best bet in Baccarat?
The best bet in baccarat is Banker. Betting on Banker provides the lowest house edge, slightly lower than the Player. Based on the odds, betting on Banker and Player is not much different, even though Banker is a bit ahead. However, betting on Tie is never recommended.
What are the odds of winning at Baccarat?
Your odds of winning at Baccarat depend on the bet type you are making and the game rules. Some game variants have slightly different house edge from each other.
What is the best Baccarat to play?
The best Baccarat to play is whichever variant takes away the house commission from the Banker's bet. The 5% commission reduces the payout of all Banker bets to 0.95:1 instead of 1:1.
How do I play Mini Baccarat?
Playing Mini Baccarat is possible at any online casino that offers it. This game can be played by up to 7 people simultaneously. It provides convenience, speed, and efficiency to all Baccarat enjoyers.
Are there any Baccarat strategies?
No, using any Baccarat strategy while playing will not improve your odds in the short or long term. Any strategies that apply to Baccarat can also apply to other games, such as betting systems. These systems have been proven to be false and only give the player an illusion of control.
Does Baccarat have good odds?
Compared to other table games, baccarat has good odds. It also had better odds than most online slots, especially when betting on Player or Banker. These bets have a very low house edge ranging between 1-1.24%.