How to Play Baccarat
We show you how to play baccarat starting from the basics. Learn about the objective of the game, table layout, card values and how each hand is calculated.
We'll also guide you through playing a round of step-by-step, in addition to explaining the Baccarat rules. In the end, you'll find information on betting tips and strategies that will help maximize your chances.
The Objective of Baccarat
The win condition in Baccarat is straightforward. By betting in a Baccarat round, you are betting to guess which side will win: the Player or the Banker. A Tie bet is also possible, but it's a rare outcome (1 in 9). At the end of the round, whoever has the highest hand total – wins. The maximum hand points are 9, and Tie happens when the Player and Banker have equal points and all cards have been drawn.
How to Play Baccarat Online
Step-by-step guide on how to play Baccarat, from start to finish of a game round, explaining how everything plans out, especially targeted at beginners.
1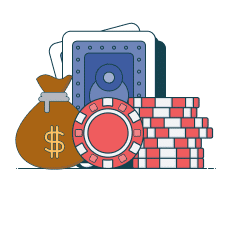 Place your bet
You can bet on Player, Banker or Tie. Best practice is to always bet on Banker. You can only place one bet per round.
2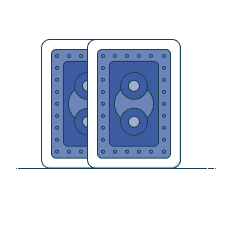 Receive cards
The dealer deals two cards for the Player and Banker each. The Player is the first to get his card.
3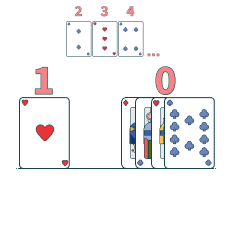 Understand hand values
Face cards and 10's value 0 points , Aces (A) are 1 point and all numbered cards are valued what's written on the card.
4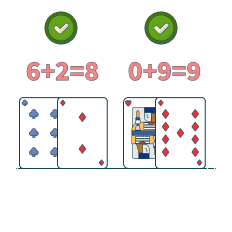 Did anyone get a "Natural" hand?
A natural hand is when someone gets an 8 or a 9 from the first two cards, ending the round instantly.
5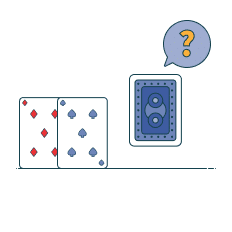 Will anyone get a Third Card?
The hand values of Player and Banker decide whether a third card is drawn. This is an automatic process.
6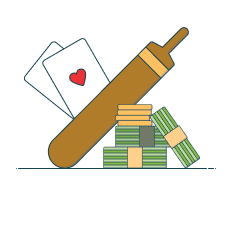 Collect winnings and start again
Once all sides have the total maximum cards for the round, the higher valued hand wins, and the next round begins.
What is a Natural in Baccarat?
A natural win in Baccarat happens when the Player or Banker (or both) get a total hand value of 8 or 9 from the first two dealt cards. A natural does not pay out more than a regular bet, like 21 in Blackjack, but it does pay out the winning side instantly. That's because any natural wins end the round instantly.
In the event of two naturals (Player and Banker), the higher natural wins, or if they are the same (9 and 9 or 8 and 8), a Tie is declared.
Third Card Rule
As we said, this rule is not so important because the entire "Third Card" process happens automatically. You as a player, have no input whatsoever.
Explain the conditions on the Player side, and Banker side, for when a Third Card Rule is drawn and when it's not. This rule is not important because the process happens automatically, and there is no player input involved.
Still, if players want to know the conditions for the third card rule, we present them in a table.
Player Third Card Rule Chart
| Player hand value | Third card is drawn? |
| --- | --- |
| 0-5 | Yes |
| 6-7 | No (stand) |
| 8-9 | No (natural win) |
Banker Third Card Rule Chart
In the case of a Player third card, then it's decided whether the Banker will draw one as well. This depends on the value of said third card, as shown below.
| Player's 3rd card | Banker draws if hand value is | Banker stands if hand value is |
| --- | --- | --- |
| 2 – 3 | 0 - 5 | 5 – 7 |
| 4 – 5 | 0 - 5 | 6 – 7 |
| 6 – 7 | 0 - 6 | 7 |
| 8 | 0 - 2 | 3 – 7 |
| 9, 10 | 0 - 3 | 4 – 7 |
Basics of Baccarat
What are the "parts" which constitute the Baccarat machine?
Offline or online, the game is played on the same table, so we must explain the table layout, as well as the purpose of everything related to the playing field: The Dealer, Commission Box, Betting Areas (Player, Tie, Banker).
The Baccarat table

Baccarat is always played on a table, whether it's offline or online. The table contains every element relevant to the game, and it's being overseen by the dealer.

Betting areas

The betting areas: Player, Banker and Tie is where you must place your wager before the round starts. You can only wager on one bet type at a time, per game round. Your stake can't be increased if a round is in in progress.

Dealer

The dealer deals the cards and oversees the table. Online, the software assumes the role of the dealer, whereas live dealer lobbies at online casinos are overseen by real people.

Commission box

The Commission Box is a symbolic feature online. It's designated for the 5% commission that goes to the house. Offline, it also serves as a tip box in addition to a commission box.
Baccarat Card Values
Having learned the objective of the game, the table layout and purpose of each game element, we can focus on the cards: how they are valued and how each hand is calculated.
| Aces | Tens and Face Cards | Numbered Cards |
| --- | --- | --- |
| Ace is worth 1 point | Tens and Face cards are worth 0 points. | Numbered cards are worth their face value, meaning 2 is valued 2, 5 is valued 5, and so on. |
How Are Hands Calculated?
The hand of the Player and Banker in Baccarat is calculated by combining the total value of all the cards in your hand, but subtracting the first number if the value exceeds 10.
This means that in Baccarat, a total hand value of:
2 = 2
5 = 5
10 = 0
12 = 2
15 = 5
Example:
Scenario: Player is holding 7 + 6, Banker is Holding 7 + King.
Player hand: 7 (face value) + 9 (face value) = 16 = 6
Banker hand: 7 (face value) + (0 value) = 7
Banker wins.
Essentially, all you need to remember is that every card higher than 10 is worth 0. This will massively help you in calculating each hand automatically, even as a complete beginner.
Baccarat Bet Types
In baccarat, there are three bet types: Player, Banker and Tie.
It's important to know that in this game, the Player is not the actual player role, and the Banker is not an actual banker role. These are just bet names.
You can wager your chips and bet on anything, in any round. Once the round ends, if the bet you choose wins, you will get a payout according to the table rules and paytable.
Here are the Baccarat odds and payouts for all betting types:
| Bet Type | Payout | House Edge |
| --- | --- | --- |
| Player | 1:1 | 1.36% |
| Banker* | 1:1 | 1.06% |
| Tie | 9:1 | 14.4% |
*Every winning Banker bet is subject to a 5% commission. The house edge in the table take this into account as well.
The Banker is last to act, which is why it has slightly higher odds than Banker. That is although the house takes 5% commission from every winning Banker bet. There are some exceptions to this, as well as "No Commission" Baccarat tables.
Baccarat Betting Tips
These tips should guide newcomers in learning how to play baccarat, but they also involve tips on maximizing your profit while playing.
Baccarat Strategy
Realistically there is no Baccarat strategy that will improve your odds or teach you how to play. The most common "strategies" connected to this game are betting systems. These systems gained fame among sports bettors, but they've spread to casino games like Roulette, Blackjack and Baccarat as well.
The betting systems do not guarantee any kind of win. Instead, they are forcing players to exponentially increase bets after losses. This puts people in a position to think they can't lose, since the betting system is designed to always recoup your losses.
What many players fail to consider is that losing several rounds in a row is extremely common in gambling.
What's more, betting systems are based on the false assumption that previous bet history has any kind of effect on the outcome on future bets.
In any case, here are the most popular betting systems for Baccarat.
Martingale
Martingale is the common betting system. It teaches you to double your bets after each loss, and reducing them by 50% on each win. Essentially, it's a system that tries to minimize losses as much at possible. The goal is for you to break even on losing streaks as fast as possible, but the risk is significantly high as well.
Paroli
Paroli is a more complicated progressive betting system that aims to get you 3 wins in a row. To start, you must set a base wager and stick to it until you win. Once you win, you have to double your wager. If you win on your first double, you have to double again and, whether you win or lose, the system resets and you are aiming for the next 3-peat.
D'Alembert
D'Alembert sounds more intimidating than it is. This is a simple betting system that works similar to the others but with less risk. It encourages you to increase your bet after each loss and decrease after a win. The key factor here is that you must increase and decrease only by one betting unit, whose value you will be set by yourself. Because of this, D'Alembert is deemed "safer" compared to different betting systems.
Labouchere
The Labouchere is one of the most complex betting systems. This system involves choosing a sequence of numbers, such as 1 to 5, and betting based on numbers on your chosen sequence.
Winning removes a number from your sequence, whereas losing adds one. Your bet is always the sum of the first and last number of your sequence.
Common Baccarat Terms
Any useful terms related to playing Baccarat offline and online players should know?
There are dozens of terms, but these are the ones players are likely to meet in us online casinos and online overall.
Summary
Baccarat may not be as popular as Roulette or Blackjack, but its ease of access and great odds make it a good choice for all casino goers.
Once you sit down at the Baccarat table, you will master it in minutes. There's a handful game rules you could know, but your knowledge of them can't affect the outcome. Sitting down and betting on Banker is what you should do for maximum profit, no matter your level of experience.
On that topic, always play "No Commission" Baccarat to achieve highest odds while playing. The 5% commission is removed, resulting in higher wins on Banker bets. As a reminder, the step-by-step process we prepared can guide you from start to finish.
FAQs
How do I play Baccarat in an online casino?
To start playing Baccarat at an online casino, you will have to create a casino account. Then, open up the games lobby and find your preferred Baccarat variant of choice. Of course, you will need to deposit some real money first via your preferred payment method, but playing in demo mode for fun is also possible. It's also preferred for new players learning the ropes.
What types of Baccarat can I play?
There aren't many Baccarat types available since the game has a very simple identity. Typically, No Commission variants are "most wanted" by players for offering even lesser house edge than the normal variants. There is also Mini Baccarat and Baccarat Control, which don't change the game play in any significant way.
How do I play Mini Baccarat?
Playing Mini Baccarat is possible at any online casino that offers it. This game can be played by up to 7 people at the same time. It offers convenience, speed and efficiency to all Baccarat enjoyers.
What is the best Baccarat to play?
The best Baccarat to play is whichever variant takes away the house commission from the Banker's bet. The 5% commission reduces the payout of all Banker bets to 0.95:1 instead of 1:1.
Is live dealer Baccarat worth playing?
Yes, live dealer Baccarat offers the best Baccarat experience you can find online. It's focus on high definition streams creates an immersive atmosphere. The dealers are professional, engaging and willing to chat, further improving your enjoyment. What's more, you can play unique game variants like Baccarat Squeeze.
Are there any Baccarat strategies?
No, using any strategy while playing Baccarat will not improve your odds in the short or long term. Any strategies that apply to Baccarat can also apply to other games, such as betting systems. These systems have been proven to be false and only give the player an illusion of control.